As November unfolds, so does Long-Term Care Insurance Awareness month, shedding light on the importance of planning for the golden years. For many seniors, the prospect of needing long-term care is a reality that cannot be ignored. LTCI Awareness Month reminds us to have a plan in place for a potential long-term care event.
Why is a plan for aging important? The reality is that approximately 70% of seniors will require long-term care because of age-related illnesses like dementia, Parkinson's, congestive heart failure, and other chronic conditions. Not only that but one in five families who provide care for a senior loved one will experience high levels of financial strain. Having a long-term care plan can save family assets, as well as family relationships that can come under emotional strain.
As your trusted resource for long-term care insurance claims advocacy, we at Amada Senior Care understand the concerns and challenges families face when it comes to providing quality home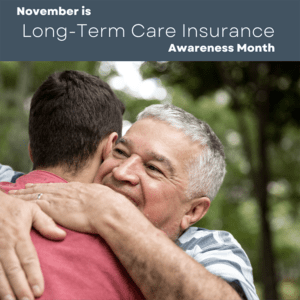 care for their elder loved ones. Read on to learn some of the basics of long-term care insurance as a vital investment.
Understanding Long-Term Care Insurance
Long-Term Care Insurance is a unique investment designed to provide financial coverage for services that assist with daily living activities such as bathing, dressing, and eating. Unlike traditional health insurance, long-term care insurance is specifically crafted to cover the costs associated with extended care, whether it be at home, in an assisted living facility, or a nursing home.
The Aging Population and the Need for Care
As the baby boomer generation ages, the demand for long-term care services is on the rise. According to the U.S. Department of Health and Human Services, about 70% of people turning 65 can expect to use some form of long-term care during their lives. This statistic underscores the urgency for families to consider long-term care insurance as part of their comprehensive financial plan.
In the next 30 years, an estimated 1 million individuals will reach the age of 100. As life expectancy increases, the need for long-term care does as well. It's likely that even the healthiest of seniors will need assistance with activities of daily living (ADLs).
Benefits of Long-Term Senior Care Insurance
Preserving Assets: Long-term care can be a significant financial burden on families. Long-Term Care Insurance helps protect assets, preventing the depletion of savings meant for other life expenses. A senior policyholder may not use the policy for years or may have a medical emergency that triggers an immediate need for funds.
Whatever the situation, knowing you are financially prepared for long-term care can make the transition easier. Some may view LTCi as an expense rather than an investment. However, the costs of long-term care (in-home care ranges anywhere from $16 to $30 per hour) are expected to keep increasing and can quickly exhaust even the soundest savings.
Choice of Care Settings: Having long-term care insurance gives seniors the flexibility to choose where they receive care. Whether it's in the familiar surroundings of a home or in an assisted living facility, the policyholder has the freedom to decide.
It's ideal for many seniors to "age in place" at home. Long-term care insurance (LTCi) covers costs where Medicare doesn't, like if a senior needs assistance with non-medical care like bathing, getting dressed, or cooking meals. Being financially prepared allows seniors to choose where and how they want to age.
Alleviating Family Burden: Long-term care often requires a substantial commitment from family members. With insurance in place, the burden on loved ones can be alleviated, allowing for a more balanced distribution of care responsibilities. Families want their senior loved ones to receive quality care, even if that means taking on the caregiving responsibilities themselves. Especially for those in the "sandwich generation" – middle-aged adults who support an aging parent as well as their own children – the physical, emotional, and financial burden of caregiving can quickly cause stress and burnout.
Peace of Mind: Knowing that there is a financial safety net in place provides peace of mind for both seniors and their families. It allows individuals to age with dignity, without the constant worry about the financial implications of long-term care. Being able to afford quality care can help seniors enjoy a quality life—one with less worry, in which they can maintain a sense of independence while surrounding themselves with people and things that they love.
Understanding How to Use Your Long-Term Care Insurance Policy to Cover Care Costs
It is important for senior policyholders and their families to understand their policies to ensure that insurance companies fulfill their promises. While the value of LTCi is proven, policies can be difficult to decipher and the options for coverage can be overwhelming. The help of a professional, such as an Amada Senior Care advisor, can be crucial to getting the most out of your policy.
Amada's team of LTCi experts can help educate loved ones on long-term care insurance policies and assist them in managing their claims and filing paperwork. Amada Senior Care acts as an advocate – negotiating with insurance companies on behalf of seniors and policyholders. If you would like to learn more about what your LTCi policy covers, CLICK HERE to find an Amada office near you or call us at (866) 752-1961.
Considerations When Purchasing a Long-Term Care Insurance Policy
Start Early: The younger you are when you purchase long-term care insurance, the lower the premiums will be. It's a proactive approach that ensures you lock in coverage when you are in good health.
Understand Policy Terms: Thoroughly review and understand the terms of the policy, including coverage limits, waiting periods, and the types of services covered. Consult with a financial advisor to ensure that the policy aligns with your specific needs and financial situation.
Inflation Protection: Given the rising costs of healthcare, it's wise to consider policies with inflation protection. This ensures that the coverage keeps pace with the increasing cost of care over time.
Start the LTCI Conversation with Senior Loved Ones
If you're an adult daughter or son of aging parents or grandparents, seize the opportunity to ask if they are policyholders and find out where they stored policy documents. Have any family members experienced dementia or Alzheimer's, strokes, or are living with a chronic condition? If you have adult children let them know your long-term care plan. Long-Term Care Awareness Month prompts us to have important conversations about health care, learn LTCI facts, and put a plan in place before a care emergency arises.
As we navigate the complexities of aging, long-term care insurance emerges as a beacon of financial security for seniors and their families. At Amada Senior Care, we recognize the importance of holistic care, and we believe that long-term care insurance is a vital component of a comprehensive senior care plan. Amada is here to empower families and help them make informed decisions for the well-being of senior loved ones and family caregivers.
"Long-Term Care Insurance: A Plan for the Golden Years," written by Michelle Flores, Amada blog contributor.