Amada Connect
Our personal emergency response system ensures home care safety.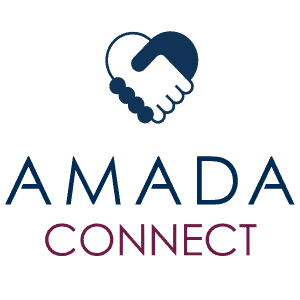 Helping you or a loved one live at home safely and independently is our priority at Amada Senior Care. 
A major component of aging-in-place involves enabling seniors to call for help when they need it.  Without a personal emergency monitoring system, seniors risk being left alone after they fall or suffer a medical emergency.  Amada Connect is designed to connect seniors immediately to the help they need.   
Amada Connect 24/7 provides peace of mind knowing you or your loved one will never be left alone and stranded.  With the press of a button, a professionally trained care specialist will receive your emergency alert, identify your need, and dispatch a designated responder—a family member, friend, neighbor, or emergency medical professional—to reach your side during those first critical moments.  In addition, the trained care specialist will stay on the line with you until help arrives. 
The wide variety of Amada Connect 24/7 PERS devices are designed to best meet your lifestyle needs—from in-home solutions to on-the-go mobile systems.  Your Amada Senior Care advisor can help you select the right product as well as personally set up your device, based on your care plan. We are happy to provide a complimentary consultation to discuss your needs and answer any questions.  
In-Home Personal Emergency Response System – Wireless Medical Alert 
The wireless home-based cellular system is lightweight, water-resistant and can be worn as a necklace or wristband.  A 48-hour rechargeable backup battery is provided in the event of a power outage.  No landline or cellphone is required. 
Voice Recognition Option 
For the moments one forgot to wear the medical alert button, the voice recognition system activates the in-home cellular unit and calls for help by recognizing a simple voice command.  Designed to get help from anywhere in your home without pushing a button! 
Amada Connect Fall Detection provides more peace of mind.  Nearly half of seniors who fall cannot get up on their own.  Even if the fall itself doesn't cause an injury, a long period of lying on the floor can lead to serious complications.  Concern about falls can cause stress for seniors and their caregivers.  And while medical alert systems ensure seniors who fall can access help quickly, one of the most common questions asked is, "What happens if I fall and can't press my button?" That's why we offer automatic fall detection pendants for that extra layer of protection.   
Mobile Medical Alert 
Wherever you go, stay connected to help.  With the On-the-Go mobile solutions, speak directly with a trained care specialist directly through the pendant.  The care trained specialist can identify your location through GPS technology and send appropriate help.  This pendant is lightweight, water resistant and has up to a 72-hour battery life.  When paired with the RemoteCare 24/7 app, family can locate you and see daily activity.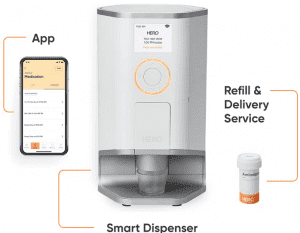 This stand-alone system provides fast access to help whenever and wherever you need it. 
Don't let simple forgetfulness or medication confusion lead to a loss of independence or a hospital admission. The Amada Connect Medication Dispenser organizes medications and ensures the correct dose is dispensed at the correct time. and if a dose is missed, the caregiver is notified. Talk to your Amada Senior Care advisor about implementing this user-friendly solution for ensuring your safety and health. Learn more »