Sunday is the start of National Assisted Living Week, a time when we celebrate and reflect upon the choices available to our beloved seniors. Senior care is a deeply personal matter, one that requires careful consideration and a deep understanding of the options available. For seniors and their families, making the decision between assisted living and in-home senior care can be a significant and emotional process. Consider the story of a senior named Mary whose family realized the time had come to learn more about the differences between in-home care and assisted living.
Mary's Story: A Senior Who Values Her Independence
The needle of Mary's sewing machine dipped in and out of her favorite apron. Her wrinkled hands shifted the fabric under the antique tank of metal that slowed to a stop as she looked at Emily and winked. Mary was mending the apron so Emily, who had been her caregiver for the past three years, could use it again while preparing their meals.
Emily treasured these small moments. They reminded her why she loved her job.
Emily knew it was hard for Mary to sew with her newly worsening arthritis, but she also knew she would never give up her favorite hobby. "It can take my hands, but it can't take my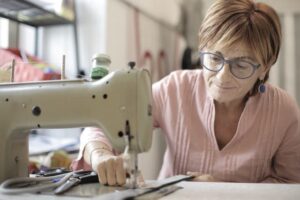 threads," Mary liked to joke. Since both women wore many of the clothes Mary made and used them for years, her "threads" really did seem to last forever.
Emily wondered whether Mary's assisted living community would allow her to bring the old sewing machine along when she moved in. She reflected on Mary's life in her home, which Emily had been a part of for a long time. Mary's husband Joe passed away a year ago. Over time, their four-bedroom house became too large to maintain. Soon her grown son and daughter wished for her to move into the Flower Hill Senior Community near their homes downtown. Through it all, Mary's sewing machine had been there, ready for her to lovingly transform blank sheets of fabric into works of art.
The process of deciding between Mary staying at home and moving to Flower Hill was not easy. Emily remembered Mary's son handing his mother a packet of pamphlets one day. It was the "Why Choose Flower Hill Senior Community" introduction for "Seniors Seasoned with Reason." According to the pamphlets, Flower Hill was a reasonable, obvious choice for senior citizens who would need increasing long-term care, especially widows. The glossy photos in each pamphlet showed caregivers assisting residents with typical activities of daily living, like eating and reading books together.
"Do you see how each caregiver in these pictures is the only one holding the mug, or the book, or the hairbrush, everything!" Mary told her son as she looked at the pamphlets. "It can take my hands, but now they want to hold my hairbrush for me. Why should I go to Flower Hill? I have Emily. And the arthritis isn't so bad," she said, "I can still sew."
At that time, Emily was entirely aware of the level of intensity of Mary's arthritis. It was not only in her hands but her knees as well. Mary had trouble bending, climbing the stairs in the house, sitting down, and getting into bed. Emily assisted Mary in doing anything her hands or knees made her struggle with. Knowing this, she did not say anything for fear that Mary's son would think she was complaining. She had nothing to complain about, but she feared what might happen if Mary fell or lost complete use of her hands and knees.
Mary's son told her that the pictures in the pamphlets did not show everything Flower Hill had to offer. The place was beautiful and full of friends her age. The assisted living staff could supplement Emily's help with daily tasks, but they could also limit medical assistance if Mary preferred it. Mary liked her independence, even when traveling to doctors' appointments all on her own, and Flower Hill would let her. They would even provide transportation for it. Mary and Emily wouldn't have to worry about housekeeping in her large home anymore. The same would go for laundry and yard work. Wouldn't that help everyone?
"Even Emily?" Mary asked him, "Can she come with me?"
The answer was yes. By move-in day, Emily was still commissioned as Mary's personal caregiver, thanks to the senior care agency that worked it into the long-term care insurance policy Mary held. Besides Mary's clothes, pictures, and other material belongings, the sewing machine was the most beloved item from home that Mary brought with her to Flower Hill, besides Emily herself.
"I bet this place costs a fortune," Mary told Emily on the drive to Flower Hill.
Mary's son had told Emily otherwise. He had run the numbers. The house Mary lived in with her husband would sell very soon. All the money would go towards Mary's trust. The mortgage and utilities for Mary's old house would have cost a significant amount compared to the cost of assisted living for Mary and her private room, so her expenses would decrease. Mary and Emily also wouldn't need to shop and buy groceries since Flower Hill would take care of meals. Lastly, Emily had the option to work more caregiving hours, which Mary would need in time.
Emily looked forward to more time with Mary. She also hoped to care for her full time, rather than taking multiple clients from the agency. They were close friends. and she made Mary feel much more comfortable in her new home. The two of them enjoyed teaming up while meeting new neighbors at Flower Hill. Mary was so proud to show other ladies the clothes Emily wore, like the birthday blouse she made her last year, or her hand-embroidered apron and even some shirts she had made for her past husband. Mary and Emily came to know wonderful people at Flower Hill.
Even if she worked longer shifts with Mary, Emily greatly appreciated the new assisted living community. She had continued providing her usual assistance but was able to focus more on Mary now that she didn't have to clean the house or cook food. Whenever Mary needed help moving around through Flower Hill, strong staff members could lift her or walk along the women to support Mary from both sides. There were other caregivers at Flower Hill who liked Emily and became her friends. Every morning when she went to work, she came to Mary's clean, private room, where Mary was usually already chatting over coffee with a neighbor.
"Look at this beautiful mug Susan gave me, Emily!" Mary said when she came in one day. "Look how sweet the little handle is. This is going right on my sewing table."
Emily saw the mug in Mary's soft, shaky hands and felt a small, treasured moment shared between them. She looked again and noticed crooked stitches in the sleeve of Mary's shirt. When she saw Mary's large smile, she decided to let them be.
In-Home Care or Assisted Living Community?
This story provides a first-hand point of view into the process of choosing between in-home care and senior housing. Through Emily's perspective, you saw the factors that lead seniors like Mary to need either an in-home caregiver or further assisted living in a senior community. Mary's very realistic situation – where she has aged through circumstances that changed her life, where her health has limited her ability to live at home, and how her family members influenced her move to Flower Hill – may be like your own or for a senior loved one.
Assisted living options, like Mary's new home at Flower Hill Senior Community, are for seniors who need assistance with activities of daily living, but not the intensive medical care of a hospital. Assisted living facilities tend to have community routines for residents who each live in separate or shared rooms. Residents are provided meals, laundry service, housekeeping, transportation, and sometimes fitness activities in assisted living.
Senior Assisted Living: A Home in a Supportive Environment
Assisted living facilities are designed to offer seniors a supportive environment where they can live as independently as possible while receiving assistance with daily activities, such as bathing, dressing, medication management, and meal preparation. Here are some key features of assisted living:
Community Living: Assisted living facilities provide seniors with the opportunity to live in a community of their peers. Residents have access to various amenities and activities that foster social interaction and engagement.
Professional Care: Trained staff members are available around the clock to provide care and support. This can be reassuring for families who may not be able to provide 24/7 care at home.
Safety and Security: Assisted living facilities are equipped with safety features and emergency response systems to ensure residents' safety at all times.
In-Home Senior Care: Aging in Familiar Surroundings
In-home care takes place in the privacy of a senior's own home and is usually provided by one or very few caregivers. Agencies like Amada Senior Care provide qualified caregivers to a senior for a personalized, private level of care. In-home care is often paid for by the hour and depends on what type of care is provided. This option prevents seniors from being separated from their cherished homes and family.
In-home senior care, as the name suggests, allows seniors to receive assistance in the comfort of their own homes. Here are some key features of in-home senior care:
Familiar Environment: Seniors can age in a place filled with memories and familiar surroundings, which can have a positive impact on their emotional well-being.
Personalized Care: In-home senior care can be tailored to the individual's specific needs and preferences. Caregivers offer one-on-one attention, which can be particularly valuable for seniors with unique health conditions.
Family Involvement: Families can play a more direct role in caregiving when choosing in-home care, providing a sense of closeness and connection.
Making the Decision: Senior Assisted Living or In-Home Senior Care?
Deciding between assisted living and in-home senior care should be a collaborative effort involving the senior, their family, and healthcare professionals. Here are some steps to help you make an informed decision:
Assess the Senior's Needs: Start by evaluating the senior's physical, emotional, and cognitive needs. Consider their mobility, medical conditions, and overall well-being.
Budget Considerations: Understand the financial aspects of both options. Assisted living facilities often come with a fixed monthly cost, while in-home care may have more variable expenses.
Discuss Preferences: Have open and honest discussions with your loved one about their preferences. Some seniors may have a strong desire to remain at home, while others may see the benefits of a community setting.
Seek Professional Guidance: Consult with healthcare professionals and social workers who can provide insights into the senior's specific needs and recommend the most suitable option.
Visit Assisted Living Facilities: If considering assisted living, visit different facilities to get a sense of the environment, staff, and available services. Ask questions and gather information.
Consider Long-Term Plans: Think about the long-term implications of your decision. Assess whether the chosen option can adapt to changing needs over time.
Other Senior Care Living Options
Elderly adults in need of long-term care tend to prefer "aging in place" at home. However, certain constraints can inhibit seniors from remaining in their homes as they age. Health, cost of care, or the wishes of children may lead families to consider placing their elderly loved ones in assisted living. "Assisted living" is synonymous with multiple other terms, such as independent senior living communities, skilled nursing facilities, and memory care communities.
Amada Exceeding Care Needs for Seniors and Their Families
At Amada Senior Care, we always encourage family caregivers to assess their caregiving situation and make the best decision for their elderly loved ones. Sometimes, the home environment is not ideal for seniors with certain health conditions such as those in need of memory care. In these situations, other care options like assisted living may provide a better quality of life for seniors. Contact us today for more information. At Amada, we have experienced and knowledgeable senior care advisors who are happy to explore the differences of the various senior living options available and provide insights on how to make the right choice for yourself or your senior loved one.
Base Your Senior Living Decision on Unique Needs and Preferences, and Personal Safety
The decision between assisted living and in-home senior care is a significant one, and there's no one-size-fits-all answer. It ultimately depends on the individual senior's needs and preferences, as well as the family's circumstances. Remember that the most important thing is to ensure the senior's safety, well-being, and happiness. As we celebrate National Assisted Living Week and its theme "Season of Reflection," let's also celebrate the love and care we provide to our seniors, regardless of the setting. Whether it's in a vibrant assisted living community or the comfort of their own home, the goal at Amada Senior Care remains the same: enriching lives and offering our senior clients the best quality of life in their golden years.
"Assisted Living vs. In-Home Senior Care: Making the Right Choice," edited by Michelle Flores, Amada blog contributor.