Compassion brings us to a stop, and for a moment we rise above ourselves."
~ Mason Cooley
Providing the best home care is what we're passionate about at Amada Senior Care
Keeping seniors safe and joyful by providing quality in-home care is what we at Amada describe as enriching the lives of others. Serving at independently owned franchise offices around the country, Amada caregivers apply their training and knowledge to help seniors thrive because they understand that quality of life is crucial for overall health and well-being.
"Caregivers are the lifeblood of everything we do," says CEO Tafa Jefferson, who founded Amada after working as a caregiver and earning a Certified Nursing Assistant license.
At Amada, we recognize that providing quality care is the hardest job our caregivers will ever love because they see the many positive impacts they make on seniors' lives. Yes, caregiving can be hard, but to borrow from a movie line … the hard is what makes it great. And it's the reason why Amada Senior Care Corporation holds its Annual Amada Caregiver Value Awards to recognize not just one, not just two or three, but six outstanding caregivers who enrich lives and then some.

Caregivers throughout the Amada franchise system who have been nominated for our Value Awards not only answer the call to serve as a caregiver but also are willing to be an essential factor in the life of a senior. On the evening of October 28th as part of its national conference in Nashville, Tenn., Amada recognized the six Value Awards recipients who embody our "6Cs" representing Compassion, Competence, Communication, Commitment, Confidently Humble, and Comforting.
These six caregiver core values reflect Amada Senior Care's philosophy and process. The owners of Amada franchise offices around the country nominated members of their caregiver teams for consideration in the national recognition program. The six recipients of the 2023 Amada Caregiver Value Awards are:
Recipients of the 2023 Amada Caregiver Value Awards are:
Martin Hopkins representing the Amada Caregiver Value of Commitment
Definition of this value: The Amada 6C of Commitment means that Amada caregivers are committed to doing their best to navigate delicate and challenging care situations. They are trustworthy, resourceful, and hard-working.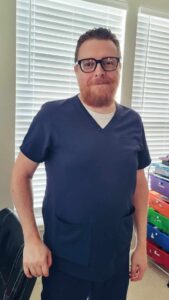 Martin, who works at Amada Central Houston, owned by William Long and Brent Partin, did not hesitate when asked to assist a veteran who had become depressed and almost nonverbal. The client lived in a rat-infested home that looked abandoned and often lay in bed all day. Other caregivers passed on visiting this client, but Martin said, "I saw him the other day and would like to cheer him up again."
Martin encouraged the client to eat better and made sure healthier foods were available when a caregiver wasn't around. He taught the client how to use the remote control, and even his cell phone so that he could talk to his daughter. Martin also helped the client arrange for rodent removal, food delivery, and VA services.
A retired veteran himself, Martin said that working as an Amada caregiver was the first time he had felt completely fulfilled since being in the military.
Don Johnson representing the Amada Caregiver Value of Communication
Definition of this value: Amada caregivers are proactive in asking questions and addressing any issues a client has. They truly listen and answer questions thoughtfully. They feel a sense of urgency and responsibility about making those receiving care as comfortable as possible.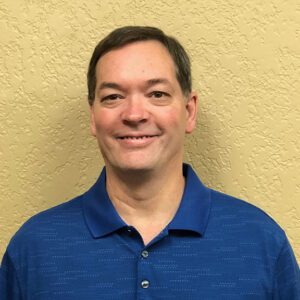 Don of Amada Springfield, co-owned by Barbie Kolb, is walking proof that true friendship is based on communication. He and client Jim bonded over the god-wink of being brought together and their belief in sharing the ministry. They tag-team preach during weekly devotions at nursing facilities and bring comfort to others at in-home Bible study groups.
Don takes excellent care of Jim, making gourmet food, keeping his home spotless, getting him to every doctor's appointment and ministry event, and sharing about his years serving in the military. Once he learned about an event Jim had gone to all his life but would be unable to get to this time, Don took it upon himself to take Jim on the road trip even if it meant he wouldn't be paid for his time.
"God really smiled on Amada and Jim the day He sent us Don," Barbie said.
Lucinda Thomas representing the Amada Caregiver Value of Competent
Definition of this value: Amada caregivers possess the knowledge, experience, and training to provide exceptional senior care. They are competent in caregiving skills. They present themselves well and dress professionally.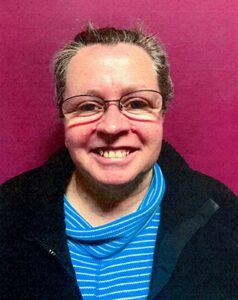 Lucinda from Amada Greater Indianapolis, owned by Belinda and Kevin Schluchter, was placed with a hospice client who was bedridden and nonverbal. Lucinda wouldn't accept that Rita was bedridden so she cared for her as if she wasn't by getting her up, bathing her, dressing her, preparing her meals, and wheeling her into the dining room to eat and look out the window.
This went on for weeks without any response from Rita but Lucinda kept at it, bringout out puzzles and putting on the TV in the den. One day the office got a call from Lucinda with the message, "Rita is talking!"
Reported the care coordinator, "To everyone's amazement, one day the hospice nurse came and said Rita was fine and no longer needed to be on hospice."
Jamie Cipres representing the Amada Caregiver Value of Compassionate
Definition of this value: Amada caregivers see providing senior care as their calling, not just a job. They show genuine kindness and concern for those we care for and are always looking for ways to fulfill their relational, emotional, and physical care needs.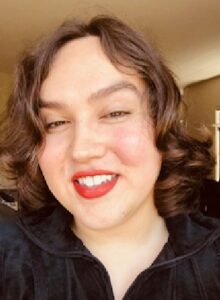 Jamie of Amada Vancouver, owned by Kimberlee and Chris Crosby, excels at amplifying quality of life for clients like Alex, a 31-year-old veteran who became disabled after stepping on an IUD during his deployment. Jamie understood Alex's need to pursue activities and tirelessly gets him safely and securely in and out of his van when transporting him to the swimming pool, music class, medical appointments, and other public places.
Jamie helped Alex train and care for a new service dog, and when Alex's wife goes out-of-state for work, Jamie makes sure to be available. Thanks to Jamie handling all of this and Alex's occasional physical setback because of his condition has given Alex the quality of life he deserves.
During the pandemic, Jamie went into the homes of Covid-positive clients who had no family nearby to care for them. "She would be in full PPE and head on in and take care of them without hesitation," Kimberlee said.
Elida "Cony" Ortega Panigua representing the Amada Caregiver Value of Confidently Humble
Definition of this value: Amada caregivers are confident in their abilities, yet willing to learn each client's unique needs and preferences. They are not hesitant or fearful about engaging with clients, but also don't assume they know more about what a client needs than the client themselves or their family members.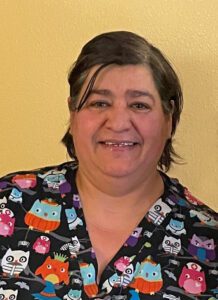 Cony of Amada Northern Nevada, owned by Ryan Hart, makes each client her one and only priority while on shift. She is there for everything the client might need, including simply being a friend when the family is far away. An experienced nurse, Cony understands how to inform the office of a client's needs – such was the case of a hospice client with out-of-town family.
On more than one occasion when a fellow caregiver was not able to work, Cony has stayed with the client through the next shift knowing the client couldn't do without the support. For another client whose family lived far away, she treated her to a day of beauty by bringing in and applying makeup to the client so that she wouldn't miss family as much and feel better about her week. Cony made sure the client got the royal treatment!
"She has touched every client and their families have always followed up with us to let us know how valuable she was," said Carly LeBlanc, Director of Client Care. "We are the ones who are lucky to have her."
Islonda "Island" Brown representing the Amada Caregiver Value of Comforting
Definition of this value: Amada caregivers are nurturing and foster a sense of connection and camaraderie with those we care for. Their warmth and communication help clients understand how much we appreciate them.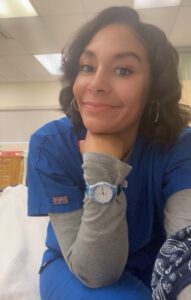 Island of Amada Tucson, owned by Christina and Chris Ram, understands how important routine is to many clients. For client Norma, who has dementia, the routine included watching an evening TV show, talk about Norma's artwork and fond memories, and complete her bedtime regimen.
While Norma slept, Island prepared for her morning breakfast routine by placing her teacup and tea just so, putting out the mixing bowl and measuring cup to make her pancakes, and setting three pieces of turkey bacon on a plate in the fridge for it to be microwaved to the right amount of crispiness.
Client Anne recovering from a stroke grew to feel safe knowing that she could call for Island in the night and she would help Anne to the restroom and then get her back into bed, helping her to find a new, comfortable position since Anne could not rotate her body on her own. Thanks to Island's efforts, both Anne and her partner, Bernie, could enjoy quality sleep knowing they had attentive care.
After helping client Gary get ready for the day, Island encouraged him to get outside or go on outings. When Gary's stomach started bothering him, Island took the initiative to take him to the hospital on her off day and stay with him. She provided comfort and a familiar, loving face when Gary was admitted to the hospital.
Treating Six Amada Caregiver Value Awards Recipients to a Boot-Kicking Nashville Weekend
Amada was delighted to provide the six honorees an opportunity to let down their hair and kick up their boots in Nashville for a fun-filled weekend of activities. The quickly bonded group of caregivers took in the homes of Music City's rich and famous on a bus tour, toured and made candy at the historic Goo Goo Chocolate Company, enjoyed dinner and a musical revue on board the General Jackson Showboat, and got some well-earned rest and relaxation at Urban Oasis Day Spa.
"It is that time of year and we are excited to do this," said Mareanne Fontenette, caregiving subject matter expert at Amada Senior Care Corp. "Again, this was a difficult year for us to decide on six honorees, as we had so many great nominations. It requires a great deal of time and dedication to read through the nominations and is painstakingly difficult to choose only six caregivers when so many are deserving."
Caregivers Providing In-Home Care Improve Our Local Communities
Our teams of caregivers who are employed at independently owned Amada franchise offices around the country serve a vulnerable population, and by doing so they improve our local communities.
"I'm grateful and thankful to be working for an organization that really puts the caregivers first," said Amada CEO Tafa Jefferson. "I'm proud of the company and proud of the work we're doing. I'm very thankful to our franchise partners who are out there doing the good work and employing such wonderful people as our caregivers."
The closest thing to being cared for is to care for someone else."
~ Carson McCullers