On Monday, August 21st, we celebrate National Senior Citizens Day, a special occasion to honor, respect, and recognize the contributions and achievements of our older population. This observance day reminds us of the adage "growing older is a privilege denied to many" and gives us every reason to embrace the process of aging and celebrate the achievements and wisdom that come with years of experience. Our senior-aged family members, friends, neighbors, coworkers, and acquaintances are parents and grandparents, teachers and mentors,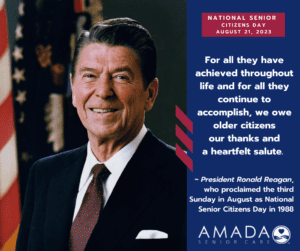 inventors and artists, business leaders and healthcare professionals, and veterans and volunteers – nearly all of whom have made significant impacts in local communities, culture, politics, education, medicine, entertainment, and more.
Amada Senior Care Has a Unique Perspective on Seniors Aging at Home
In providing trained caregivers to seniors needing non-medical support at home, we at Amada Senior Care have a unique perspective on the lives of our extraordinary senior clients, witnessing firsthand their wisdom, perseverance and their unwavering spirit passed to younger generations. Through our mission to enrich lives through dispensing the highest quality care and companionship that allow seniors to lead happy, independent lives, we at Amada Senior Care are dedicated to making our communities better places for seniors. In taking some time on Monday to acknowledge a beloved senior in your life, consider the continuous influence that elderly figures have stitched into the tapestry of our lives. What follows are a few examples of famous and not-so-famous older Americans who have made a difference on various sectors of our society.
Science: Dr. Shirley Ann Jackson
A theoretical physicist, 77-year-old Dr. Jackson currently serves as the 18th president of Rensselaer Polytechnic Institute, which has the distinction of being the oldest technological research university in the U.S. Dr. Jackson's distinguished career includes senior leadership roles in academia, research, industry, and government. She is the first African American woman to receive a doctorate from MIT in any field, and she holds an S.B. in Physics and a PhD in Theoretical Elementary Particle Physics. She has held several federal appointments, among them the U.S. Nuclear Regulatory Commission, the International Security Advisory Board and the National Nuclear Security Administration. Dr. Jackson's specialty in theoretical physics is condensed matter physics (the study of the macroscopic and microscopic physical properties of matter).
Culture: Carmen Herrera
With her rigorously composed and radiantly colored abstract artwork, Carmen Herrera is a testament to the enduring spirit of creativity. Despite her work being overlooked for nearly seven decades, she persevered and was finally recognized as a pioneering minimalist artist at the age of 89. Herrera's journey is a testament to creative tenacity and rewriting narratives in the world of art. She passed away last year at the age of 106.
Politics: Jimmy Carter
Former President Jimmy Carter has used his post-presidential years to make significant contributions to peacekeeping, housing, and humanitarian work globally. After his presidency, he became a champion for international human rights. In 1982, the Carter Presidential Center at Emory University in Atlanta was established to address issues related to human rights and democracy. We also know him for his dedicated volunteerism with Habitat for Humanity International, an organization that provides housing for underprivileged people. President Carter kept active into his 90s, only in recent years slowing down because of health issues. Earlier this year, he entered hospice care at age 98.
Public Health: Rosalynn Carter
First Lady Rosalynn Carter is a force all her own, having been a leading advocate for caregiving, mental health, conflict resolution, human rights, and early childhood immunization. Through the Carter Center, she promoted improved access to care and support for family caregivers. She also decreased the stigma that clouds issues of mental health. In late May, she revealed her own dementia diagnosis to bring more attention to this progressive condition that affects nearly 7 million Americans aged 65 and older. The First Lady celebrates her 98th birthday today and tomorrow butterflies will be released in the Rosalynn Smith Carter Childhood Garden to honor her work to provide habitats for monarch butterflies.
Education: James S. Jackson
Dr. James S. Jackson, a renowned social psychologist, was a pioneer in studying race and health. Through his prolific career well into his 70s, he impacted academic thought and helped bring to the forefront the imbalances in healthcare experienced by racial and ethnic minorities. A New York Times article stated that, Dr. Jackson "shook up the research field" with the first-of-its-kind National Survey of Black Americans that intended to right a flaw inherent in surveys of the 1970s: "They included too few Black people to provide insights specific to the Black population." He passed away at age 76 in 2020 from pancreatic cancer.
Medicine: Dr. Leila Denmark
Dr. Leila Denmark was a super-centenarian who practiced medicine until she was 103. She significantly contributed to the development of a vaccine for whooping cough in the 1930s and was awarded the Fisher Prize in 1935 for being co-founder of the successful vaccine. She was the lone woman in the 1928 graduating class of the Medical College of Georgia in Augusta, and the first physician on staff when Henrietta Egleston Pediatric Hospital opened at Emory University. She wrote child-rearing books, was among the first doctors to warn of the dangers of adults smoking cigarettes around children and recommended that children eat fresh fruit rather than drinking fruit juices. Not only does Dr. Denmark stand as an example of service in the realm of healthcare but also of human longevity. She passed away at 114 years old in 2012.
Entertainment: Rita Moreno
The beloved actress started performing on Broadway when she was 13 years old. At 17, she was signed to a movie contract at MGM and made more than 40 films. She was a featured player on the children's educational TV program The Electric Company that positively impacted generations of American children. In 1977, Moreno became the third person ever and the second woman to achieve an EGOT, having been awarded an Emmy, a Grammy, an Oscar, and a Tony, and is a Kennedy Center honoree. Her celebrated performances – from Anita in West Side Story to Tuptim in the King and I to Sister Peter Marie Reimondo in Oz – are etched in our minds. At age 91, she continues to act, having starred in the comedy 80 for Brady released earlier this year.
Celebrating The Legacy of Our Older Generations
As the keepers and conveyors of precious stories, traditions, and lessons, our older generations deserve recognition and celebration, not only on National Senior Citizens Day but every day. Each senior citizen leaves their imprint, visibly or subtly, shaping the world around us through their contributions to society. Their tales of perseverance, creativity, resilience, and wisdom continue to influence us and pave the way for future generations.
This weekend and on Monday, let us wholeheartedly celebrate our elders. Spend time with a senior citizen you admire, listen to their stories, learn from their experiences, and most importantly, show them the appreciation and respect they deserve. Human connections like these add richness to their lives and ours, making every day a meaningful senior citizens day.
For all of us at Amada Senior Care, each day provides an opportunity to make an elder feel valued and needed. If you would like information about how to encourage the health and happiness of a beloved senior in your life, don't hesitate to reach out to Amada Senior Care. We are happy to answer questions about in-home care, companion care and support for activities of daily living by a trained caregiver. CLICK HERE to find an Amada Senior Care office near you.
"Celebrating Our Elders: National Senior Citizens Day," written by Michelle Flores, Amada blog contributor.