The simple act of caring is heroic. — Edward Albert
The Amada Mission: Enriching Lives
Helping seniors maintain their independence by assisting with activities of daily living is what an Amada Senior Care caregiver is trained to do. Also known as ADLs, these activities of daily living run the gamut – from bathing, dressing, grooming, preparing meals, transporting, housekeeping, reminding about taking prescribed medication on time, and more. To take on such routine yet necessary tasks that make life easier for an aging elder is just as actor Edward Albert describes, "heroic."
Caring often calls on us to lean into love that we didn't know possible.  — Tia Walker
Having answered the call to serve, Amada caregivers apply their training and knowledge to help seniors thrive as they age at home. They understand that quality of life is crucial for overall health and well-being. This practice of keeping seniors safe and joyful is what we at Amada Senior Care describe as enriching the lives of others.
The Annual Amada Caregiver Value Awards recognizes six outstanding caregivers who enrich lives and then some. They not only answer the call to serve as a caregiver but are

willing to be an essential factor in the life of a senior. On the evening of October 29th, Amada Senior Care held an awards ceremony as part of our national conference to express our sincere appreciation of the life-enriching efforts of all Amada caregivers as well as honor the six who embody our "6Cs," which represent Compassionate, Competent, Communicative, Committed, Confidently Humble, and Comforting.
These six caregiver core values reflect Amada Senior Care's philosophy and process. The owner-operators of Amada franchise offices around the country nominated members of their caregiver teams for consideration in the national recognition program.
Recipients of the 2022 Amada Caregiver Value Awards
Leslie Alvarez (Compassionate) from Amada Mid-Maryland, led by owner Rich Frizzell. According to Rich's team, "The Leslie Factor" is a thing, in that Leslie has a special talent for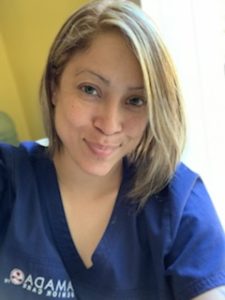 providing care to senior clients who are dealing with multiple challenges – and she is willing to take them on!
What is Leslie's response when the client is having a bad day? "Mrs. H must be in an extraordinary amount of pain to treat others that way." Yes, indeed, angels do walk among us … and her name is Leslie.
Catherine Maynor (Competent) of Amada Knoxville, which is led by owner Jeff Pell. The nomination stated that Catherine "has the chops to be a Zen master" given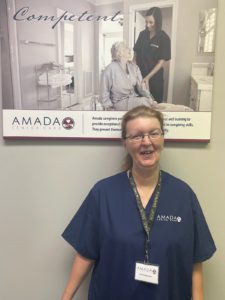 her ability to stay calm through her client's frequent outbursts due to Lewy body dementia. When he starts to display anger, she relies on her training and knowledge in taking action to help him feel calm and safe.
Catherine is committed to taking as many shifts as possible with the client because he becomes afraid and aggressive with an unfamiliar caregiver. "This gives the client's wife great peace of mind," said Franchise Owner Jeff Pell.
Crystal Foust (Communicative) of Amada West Virginia, which is led by owner Kari Peyatte. Yes, a tree branch fell on car after a record
snowstorm, but it was no problem! After getting help removing the limb, Crystal made it to her shift.
Another way Crystal commits to clients is her effective use of Therapeutic Communication. Two clients who have conditions that make it difficult to express their needs are enjoying better quality of life thanks to Crystal's adherence to the technique. "Crystal walks the client step-by-step through the ADL being addressed, keeps all communication positive and successfully redirects when needed," said Franchise Owner Kari Peyatte.
Brittuwhni Brown (Committed) of Amada Central Houston, which is owned by William Long and Brent Partin.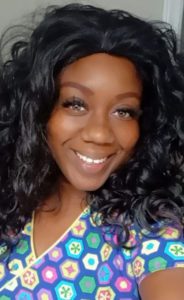 Known as the "client whisperer," Brittuwhni clicks with many so-called difficult clients who discover they want to accept care from her. She wins over clients who let her help with things they wouldn't let other caregivers assist with.
When one client went to live with his sisters, he grew distraught at the possibility of not being in Brittuwhni's care. The sisters continued in-home caregiving service just to have Brittuwhni continue to provide home care and thus give their brother peace of mind.
Marie Milien (Confidently Humble) of Amada Monmouth in New Jersey, which is owned Wayne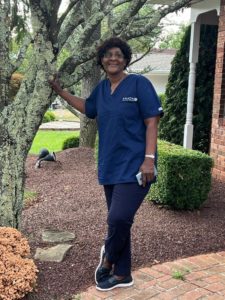 and Thessa Espiritu. Marie was a fill-in caregiver who went full-time after leaving another agency that would not help with HHA certification renewal. Soon after she referred a couple in their 90s who requested 9-to-5 assistance, 6 days per week.
The wife has memory issues but always smiles when she sees Marie, who commits to every shift because she truly enjoys caring for the couple and has become like part of the family. "The husband told me that Marie is a gift from heaven and not to dare replace her or it will not be pretty for me," said Franchise Owner Wayne Espiritu.
Karen Heidelmeyer (Comforting) of Amada Northern Colorado, which is owned by Josh Zuieback, Jeff Culler, Solar Martinez, and Lisa Olsen. Karen is known to bring a "Mary
Poppins bag" with activities to every shift. In the bag are 200 different puzzles, playing cards, dominoes and other games.
For a client who loves NASCAR, Karen arranged an outing to see a race. "Karen truly loves meeting people, getting to know them and leaving every situation better than it was when she found it," said Franchise Owner Lisa Olsen.
When you are a caregiver, you know that every day you will touch a life or a life will touch yours.
— Anonymous
Caregiving Improves Our Local Communities
Employed at independently owned Amada franchise offices around the country, our teams of caregivers serve a vulnerable population, and by doing so they also improve our local communities.
"I'm grateful and thankful to be working for an organization that really puts the caregivers first," said Amada CEO Tafa Jefferson. "I'm proud of the company and proud of the work we're doing. I'm very thankful to our franchise partners who are out there doing the good work and employing such wonderful people as our caregivers."