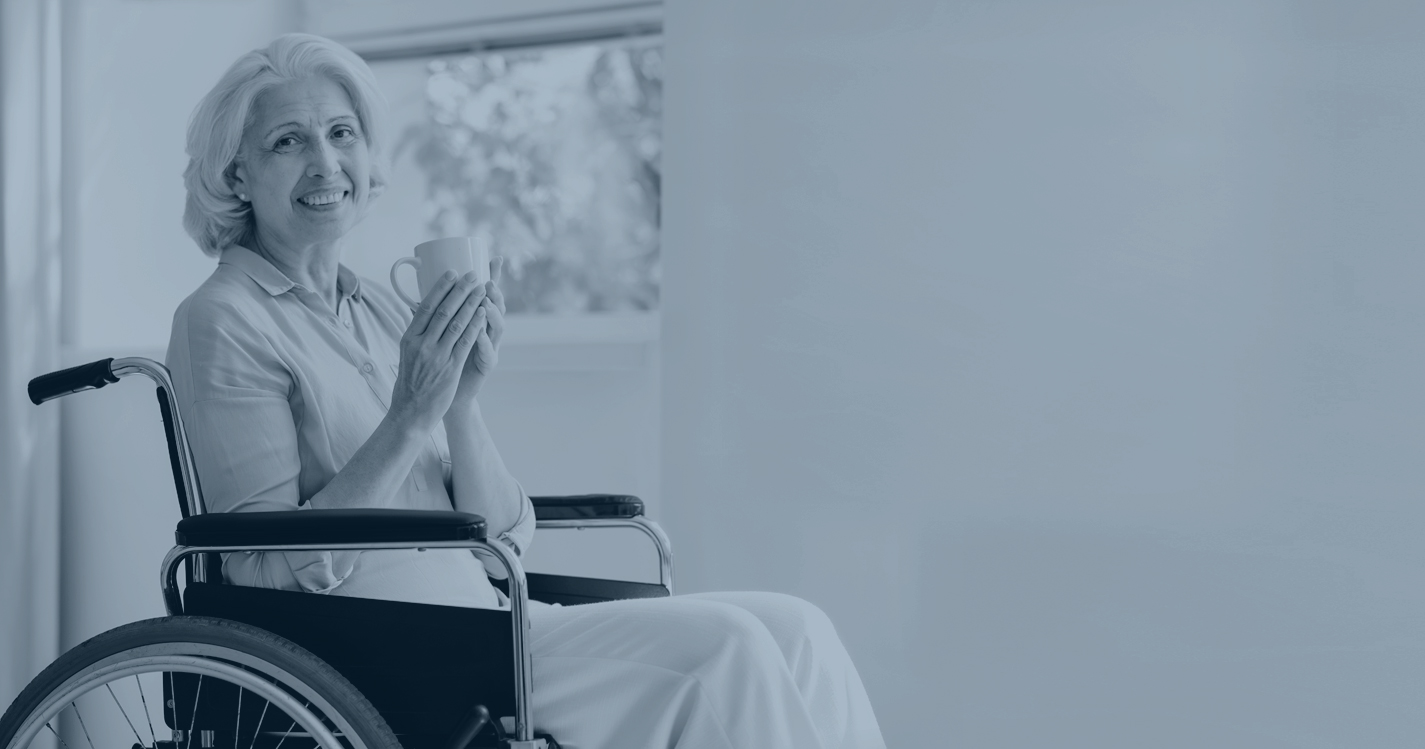 Slide 1
Would you or a loved one benefit from in-home senior care?
We specialize in providing comprehensive, non-medical, in-home care to seniors in the Mesa area.
Compassionate Senior Home Care Services
in Tempe, Arizona
Needs change as people age. If you're in need of more help in your day-to-day life for yourself or someone you love, Amada Senior Care in Tempe offers expert in-home senior care. We offer a Free Care Needs Consultation, so you can easily find out if our specialty in providing comprehensive, non-medical, in-home care to seniors is right for you. At Amada Senior Care, we take our mission to enrich seniors' lives seriously. First, we help them achieve safe and independent living in their own homes. Second, we support them so they can continue doing what they love, from favorite activities and hobbies to social clubs or new interests. Among our many personalized services we offer, Amada in Tempe home-care aides provide our senior care clients with assistance in activities of daily living (ADLs). ADLs include everything from meal preparation to help using the restroom to medication reminders to shopping to dog walking and more.
But offering high quality senior in-home care isn't the only service that separates Amada Senior Care from every other company in Tempe and the surrounding area. We also provide expert senior housing advisory services in and around Tempe, including Mesa, Gilbert, Chandler, Scottsdale, Phoenix, and the East Valley areas. Should you need financial counseling to make care more affordable, we can provide that, too. Lastly, should you need representation or personal advocacy for accessing and activating Long-Term Care insurance (LTCi) benefits, our expert staff can help.
Compassionate Amada in Tempe Caregivers are Trained to Provide Assistance with Activities of Daily Living (ADLs) such as: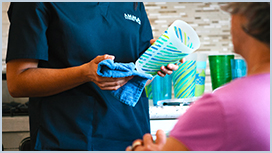 Meal Preparation, Feeding
Most Non-Medical Assistance
Amada In-Home Senior Care in Tempe That's Second to None
While it could be said that providing help with ADLs forms the core of our services at Amada Senior Care, it's how we provide ADLs that really makes a difference. A crucial element of caregiving and care services in general is the experience of companionship. Our Amada in Tempe care aides don't just enrich senior clients' lives by ensuring that they are safe and comfortable; they also seek out ways to ensure they are happy and thriving. To accomplish this larger goal, we work closely with senior care clients and their families in the Tempe area to create a home care plan tailored to each individual care client. Doing so enables seniors to remain safely independent in their homes within a personal care structure that serves them best.
For each of our senior care plans, we match a home care client and their loved ones with the trained Amada caregiver best suited to complement their personality and temperament. Whether your Amada caregiver is helping Grandma to roll out the pie crust made with her favorite recipe, relacing Grandad's walking shoes so that his heels don't slip out and his feet are better supported, or joining Aunt May in a relaxing and fun game of cards, you can be certain your senior loved one is receiving the highest quality of senior in-home care with genuine warmth, kindness, and compassion. Our entire team at Amada Senior Care in Tempe is committed to joyfully walking alongside you or your loved one throughout every step of the senior home care journey.
Caring for Seniors and Those Who Love Them in Tempe
At Amada Senior Care in Tempe, we know that the quality of the work we do affects more than our senior home care clients; it also affects those who love them. When a family member has a need you can't fulfill, it can be frustrating. We can help. We intentionally choose to involve seniors' loved ones in our senior care plans to help alleviate stress and worry. We also regularly communicate with our seniors' families. Doing so helps us gain deeper insight into our clients' needs, and it also eases concerns about a loved one's quality of life and safety. 
With us, the development of a customized senior care plan is just the beginning. We routinely monitor each of our expert home care aides to ensure that we continue to provide the very best care and companionship throughout the senior home care journey.
Would you like to learn more about how an Amada Tempe in-home caregiver can ease your mind and increase comfort and safety by offering help with ADLs? Contact us for a Free Care Needs Consultation. Our home care aides provide a nurturing and supportive environment for each of our senior home care clients. Home care isn't just a job for us at Amada; it really is our calling.
Comprehensive, Kind Senior Care in Tempe
At Amada in Tempe, we take a consultative approach to home care. We're experts in Long-Term Care insurance (LTCi) claims, which means we can readily assist our clients with the difficulties and complexities of verifying benefits and submitting claims. For private pay clients, our staff Certified Senior Advisor can be sure you're aware of all the best options to pay for in-home care in Tempe. We can also help you find out if any benefits are available through the Veterans Administration for clients with a military service background. 
Sometimes when someone inquires about senior home care, circumstances dictate that an assisted living community is a better fit than in-home care, and it's also true that the time sometimes arrives when the home care environment no longer suits our current senior clients. When this happens, we can recommend assisted living facilities that provide more full-time care. We understand that—especially for anyone who is new to elder care—the sheer number of senior living options available in the Tempe and Maricopa County area can be overwhelming. We can help you find the senior community that meets all your or your senior loved one's unique emotional, social, physical, and financial needs. Our years of experience and vast knowledge of senior living options in the Tempe area coupled with our working relationships with the people overseeing assisted living, Alzheimer and memory care units, skilled nursing homes, board-and-care homes, and other senior living communities mean we really can be a guide. We will assist you in exploring your options, so when it comes time to make a decision, you can feel confident that you've made the right one.
At Amada Senior Care in Tempe, we are here to offer support every step of the way. We genuinely want to reduce our clients' burdens and make home care in Tempe stress-free as possible. Let us coordinate an in-home senior care plan for you that makes the best use of LTCi benefits. Let us manage payments, and any other details that you need us to, so you and your family can focus on one another.   
Amada Caregivers' Commitment to Quality Care
Amada's home care services are among the best in the nation, because we strive to exceed expectations. When you invite us into your home, we go above and beyond to provide the very best personalized and compassionate senior care in all of Tempe. We also hope you will let us be a source of support and guidance. Navigating In-home care can be challenging, and no one should have to do it alone.
If you feel that you or someone you love would benefit from home care in the Tempe area, please contact Amada Senior Care in Tempe today for a Free Care Needs Consultation. Families love working with us because we create a customized plan of care that allows our senior clients to remain safe, comfortable and independent in their own homes. We also provide expert senior housing advisory services in the Tempe area should you need those services, and our financial counseling can help make care more affordable.
If you're in need of home care in Tempe, please reach out to us for a free needs consultation or call our phone number at 480-999-5250.
FOR YOUR FREE CARE NEEDS CONSULTATION, FILL OUT THE FORM BELOW
At Amada Senior Care in Tempe, we know from experience that seniors and their families make better care decisions when they're aware of all their care options. If you think it's time for in-home care, Amada's care advisors can help you understand your options for funding one of our expert caregivers. Quality Tempe home care can be difficult to come by, but not with us. Choose a Tempe senior care agency you can trust. Choose Amada Senior Care.
May 24, 2023
After attending the free lunch sponsored by AMADA at which Kimberly presented an excellent overview of what most long-term care insurance policies cover, I signed up for an in-depth review of my own personal LTC policy. Not only did Kimberly graciously come to my house, she gave me a comprehensive and detailed accounting of what my policy does and does not cover, the do's and don'ts of filing a claim, and an offer to be of assistance in the future. Now that's going above and beyond!
Apr 11, 2023
Excellent
Kimberly provided numerous insights, recommendations, and potential next steps for our families current LTC situation; truly appreciate the helpfulness as well as the expertise.
Apr 11, 2023
Amazing
Kim, from AMADA is the best. Kim provided me and my 83 yo mom an in-depth explanation of what AMADA does. Kim gave us time to ask questions, sometimes, the same questions asked differently so we could better understand the process. She analyzed my mom's long term care policy and provided explanations about the how the policy works, the restrictions, and what most likely could be submitted for claim. I appreciated Kim's obvious expertise in these matters. I highly recommend selecting AMADA as your home health care provider for your loved one.
Amada Senior Care Reviews
Average rating:
0 reviews