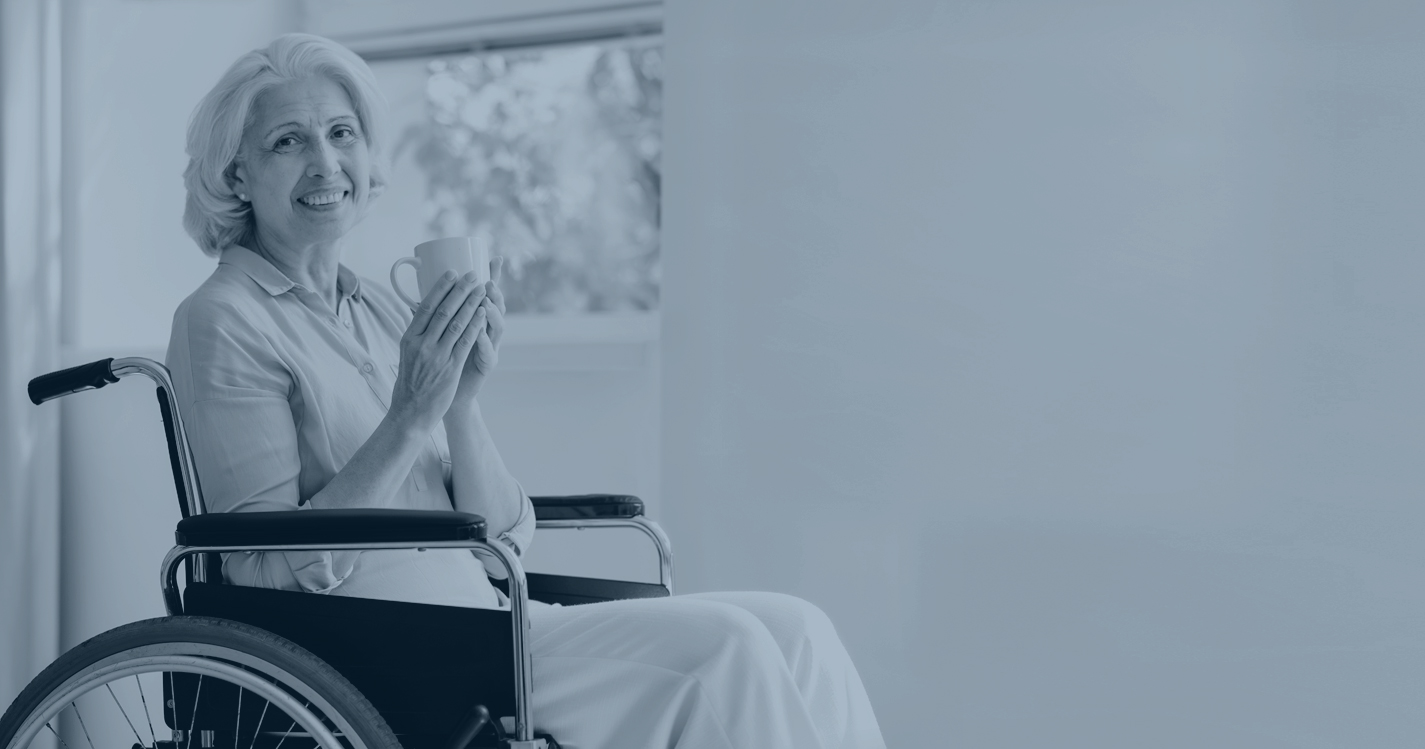 Slide 1
Would you or a loved one benefit from in-home senior care?
We specialize in providing comprehensive, non-medical, in-home care to seniors in the Mesa area.
Excellent Senior Home Care in Sun Lakes, Arizona
Would you, a family member, or someone else in your life benefit from high-quality in-home senior care in Sun Lakes, Chandler, Phoenix, Scottsdale, Mesa, Tempe and other communities in and around Maricopa County? If your answer is yes, then please contact Amada Senior Care in Sun Lakes for a Free Care Needs Consultation. We help seniors stay safe and comfortable in their own homes by providing comprehensive, non-medical, in-home care. We also support them, so they can continue doing the activities and hobbies they love. At Amada Senior Care in Sun Lakes, our mission is to enrich seniors' lives, and all our services are geared toward achieving this mission. One of the main personalized services Amada in Sun Lakes home-care aides provide is assistance with activities of daily living (ADLs), which include everything from dog walking to meal preparation to shopping to help with dressing to medication reminders and much more. We provide the highest quality senior in-home care in the Sun Lakes area, and we do it with kindness and compassion.
But there's more that separates Amada Senior Care from other home care services companies in Sun Lakes. For starters, our home care services extend well beyond in-home care. For seniors and their families in need of it, we also provide expert senior housing advisory services, financial counseling that can assist in making care more affordable, and personal advocacy for when you're accessing and activating Long-Term Care insurance (LTCi) or VA benefits.
Trained Amada Caregivers Assist with Activities of Daily Living (ADLs) such as: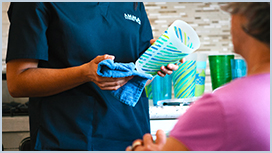 Meal Preparation, Feeding
Most Non-Medical Assistance
Specialized and Comprehensive Senior Care in Sun Lakes
Helping seniors with ADLs is important, but a crucial element of the home care our aides provide is regular companionship. To us at Amada in Sun Lakes, enriching senior clients' lives on a daily basis means doing more than just making sure they're safe and comfortable. Their happiness matters, too. That's why we work closely with senior care clients and their family members in the Sun Lakes area to create a home care plan that is customized to their needs. We know assisted living facilities are the right choice sometimes, but our work assists clients and families so seniors can remain happy and safe in their own home — and for as long as possible.
Here's how we do that: Because two cornerstones of our comprehensive senior care plans is help with ADLs and companionship that encourages and supports thriving, we match each home care client with the trained Amada in Sun Lakes caregiver best suited to not only meet their needs, but also to complement their temperament and personality. Whether our in-home caregiver is playing a card game with Grandma, assisting Dad with decluttering his man cave, or attending to Mom while she shops for necessities at the grocery store, know that your senior loved one is receiving true personal support with genuine warmth, compassion and kindness. All of us at Amada Senior Care in Sun Lakes are committed to the success of your senior home care journey.
Seniors in Sun Lakes Need Special Support
We know how difficult it can be to watch a family member age and need help you're unable to consistently provide. That's why at Amada Senior Care in Sun Lakes, we don't just serve our senior clients, we also serve their families and loved ones, too. By involving a seniors' loved ones in their care plans and by engaging in regular communication with clients and family members, we're able to put to rest any concerns about quality of life, wellness, and comfort.
Customized senior care plan development is only the beginning, too. Home care aides are also monitored, and we check in with clients and families regularly so we always know we are providing the necessary levels of care for our senior clients. 
To learn more about how an Amada Sun Lakes in-home aide's caregiving can improve safe and independent living for you or a loved one, please contact us for a Free Care Needs Consultation. The nurturing environment we create for each of our senior home care clients really does help them continue doing the things they love. Home care is more than just a job for us at Amada Senior Care in Sun Lakes — it is our calling.
Transformative Senior Home Care in Sun Lakes
We know you are committed to meeting your senior loved one's needs. We also know that those needs change. That's why we take a consultative approach to senior care in Sun Lakes. If you're a private pay client, we have a Certified Senior Advisor on staff who can inform you of the best pricing options. We know Long-Term Care insurance (LTCi) claims can be difficult to submit, so we assist our clients with their complexities. We can also help determine if any aid is available through the Veterans Administration (VA) for clients or their spouses who served in the military.
Should the time arrive when the home care and personal care environment can no longer meet your senior loved one's needs, we will help you find the right senior living community in the Sun Lakes area. We can even recommend communities that we have visited in-person and pre-screened. We know the decision to find the best assisted living home is a difficult one, and we can guide you as you seek a placement that can meet all your senior loved one's specific social, physical, emotional, and financial needs. We have strong relationships with the coordinators who oversee Alzheimer assisted living and memory care facilities, assisted living communities, skilled nursing homes, and other nursing care and retirement communities. The many senior living options available in the Sun Lakes area can feel overwhelming, so we are here to help you navigate that transition if and when the time comes to do so.
At Amada Senior Care in Sun Lakes, our mission to enrich seniors' lives means supporting you and your family by reducing the burdens and stress related to home care. Let us coordinate an in-home senior care plan that meets your needs and makes good use of LTCi benefits. We can also help manage any other details or payments—anything that can help you and your family get back to living your lives in full.
A True Commitment to Care
When we work with a senior and their loved ones, we commit to exceeding expectations. Every day we strive to provide personalized and compassionate senior care in Sun Lakes that is second to none. We also strive to be a source of support and comfort on a daily basis, because we believe that nobody should have to navigate the complexities of in-home care by themselves.
If you feel that you or someone you love could use help with ADLs in a home care setting in Sun Lakes, please contact us at Amada Senior Care in Sun Lakes for a Free Care Needs Consultation. The customized plans of care that we develop with our senior care clients and their families make it possible for seniors to remain safe, independent, and comfortable in their homes, while continuing to pursue the things they love in life. We also provide expert senior housing advisory services and offer senior care-related financial counseling so care is as affordable as possible.
If you need home care for yourself or a family member in Sun Lakes, please reach out to us for a free needs consultation or call the Amada Senior Care in Sun Lakes phone number at 480-999-5250.
FOR YOUR FREE CARE NEEDS CONSULTATION, FILL OUT THE FORM BELOW
Amada Senior Care in Sun Lakes is not your average home care agency. We know that without an awareness of all their care options, seniors and their families will struggle to find the best care available to them. When you're ready for home care in Sun Lakes, reach out to our care advisors. They will help you understand all your available care options, as well as the available financial options, so you can receive help and care from one of our expert aides. We've found that quality Sun Lakes senior home care is difficult to come by. Not with us. Choose a Sun Lakes senior care agency you can trust.
Nov 13, 2023
Amazing Organization to Work With
I absolutely love working with Amada. The clients are amazing, and the staff is very accommodating. You can tell that you are valued and respected. A great place to work.
Nov 11, 2023
Amazing Company
Amada is a great company to work for. All the staff that i have encountered in person and spoke with over the phone are all very nice. The clients i work with and have worked with are all amazing. Amada knows how to make you feel like family. They are very understanding and make you feel welcome. Im glad i chose this company to further my skills in caregiving
Nov 8, 2023
Great and caring company!
I am very grateful to work for Amada. Communication is great and staff is always helpful. Since I have been employed, I have learned additional ways to care for clients to make them feel content and comfortable.
Amada Senior Care Reviews
Average rating:
0 reviews