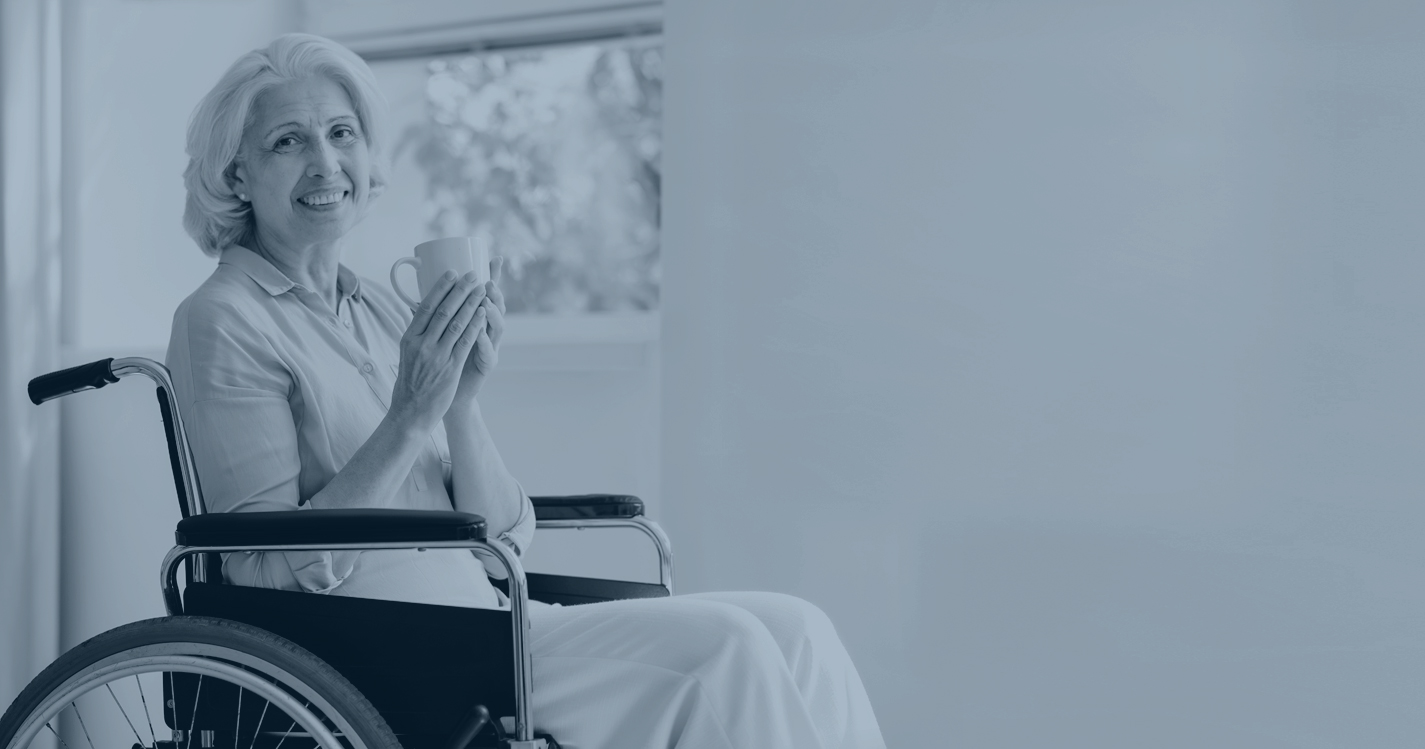 Slide 1
Would you or a loved one benefit from in-home senior care?
We specialize in providing comprehensive, non-medical, in-home care to seniors in the St. Louis area.
At-Home Senior Care Services in Kirkwood, Missouri
When it is time to find care for your senior family member, whether you are looking for meal preparation services, companionship, housekeeping, or basic caregiving, look no further than Amada Senior Care of Kirkwood. We understand the importance of keeping your loved ones at home as long as possible, and our professional, compassionate team's goal is to do just that. Our age-in-place senior services provide support and care that lets your loved one continue to live safely and independently without having to relocate.
Our comprehensive, non-medical, home care services are provided according to each client's personal schedule. Our home care providers don't impose a strict schedule, which is a fear many seniors have of moving into assisted living facilities, rather we build our schedule around what our client wants. Everything from meal preparation to medication reminders to transportation to running errands is done according to our client's daily living needs. We also support them to make sure they continue to pursue their favorite activities and hobbies.
In addition to our in-home care, Amada Senior Care provides senior housing advisory services, financial counseling, and we can also serve as your personal advocate for accessing and activating Long-Term Care insurance (LCTi) benefits.
Find out if you or a loved one can benefit from in-home senior care. Contact Amada Senior Care in Kirkwood today for your Free Care Needs Consultation.
Trained Amada Caregivers Provide Compassionate Assistance with Activities of Daily Living (ADLs) such as:
Meal Preparation, Feeding
Most Non-Medical Assistance
Personalized Care and Assistance
Residents of St. Louis County know Amada's reputation for high-quality, competent, friendly staff and caregivers, and whether we are caring for your loved one with Alzheimer's, Parkinson's, or mobility issues, our focus is to ensure that they stay safe, happy and engaged. Older adults thrive when they retain their independence and routine, and with our customized, personal care plans we enable seniors to remain comfortable in their own homes, surrounded by their special heirlooms and personal possessions.
Our plan includes matching each home care client and family with the Amada caregivers who will best complement your loved one's personality and unique needs. Our support with activities of daily living (ADL) is critical for maintaining dignity and independence, and our home care providers are skilled in the special needs of seniors. We assist with getting them up and moving (as appropriate), bathing, dressing, taking them around town and to appointments, and even helping to keep their home clean and organized the way they like it. Our Amada care team gives you a break and eases your mind by doing what it takes to get your loved one through their day effortlessly.
But it's not all about the hands-on care. Our caregivers are especially proud of offering "good old-fashioned companionship" to their clients. Listening to the stories about their childhood and family, fixing their favorite recipes, driving them past their old neighborhoods, and going through their high school yearbooks with them is all part of giving your loved ones the kindness, compassion and attention they deserve.
Communication and Collaboration
Entrusting your loved one's care to someone can be stressful. It requires research, time and lots of conversations with other family members to uncover the special care that is needed for your parent, spouse or other senior family member. Missouri residents will find there are a wide variety of senior care options available, such as independent living apartments with add-on services, memory care units, or nursing homes with 24/7 on-call healthcare providers. Before you settle on anything, consult with a patient advisor at Amada Senior Care in Kirkwood. 
Contact us today for a Free Care Needs Consultation. We serve Kirkwood and the surrounding areas including Ballwin, Chesterfield, Clayton, Fenton and St. Charles.
What we do impacts your senior family member, you, and all of your family, so we don't just tell you what we can offer — we listen to you. We take your concerns and needs seriously, and through communication and collaboration, we will develop a customized, comprehensive senior care plan that follows our goal to create a nurturing environment for each of our senior home care clients. We know you want your loved one to continue doing the things they love, and so do we.  
Our plans ensure that we regularly monitor each home care aide, check in with our clients and their families, and adjust our services so we can continue to provide the very best care and companionship. 
We bring you peace of mind so you no longer have to worry about your loved one's safety, quality of life, and comfort. Home care is more than just a job for us at Amada Senior Care in Kirkwood—it is our calling.
Financial Advisory Services and Patient Advocacy
When you are dealing with all the issues that come with caring for your senior loved one, trying to decipher the requirements and guidelines of Long-Term Care insurance can take a back burner, which can cause an unnecessary financial burden. At Amada, we go beyond basic home care by offering you access to our Long-Term Care insurance (LTCi) claims experts. We will assist you in understanding your policy and will guide you through the complexities of verifying benefits and submitting claims. We can also determine if your loved one has benefits available through the Veterans Administration (VA) that provides support for military veterans and their spouses. 
We also employ senior home care financial advisers who can recommend the best payment options for private pay clients of our in-home care in Kirkwood. Our financial services can help reduce financial burdens and make all aspects of in-home care easy and stress-free. 
Unfortunately, the time may come when circumstances require an alternative to in-home care. We know how overwhelming this can be, and our patient advocates and advisers at Amada Senior Care in Kirkwood are here to guide you through this next phase. You want what's best for your family, and we can help you find the best. With our collaborative approach, and through patience, and understanding, we will work with you and your loved one to find a location and community that is right for you. Put your trust in us; we will support you during this difficult transition.
Whether you are looking for a place east of Kirkwood like Webster Groves, or a little farther north in Richmond Heights, or anywhere in the Kirkwood area, we can recommend communities we have pre-screened with an in-person visit that encompasses all your senior loved one's unique physical, emotional, and financial needs. We use our experience, knowledge and strong relationships with the coordinators who oversee local live-in senior care communities to help with the process. 
Let us coordinate an in-home senior care plan to maximize the value of your loved one's LTCi benefits, manage payments, and take care of other details and paperwork so you and your family can focus on more important matters.
Amada's Senior Care Commitment Never Wavers
Commitment means being dedicated to a cause, and at Amada, we are dedicated to providing loving, compassionate care for your senior loved one. Our caregivers treat your family like their own family. Our commitment and dedication means we work hard to exceed the expectations of you and every family we work with. 
The professionalism and care of our senior home care advisers and caregivers at Amada Senior Care in Kirkwood is second to now, so you can be sure your trust in us is well-placed. We are steadfast in consistently providing the highest quality of personalized and compassionate senior care while treating your loved one with respect and dignity. 
If you're looking for home care in Kirkwood, or in the Saint Louis area, reach out to us by calling (314) 626-3905 or accessing our online Free Care Needs Consultation. 
We are committed to being a source of support, guidance, and comfort to you and your family, because we believe that no one should have to navigate in-home care alone.
FOR YOUR FREE CARE NEEDS CONSULTATION , FILL OUT THE FORM BELOW
Amada Senior Care also provides senior housing advisory services, financial counseling, and serves as your personal advocate for accessing and activating Long-Term Care insurance (LCTi) benefits. 
When it is time for in-home senior services in Kirkwood, Amada's care advisors will help you understand all available care options so you can secure a Kirkwood senior care provider you can trust.
Nov 3, 2021
Over and Above
We had a wonderful experience with Amada. Bree and Sherry communicated with me regularly about my dad's care and worked as a team to get his needs met. They were kind and thoughtful. My dad had to move to assisted living and we will miss them.
Jan 27, 2021
Thanks so much to Amada Senior Care, especially to Chris and Rebecca who helped me deal with the insurance company to file paperwork. The caregivers were exceptional and helped make the time my husband was able to spend at home with the family as "normal" as was possible.
Jan 26, 2021
Thank You
I want to thank everyone who helped with my husbands care, and all the help you and Rebecca gave me in dealing with the insurance company. I would be happy to recommend your company to anyone in need of home health care. Thanks again.
Amada Senior Care Reviews
Average rating:
0 reviews