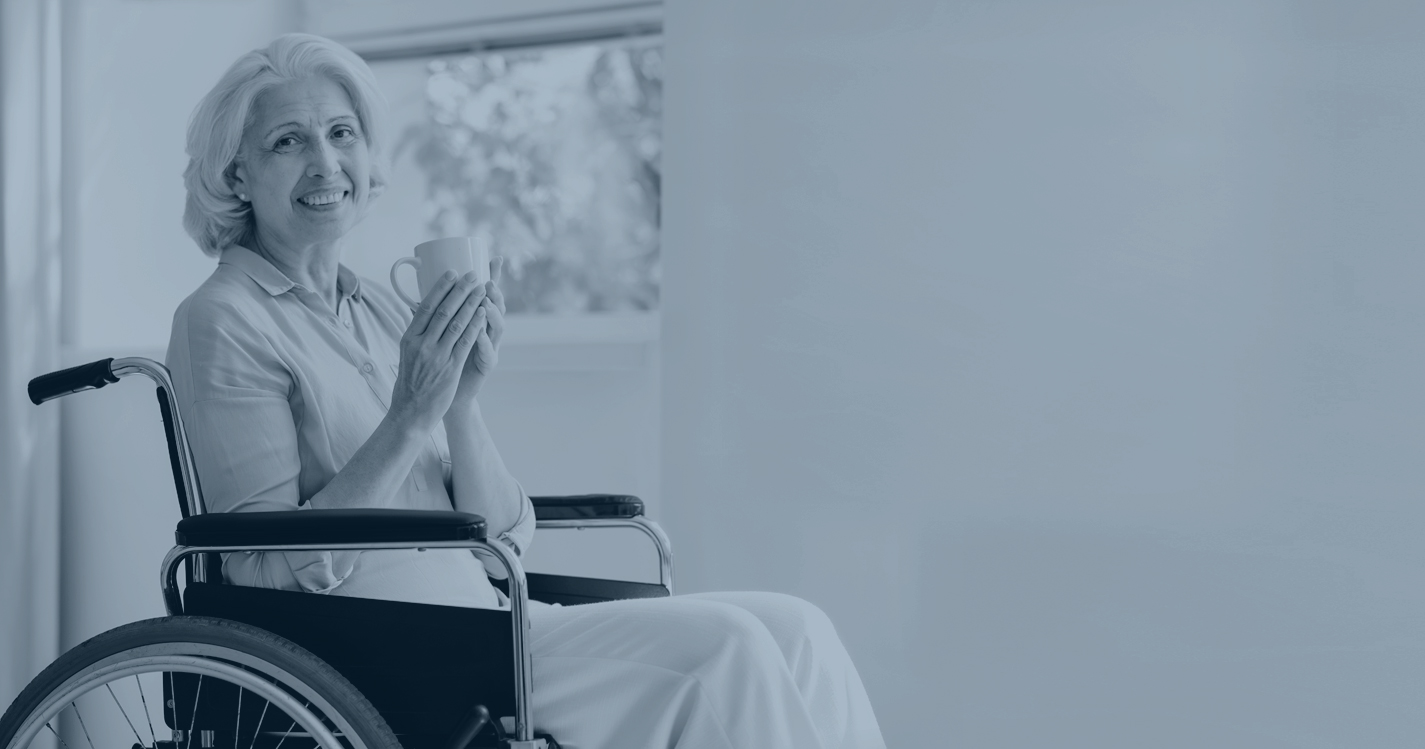 Slide 1
Would you or a loved one benefit from in-home senior care?
We specialize in providing comprehensive, non-medical, in-home care to seniors in the Boston MetroWest area.
Comprehensive and Compassionate
In-Home Senior Care in Norwood
If you're looking for in-home senior care for yourself or a loved one in Norwood, consider Amada Senior Care. We specialize in comprehensive, non-medical, in-home senior care, and we've made it our mission to assist our senior clients so they can live safely and comfortably in their own homes. But that's not all. We also strive to support them as they continue to participate in hobbies, favorite activities, social clubs, and more. All our services at Amada Senior Care Norwood are personalized, including assistance with activities of daily living (ADLs). Our home care aids help with everything from transportation to meal preparation to running errands and so much more.
Is in-home senior care in Norwood something you or a loved one needs? If so, please contact us at Amada Senior Care in Norwood for a Free Care Needs Consultation.
Amada Caregivers are Trained to Provide Assistance with Activities of Daily Living (ADLs) such as:
Meal Preparation, Feeding
Most Non-Medical Assistance
Customized Senior Home Care in Norwood, MA
In addition to lending a daily hand with ADLs, our home care aides also provide "good old-fashioned companionship," which greatly improves seniors' quality of life. At Amada in Norwood, we don't just aim for safe and comfortable independent living. No, our standards are higher than that. We also want our senior clients happy and thriving. To achieve that vision, we work closely with senior care clients and their loved ones to create a tailored home care plan.
Part of our comprehensive senior home care plan is making sure our clients work with a trained home care aide who is not only able to meet their specific needs but who also complements their unique personality and temperament. We monitor all our in-home caregivers regularly, so you can rest easy knowing you are in good and capable hands. Whether our in-home caregiver is making Grandma's favorite gingersnaps, trimming Dad's moustache just right, or simply talking with you about your concerns regarding your loved one, you can be certain that Amada Senior Care in Norwood is invested in every step along the way of your senior care journey. Our goal is to provide the highest quality senior in-home care in the Norwood area, and we aim to do it with kindness, warmth, and compassion.
Supporting Independent Living for Seniors in Norwood
At Amada Senior Care in Norwood, we never forget that what we do doesn't just affect our senior home care clients. All our choices, services, and plans also affect the lives of the people who love our senior clients and fret over them. We know it's frustrating and discouraging when a family member has a need you can't fulfill, but we are here to help you fulfill it. We intentionally involve both the senior client and the clients' loved ones in our care planning, because it helps us gain deeper insights into our clients' needs. We also remain in frequent communication with family so we stay on top of concerns, while easing worries about safety, quality of life, and comfort.
If you'd like to learn more about how an Amada Norwood in-home caregiver can improve your or your loved one's comfort and safety by helping out with ADLs and life-enhancing activities, please contact us for a Free Care Needs Consultation. We seek to create a nurturing environment for each one of our in-home senior clients, because we want them to carry on doing all the things they love to do. Home care may be our job at Amada Senior Care in Norwood, but it isn't just our job; it's our calling.
The Amada Senior Home Care Difference
The starting point of every client's journey with Amanda Senior Care in Norwood is the development of a customized senior care plan, but that plan is just the beginning, because Amada in Norwood offers much more than just in-home care. As part of our mission to enrich seniors' lives, we also offer other vital services, including expert senior housing advisory services for the Norwood area, financial counseling to help make care more affordable for seniors and their families, and representation for activating Long-Term Care insurance (LCTi) benefits — we can act as your personal advocate.
At Amada, your senior loved one's needs are front and center. All of them. That's why we take a consultative approach to home care. We are experts in Long-Term Care insurance claims, able to assist our clients with the many complexities of navigating benefits and submitting claims. We are also able to help determine what benefits are available through the VA for any clients or their spouses who served our country in the military. If a client is private pay, we can also help out, enlisting the help of a senior home care financial adviser so you're able to find the best payment options for senior home care in Norwood.
At Amada Senior Care in Norwood, we want to lessen our clients' stress and make all aspects of home care in Norwood as easy and simple as possible. Let us guide you in coordinating an in-home senior care plan that best uses your or your loved one's long-term care insurance benefits. We can help manage payments and take care of details so you and your family can tend to what matters. For a Free Care Needs Consultation, contact us today.
Transitioning with Senior Care in Norwood
Occasionally, circumstances dictate that in-home care is not a good fit. When that happens, we can make recommendations for local Norwood communities that we have already pre-screened through an in-person visit. Choosing the best senior community in Norwood is something most people are not prepared to do, especially if they were intending to pursue in-home care. Don't worry. Our advisers at Amada Senior Care in Norwood can help show you the way. We know you want what's best for your family, and because we understand family, we want that, too.
When the time comes that the home care environment no longer suits our senior clients' physical, financial, or emotional needs, we can help find an ideal senior community in the Norwood area. Our knowledge of senior living options in the Norwood area is vast, and because we have strong, working relationships with the coordinators who oversee assisted living, board-and-care, skilled nursing and other community homes in the area, we can make recommendations that make sense for you. Especially for people new to elder care, the wide variety of senior living options available in the Norwood area can feel daunting, but we're here for you and committed to your thriving. We gladly help our senior home care clients and their loved ones explore all their options so the best decision is made for you and your family.
Committed to High-Quality Senior Care in Norwood
At Amada Senior Care in Norwood, we are not committed to meeting expectations; we are committed to exceeding them. Our senior clients and their loved ones have invited us into their lives and homes. We work hard every day to prove how well-placed their trust is. Our senior home care advisers and in-home caregivers do that by providing the highest quality, personalized and compassionate senior care in all of Norwood. We hope our seniors and their loved ones see us as a source of support, guidance, and comfort. Navigating elder care is complicated and emotional, and we believe no one should have to navigate it alone.
If you feel that you or a loved one would benefit from home care with Amada in Norwood, please contact Amada Senior Care in Norwood for a Free Care Needs Consultation. We work closely with families and seniors to create a customized plan of care to ensure seniors can remain safely in their homes, comfortable and independent. Our services, however, are not limited to in-home care. We also provide financial counseling to make care more affordable, and we offer expert senior housing advisory services in Norwood and surrounding areas. Our mission is to support you and your loved ones from the first step of your senior care journey through every step that follows.  
Looking for home care in Norwood? Please reach out to us for a free needs consultation or call 617-229-6567.
FOR YOUR FREE CARE NEEDS CONSULTATION , FILL OUT THE FORM BELOW
At Amada Senior Care in Norwood, we understand that better care decisions can be made when seniors and families are aware of all their care options. When you're ready for in-home care in Norwood, let Amada's care advisors guide you through all your available care options and financial options to fund in-home care with one of our expert caregivers. In our experience, we've found that quality Norwood home care can be difficult to come by. Amada Senior Care is an agency you can trust.
Sep 23, 2022
Clients
Our caregivers are very good., We love them. They are outstanding. They are very helpful with attending to our needs in a timely matter. The AMADA office staff are attentive and respectful. We would for sure recommend AMADA to others no questions asked.
Jan 12, 2022
Barbara Richardson, My Father's Personal Care Attendant
Barbara is warm, caring, connected, and is dedicated to my father's care and sense of well being. These qualities are invaluable at this time in his life and we are so very grateful to have her.
Amada Senior Care Reviews
Average rating:
0 reviews