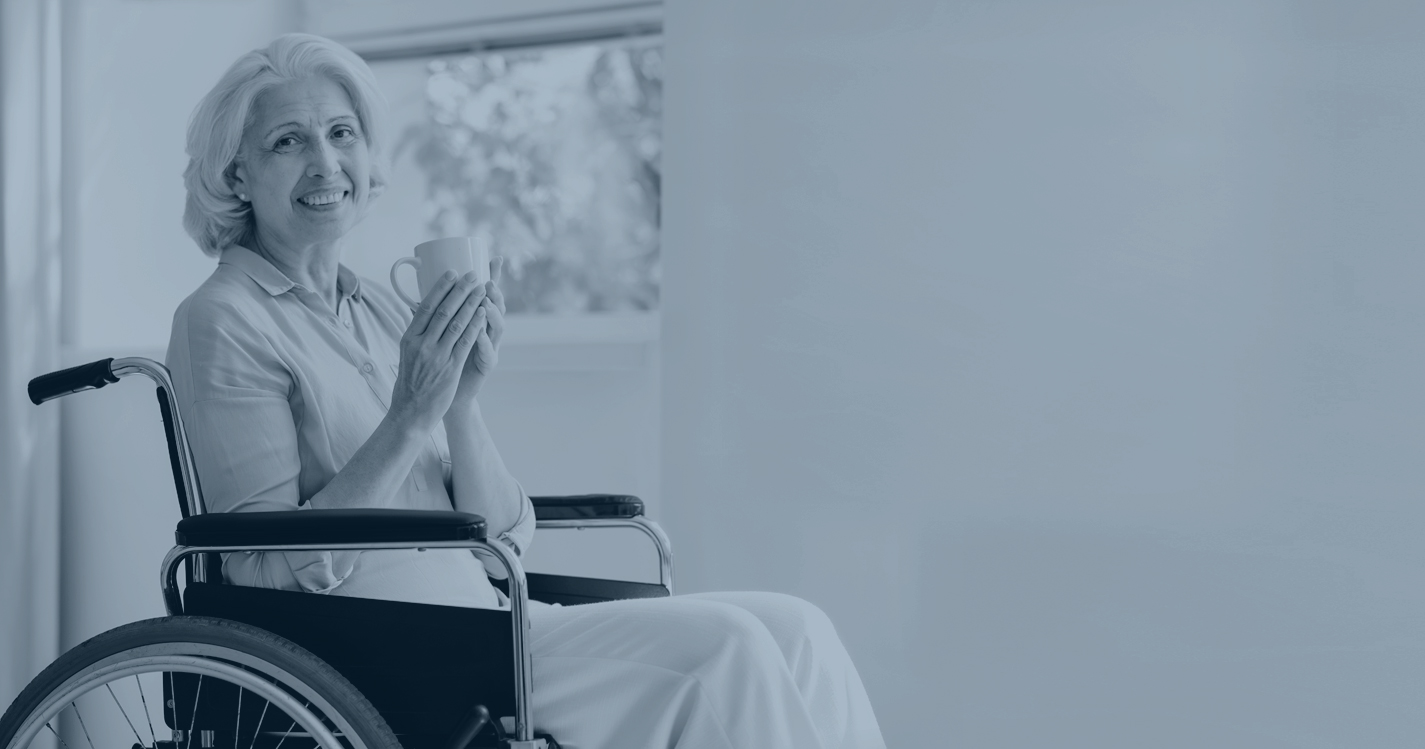 Slide 1
Would you or a loved one benefit from in-home senior care?
We specialize in providing comprehensive, non-medical, in-home care to seniors in the San Antonio area.
High-Quality In-Home Senior Care in Stone Oak
If you or a loved one would benefit from in-home senior care, you want a senior care agency you can trust. Contact the compassionate and competent care team at Amada Senior Care for a Free Care Needs Consultation. We specialize in providing comprehensive, non-medical, in-home care to seniors in Stone Oak and surrounding areas. 
Our primary mission at Amada Senior Care is to enrich seniors' lives. That may sound like a big job, but helping seniors live safely in their own homes and supporting them as they continue to pursue their favorite activities is what we do. It is important to us that we help our clients maintain a comfortable level of independent living for as long as possible.
We help with activities of daily living (ADLs), including medication reminders, grocery shopping, light housekeeping, dressing, and cooking — support that we know helps them get through their days more comfortably. In addition, we ease the feelings of loneliness by providing companionship and by supporting our clients as they pursue their favorite activities, hobbies, and interests.
The Amada team working in Stone Oak goes above and beyond in-home senior care. In addition to providing personal care services, we also offer expert senior housing and financial consulting services for our clients and their families and loved ones. We want to help make your senior care options more accessible and affordable. We provide support with finding appropriate senior care, with Veterans Administration (VA) benefits, and with Long-Term Care insurance (LTCi) benefits.
Could you or a loved one benefit from in-home senior care in Stone Oak? Contact Amada Senior Care for a Free Care Needs Consultation today.
Compassionate Amada Caregivers Provide Assistance with Activities of Daily Living (ADLs) such as:
Meal Preparation, Feeding
Most Non-Medical Assistance
Caring and Personal Connections
At Amada Senior Care, we lend a hand with everyday tasks and ADLs, and we can drive our clients to their doctor's appointments and the grocery store, but we are most proud of the companionship we provide. Amada caregivers bring the perfect balance of physical and emotional comfort to their clients — something you won't necessarily get from other senior care agencies.
The personal connection and caring relationship our caregivers create with our senior clients ensures happy and thriving seniors. We want to enrich our seniors' lives by keeping them safely in their own homes, surrounded by their personal belongings, in their familiar neighborhood, for as long as possible. But enrichment also means social interaction, conversation, and help in continuing to enjoy their favorite activities. That's why one day a caregiver may take their client to the coffee shop for their favorite latté; another day, they might help sort through old family photographs or bake an apple pie for the neighbor.
Whatever we do, we strive to provide the highest quality of in-home senior care with a sense of warmth, kindness, and compassion.
Personalized Senior Care Plans
We understand that there is no one care plan that fits every client, and we don't use cookie-cutter plans. We involve our clients and the family members who care for them and worry about their safety, comfort, and quality of life. It is through this communication and collaboration that we gain deeper insight into our clients' needs, their personality, limitations, likes, dislikes, and preferences that help us create a personalized care plan with the right care that addresses each client's unique needs.
As part of our comprehensive senior care plan, we handpick one of our trained Amada caregivers who will best complement each home care client's personality and meet their unique needs. Our in-home care is just one part of the senior care journey, and we don't stop with the plan creation and staff placement.
We regularly monitor each home care aide and check in with our clients and their families and make adjustments, so we are certain we are continuing to provide the very best care and companionship.
Learn more about how an Amada Senior Care in-home caregiver in Stone Oak can enhance the comfort and safety of your loved one, and bring you peace of mind. Contact us for a Free Care Needs Consultation.
Home care is more than just a job for those of us working in Stone Oak—it is our calling.
Expert Consultants for Seniors in Stone Oak
Your senior loved one's needs come first, so we take a consultative approach to help ensure they get the appropriate senior care. We provide expertise in both Long-Term Care insurance and senior housing. Let us help assist with the complexities of finding the right senior care services and the right financing strategies.
When in-home care services are no longer adequate and it is necessary for our senior clients to transition to an independent living community or senior care facility, our Amada senior housing advisors can help. Our advisors have years of experience in eldercare, solid relationships with administrators of local independent and senior care communities, and a list of pre-screened facilities that measure up to our high standards. Whether your loved one has Alzheimer's or requires skilled nursing support, our housing advisors will help ensure you are aware of all care options.
We will help you determine the appropriate level of care your loved one needs. Whether he or she should reside in an independent living community, assisted living community, memory care center, nursing home, or other type of senior living community, we can help find an option that meets your personal preferences, and supports the physical, social, and emotional well-being of your loved one.
>We can help make the right care accessible and affordable. Our Long-Term Care insurance (LTCi) claims experts can assist and guide our clients and their families through the process of understanding their coverage, verifying the benefits, and submitting claims. As appropriate, we will also provide representation as your personal advocate for activating and accessing your benefits.
U.S. military veterans and their spouses may have access to Veterans Administration (VA) benefits. We will identify benefits and explain the differences in your VA eligibility depending on your needs. If you are private pay, and do not have LTCI or VA benefits, senior care is not out of reach. Our financial counselors will explain the different pricing options, and recommend financing strategies that help minimize the financial burden.
Our excellent team offers at-home elder care services to Texas in Stone Oak and San Antonio.
Our Commitment to Excellent Senior Care in Stone Oak
Our commitment to our senior clients and their families is quite simply to exceed their expectations. We know the stress and challenges that come with selecting an in-home senior care provider, and the day you invite us into your home and lives you put your trust in us. Every day, our caregivers at Amada Senior Care working in Stone Oak strive to make certain you know that your trust in us is well-placed.
We offer our unwavering commitment to provide the high-quality, compassionate care your loved one needs. We will be a source of support, guidance, and comfort through every step of your senior care journey. No one should have to navigate eldercare services on their own, and our Amada team of trusted advisors are here for you.
If you're looking for home care in the Stone Oak area, or other communities in Bexar County, access our online free care needs consultation or call our phone number at 210-960-4304.
FOR YOUR FREE CARE NEEDS CONSULTATION, FILL OUT THE FORM BELOW
Talk to someone you can trust and who can answer your questions to help you find the right in-home senior care. Amada's expert senior housing and financial advisors can explain all your senior housing and financing options. We don't tell you what to do, and we give you the information you need, so you can make the right decision. Schedule your consultation with an Amada Senior Care Advisor today.
Jan 10, 2023
Caregiver
Well lets see. .this is a place i can call home .love working at Armada .this place is different than abywhere i have ever worked at. My boss my supervisor my hold work office ladies are great. There very understanding n patient 🙏 thank you for the opportunity to work for ya'll
Oct 29, 2022
Best caregivers
We absolutely love Amada! We take care of my husbands Aunt and they have been so helpful with handling care for her. Pretty much every caregiver we've had has gone above and beyond. Amada has even been able to accommodate our unusual schedule. Even last minute changes with ease! Highly recommend to use them for your loved ones care.
Sep 16, 2022
excellent care and compassion
Joanna (Jo)

is the best caregiver we have met. Compassionate, Professional, Excellent care.

Eric Scott
Amada Senior Care Reviews
Average rating:
0 reviews