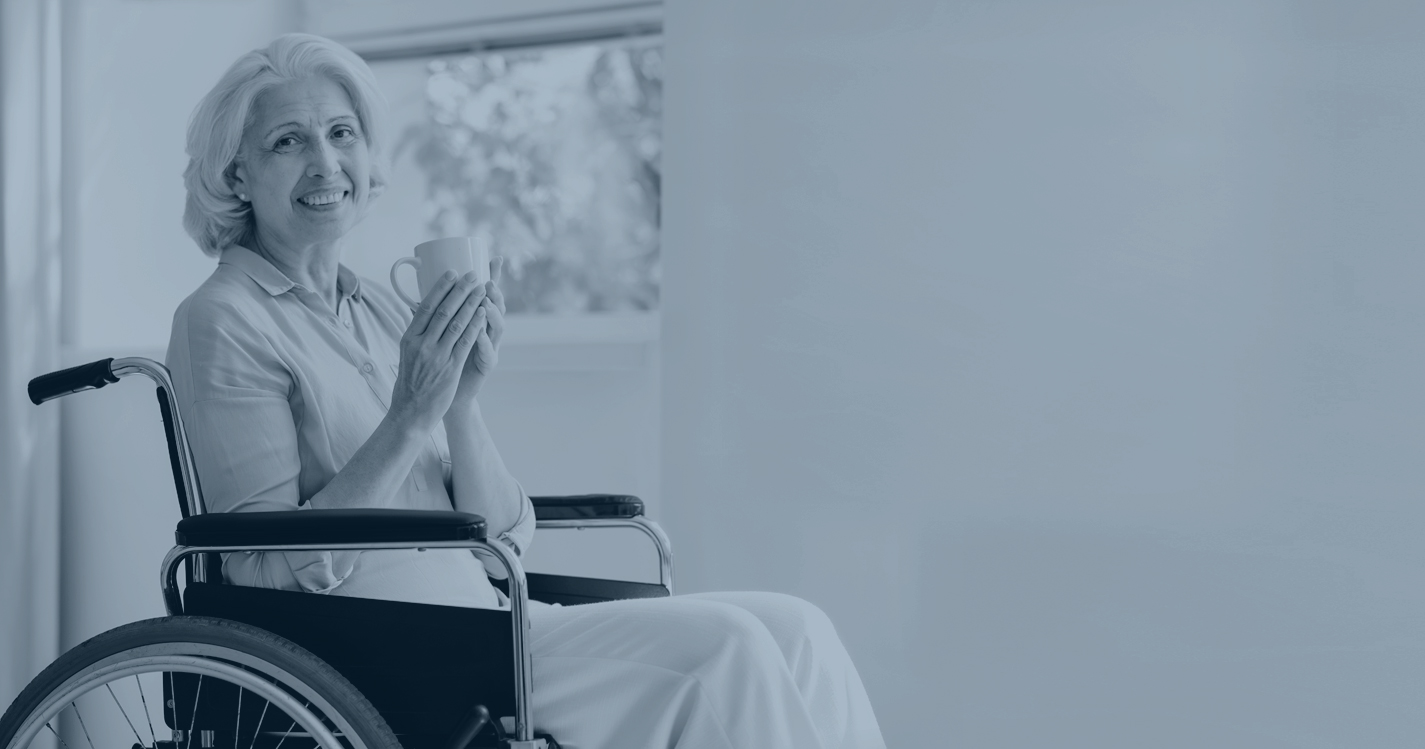 Slide 1
Would you or a loved one benefit from in-home senior care?
We specialize in providing comprehensive, non-medical, in-home care to seniors in the San Antonio area.
Comprehensive, Non-Medical In-Home Care
in Shavano Park
Do you or a senior loved one need help getting through the day? Is it a struggle to fix meals, get dressed, or get to a doctor's appointment? If so, you may benefit from an in-home caregiver. Contact an Amada Senior Care rep for your Free Care Needs Consultation. We specialize in providing comprehensive, non-medical, in-home care to seniors in Shavano Park and the surrounding area.
We want to enrich seniors' lives, and we do it one step at a time. First, we help them live safely and comfortably in their own homes. Second, we help by giving them the support they need to continue to do the things they enjoy. Whether that means visiting their friends, going to the library, or participating in their favorite activities, our caregivers are there for our clients. Our personalized services ensure our clients get the assistance they need with activities of daily living (ADLs), including light housekeeping, medication reminders, meal preparation, and so much more.
We don't stop with personal care, though. Our expert senior housing and financial advisory services separate Amada Senior Care from every other company that provides home care in Shavano Park. As part of our mission to enrich seniors' lives, we want to make senior care more accessible and affordable. We offer representation as your personal advocate for accessing and activating Long-Term Care insurance (LTCi) benefits, and more.
Find out if you or a loved one can benefit from in-home senior care. Contact Amada Senior Care representatives in Shavano Park, Texas, today for your Free Care Needs Consultation.
Kind Amada Caregivers are Trained to Provide Assistance with Activities of Daily Living (ADLs) such as:
Meal Preparation, Feeding
Most Non-Medical Assistance
Compassionate Caregivers for Shavano Park Seniors
We want our seniors to maintain a comfortable level of independent living for as long as possible. That means keeping them safe, happy and fulfilled. Our courteous and competent caregivers show up every day with a goal to do that, and more. Amada caregivers don't just help with critical ADLs like meal preparation, hygiene, housekeeping, and medication reminders; they offer companionship and a personal connection, too.
Our one-on-one personalized care and attention means we get to know our clients and create a trusting relationship. We go beyond hands-on care to do the little things, like helping to build a puzzle, listening to stories from years gone by, sewing a button on a favorite sweater, or just chatting about current events. Whatever we do, we not only provide the highest quality senior in-home care, but we also bring the respect, attention, and warmth our clients deserve. Our team proudly offers in-home elder care services to Texas in Shavano Park and our San Antonio location.
Amada's Shavano Park team aims to bring peace of mind, comfort, and joy to elder care.
Planning for the Right Care
When Amada caregivers provide care for a client, we know that it also affects the people who love them. When you can no longer provide the care or attention an aging family member needs, entrusting their care to someone else can be frustrating and stressful.
We don't assume we know what is right for them. You know what your loved one needs. You know their likes and dislikes, what they want for breakfast, how they like their coffee. Your input and feedback ensures we gain the insight necessary to create a care plan that is unique and personalized to your loved one. We even go so far as to handpick the home care aides who will complement the style and personality of your loved one.
To learn more about how Amada in-home care providers in Shavano Park can ease your concerns about your loved one's safety, quality of life, and comfort, contact us for a Free Care Needs Consultation.
The development of a customized senior care plan and staff placement is just the start of our journey. We maintain constant communication with the family, regularly monitor each home care aide, and adjust the care plan as needed. We want to be certain we are continuing to provide the very best care and companionship for each client we serve.
Expertise in Senior Housing and Financial Advisory Services
Our Amada Senior Care housing and financial experts understand the complexities of senior care, so you don't have to. We will consult with you to provide the relevant information you need to ensure your loved one receives the care he or she needs.
Our Long-Term Care insurance claims experts can review and explain the requirements and coverage of your long-term care insurance policy. They can also serve as your representative and personal advocate to access and activate LTCi benefits, and assist with verifying, processing, and submitting LTCi claims.
For U.S. military veterans and their spouses, we can discuss any Veterans Administration (VA) benefits for which you may be eligible. We can also help explain VA eligibility requirements and assist you when you file for benefits.
We are experts at helping our clients find the best ways to pay for quality senior care, including private pay clients. If you're private pay, you can trust our financial advisors to help identify financing strategies that can help make senior care more accessible and affordable.
Your care team at Amada Senior Care of Shavano Park will support you and your family every step of the way.
Transitioning Care
When the time comes that in-home care is no longer an option, we can help in the transition to an assisted living community. Our senior housing advisors have years of eldercare experience and can recommend pre-screened housing options.
When looking for the right independent living community or senior care center for your loved one, we will help you assess the appropriate level of care, the cost, as well as desired housing amenities. Shavano Park senior living options include independent living communities, nursing homes, memory care communities, assisted living facilities, and more. We can help you find an option that meets your budget and preferences, as well as your loved ones physical, social, medical, and emotional needs.
Amada Senior Care: Committed to Exceeding Expectations
At Amada Shavano Park, we are on a mission to exceed the expectations of our clients and their families. Every day, you get our unwavering commitment to provide the highest quality personalized senior care with compassion, kindness, dignity, and respect.
We realize that inviting us into your lives and home is a sign of trust, and we are committed to providing caring, competent caregivers, who will strive every day to make certain your trust in us is well-placed.
We combine in-home care with expert senior housing and financial advisory services to achieve our mission of supporting you and your loved ones through every step of your senior care journey.
If you're looking for home care in Shavano Park or the surrounding area, access our online free care needs consultation or call our phone number at 210-960-4304.
FILL OUT THE FORM BELOW TO SCHEDULE YOUR FREE CARE NEEDS CONSULTATION
When you need a senior care agency you can trust, our advisors are ready to talk to you. Contact Amada Senior Care. We can explain your available senior care options and financial options in Shavano Park. We can help you secure a trained, compassionate senior care provider in a short amount of time. We believe no one should navigate in-home care alone, and we are here to help.
Jan 10, 2023
Caregiver
Well lets see. .this is a place i can call home .love working at Armada .this place is different than abywhere i have ever worked at. My boss my supervisor my hold work office ladies are great. There very understanding n patient 🙏 thank you for the opportunity to work for ya'll
Oct 29, 2022
Best caregivers
We absolutely love Amada! We take care of my husbands Aunt and they have been so helpful with handling care for her. Pretty much every caregiver we've had has gone above and beyond. Amada has even been able to accommodate our unusual schedule. Even last minute changes with ease! Highly recommend to use them for your loved ones care.
Sep 16, 2022
excellent care and compassion
Joanna (Jo)

is the best caregiver we have met. Compassionate, Professional, Excellent care.

Eric Scott
Amada Senior Care Reviews
Average rating:
0 reviews