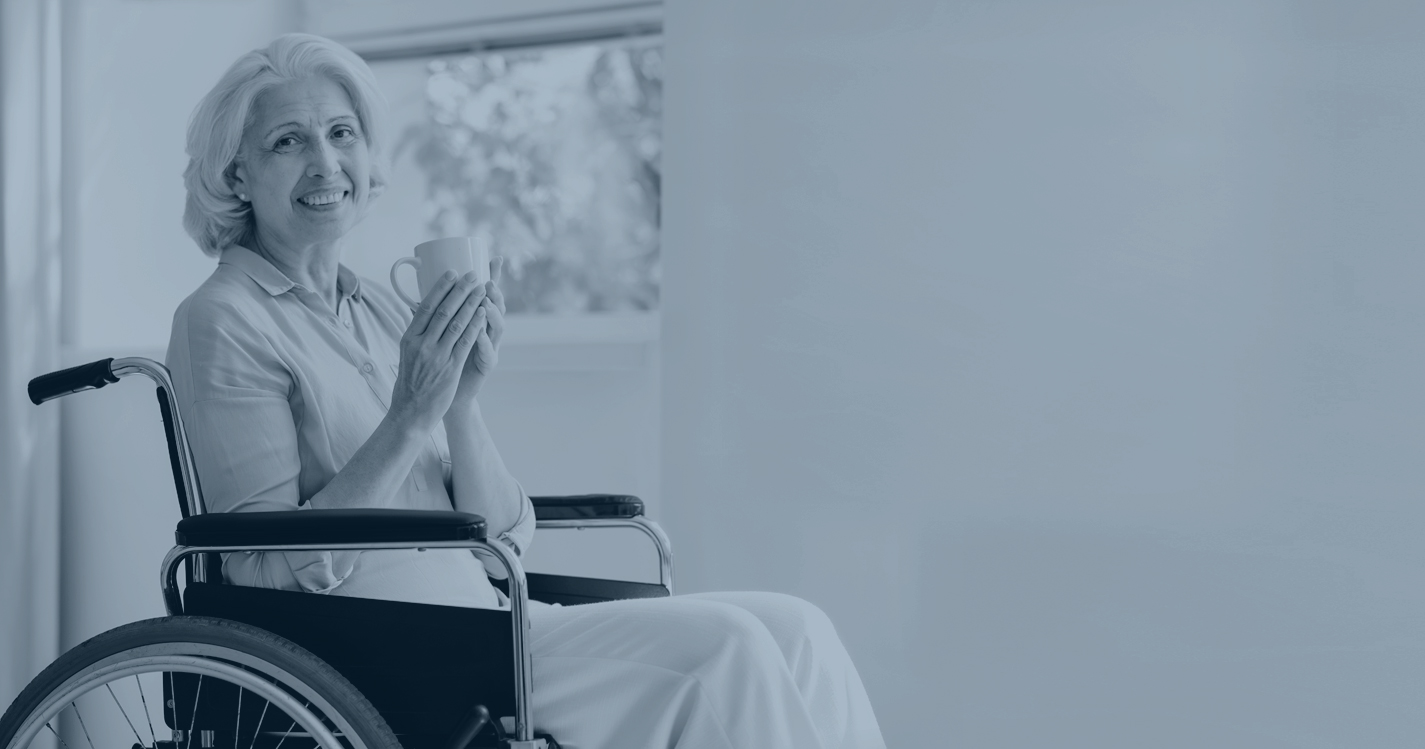 Slide 1
Would you or a loved one benefit from in-home senior care?
We specialize in providing comprehensive, non-medical, in-home care to seniors in the San Antonio area.
In-Home Senior Care in The Dominion
If you are looking for care, or, if you have an aging parent or spouse who is alone all day and struggles with performing daily tasks, it may be time to find an in-home caregiver. Talk to a representative at Amada Senior Care to discuss the high-quality, personal care services we offer. We provide comprehensive, non-medical, in-home care to seniors in The Dominion. Contact us today for your Free Care Needs Consultation.
Our goal is to support independent living for older adults and to keep them safely and securely in their own homes for as long as possible — doing the things they like in the neighborhood they love. This is what we call enriching seniors' lives. Amada care providers bring personalized services to their clients, geared to each client's unique needs, including help with activities of daily living (ADLs) like running errands, preparing their meals, driving them to medical appointments, and so much more. Our goal is to keep them engaged each day, while they continue doing their favorite activities.
Amada Senior Care goes beyond just physical and personal services, and it sets us apart from every other company providing home care in The Dominion. We also provide expert senior housing advisory services and financial counseling to our clients and their families. Talk to us today for support with your Long-Term Care insurance (LTCi) benefits, Veterans Administration (VA) benefits, or for assistance in finding the right independent living community or senior care facility.
Find out if you or a loved one can benefit from in-home senior care in The Dominion. Contact Amada Senior Care today for your Free Care Needs Consultation.
Top-Quality Amada Caregivers are Trained to Provide Assistance with Activities of Daily Living (ADLs) such as:
Meal Preparation, Feeding
Most Non-Medical Assistance
Companionship and In-Home Care for Seniors in The Dominion
Amada Senior Care has a reputation for providing high-quality, expertly trained staff and caregivers. Whether our clients have Alzheimer's, deal with mobility issues, or just need a little assistance with ADLs and general care, we can help. We work closely with our clients and their families to create a customized home care plan, and as part of that, we match each home care client with the trained Amada caregiver who best complements their personality. Whether doing light housekeeping, helping with bathing or dressing, preparing a meal, or providing other types of support, our team will always treat your loved one with the utmost respect and dignity.
One intangible that Amada caregivers offer is companionship. Our home care aides really do form a personal connection with their clients. Social connection improves older adults' mental health and is critical for helping seniors feel secure and happy. Going through old scrapbooks, fixing a favorite family recipe, or meandering through a local park — no matter the task, our caregivers give our senior clients their full attention with compassion and kindness.
Our highly trained and thoughtful caregivers provide only the highest quality senior in-home care to residents in The Dominion, so you can rest assured that your loved one is in good hands. We are proud to offer at-home senior care services to Texas in Dominion and San Antonio.
Amada Partners with Families to Create the Right In-Home Care Plan
At Amada Senior Care, we know our work not only impacts the client, but also the family. We also know that it takes input and feedback from clients and families to help us create care plans that are right for each individual. Through communication and collaboration with family members and seniors, we gain insight into the type and level of care needed, as well as personality quirks, likes and dislikes, and any other special qualities or concerns that will help us fulfill a senior's needs. All the information we glean goes into the development of our customized, comprehensive care plan designed to suit each specific client's needs.
For each senior client we select the caregiver best suited to complement your loved one's personality, interests, and unique needs, but staff placement is just the start of Amada Senior Care journey with our clients and their families in The Dominion. We also regularly check in with the family and client, and we monitor our home aides closely to ensure our clients' needs and desires are being well managed and met. People's needs change, and we adjust our care based on the changing needs and requirements of our clients.
Home care is more than just a job for us at Amada Senior Care —it is our calling.
Contact us today for your Free Care Needs Consultation. Learn more about how an in-home caregiver in The Dominion can provide you or your loved one with support in ADLs, and a more secure and active home life.
Consult with Amada Senior Care Housing and Financial Experts
There's a lot to understand with senior care. Turn to our expert consultants at Amada Senior Care for help in finding the senior care that meets your and your senior loved one's specific physical, emotional, social,  medical, and financial needs.
When caring for someone at home becomes challenging or virtually impossible, our Amada senior housing advisors can help you transition to the next step in senior care. Our advisors can explain the benefits and advantages of independent living communities and specialized senior health care communities.
To start, we will help you identify the appropriate level of care your loved one needs. Whether an independent living community, an assisted living facility, a memory care facility, a nursing home, 24-hour health care services, or another type of senior living home, we can help you find an option that meets your personal preferences and unique situation.
With strong relationships with administrators of local senior care centers, years of experience in eldercare, and a set of pre-screened facilities that measure up to our tough standards, our housing advisors will help ensure you are aware of all your options.
LTCi and VA Benefit
Our financial advisors can help identify the best financial strategies to assist you in paying for top-rated senior care. Our Long-Term Care insurance (LTCi) claims experts can help you understand your policy and serve as your personal advocate for accessing and activating your policy.
For U.S. military veterans or spouses, we can help with understanding Veterans Administration (VA) benefits and eligibility. We can also assist in explaining the difference in VA eligibility requirements for in-home care versus senior care support in residential settings.
For private pay clients without VA or LTCi benefits, we can still help. Our financial experts can advise you on in-home care and/or advanced care financing strategies.
Our services are FREE to our clients in The Dominion and you are under no obligation to select our recommendation. At Amada Senior Care, we will support you and your family every step of the way. 
Amada Senior Care Caregivers in The Dominion
Are Committed to Senior Care
Amada Senior Care offers unwavering commitment to all our clients and their families.
It is a big step to entrust the care of a loved one to someone else, and we don't take that trust lightly. Although our services may vary for each client, the one constant is that we are committed to always delivering on the trust placed in us.
We are committed to providing the highest quality personalized and compassionate senior care available in the Dominion. It is this commitment that allows us to enrich seniors' lives and to help them live safely and independently in their own homes for as long as possible.
Let us be a source of support, guidance, and comfort to you and your family, so you do not have to navigate in-home care alone.
If you're looking for home care in The Dominion, access our online free care needs consultation or call our phone number at 210-960-4304.
SCHEDULE YOUR FREE AMADA CARE NEEDS CONSULTATION TODAY
When you need to understand your available senior care options, contact a trusted advisor at Amada Senior Care. We know that seniors and their families make better decisions when they know all their options. If you need a trusted Amada caregiver to meet the needs of your senior loved one in The Dominion, contact us today.
Jan 10, 2023
Caregiver
Well lets see. .this is a place i can call home .love working at Armada .this place is different than abywhere i have ever worked at. My boss my supervisor my hold work office ladies are great. There very understanding n patient 🙏 thank you for the opportunity to work for ya'll
Oct 29, 2022
Best caregivers
We absolutely love Amada! We take care of my husbands Aunt and they have been so helpful with handling care for her. Pretty much every caregiver we've had has gone above and beyond. Amada has even been able to accommodate our unusual schedule. Even last minute changes with ease! Highly recommend to use them for your loved ones care.
Sep 16, 2022
excellent care and compassion
Joanna (Jo)

is the best caregiver we have met. Compassionate, Professional, Excellent care.

Eric Scott
Amada Senior Care Reviews
Average rating:
0 reviews