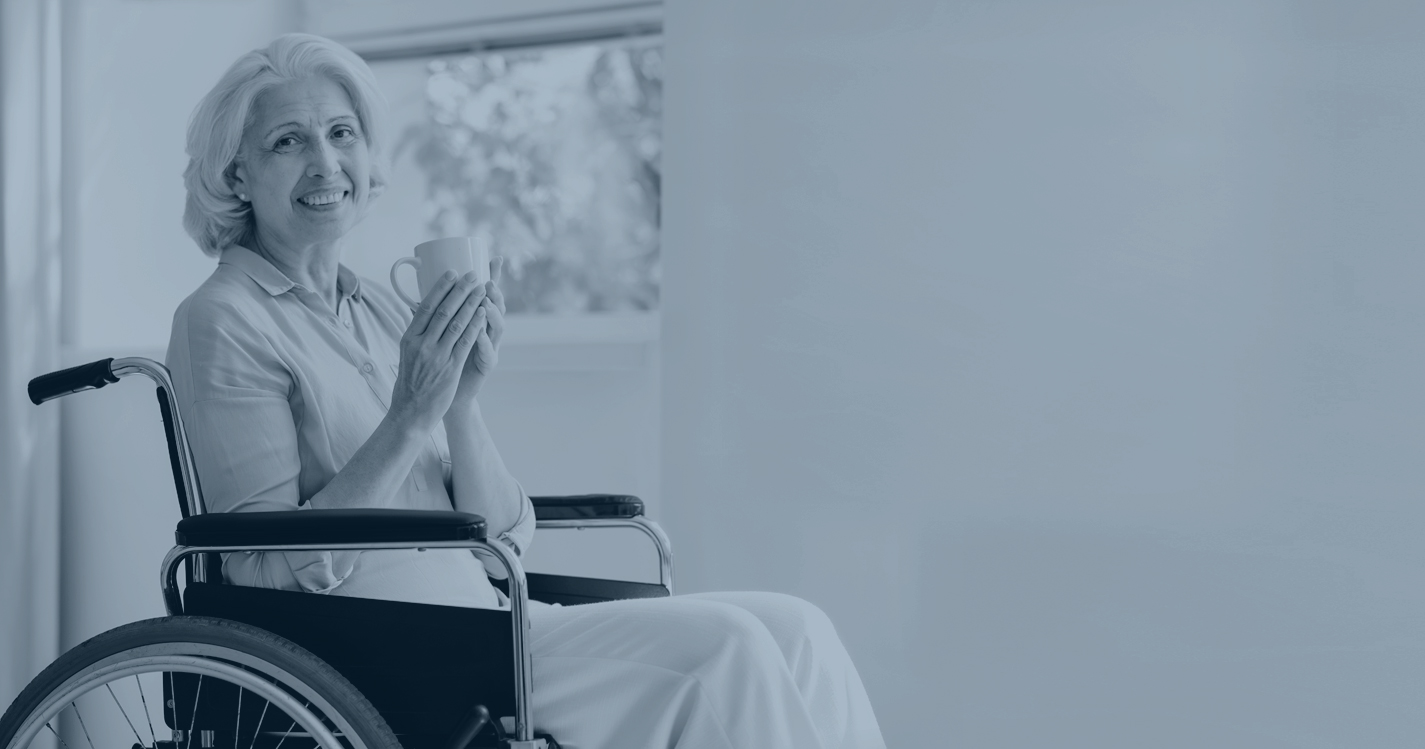 Slide 1
Would you or a loved one benefit from in-home senior care?
We specialize in providing comprehensive, non-medical, in-home care to seniors in the Bucks and Montgomery Counties area.
Newton, Pennsylvania At-Home Senior Care Services
When the time comes that you can no longer provide full support for your senior family member, reach out to Amada Senior Care in Newtown. We provide the amount of care and attention needed to keep your loved one safely in their own home and to give you peace of mind. We specialize in providing comprehensive, non-medical, in-home care to seniors.
The compassionate team of caregivers at Amada understands that our clients want to stay in their home in a familiar environment where they are comfortable for as long as possible, and we strive to do just that. Our services include meal preparation, light housekeeping, or running errands, as well as providing care and assistance with bathing, dressing, and more.
Most importantly, we offer companionship. This can vary from helping our clients put together a jigsaw puzzle to driving them to have coffee with their friends. We offer the right support so our senior clients can stay socially engaged and active and continue to pursue their favorite interests and activities.
More Than Just In-Home Care Providers
Besides in-home care assistance and companionship, Amada Senior Care provides financial counseling, senior housing advisory services, and advocacy for initiating Long-Term Care insurance (LTCi) benefits. We can help you find the right care that is accessible and affordable.
If you or someone you know can live a fuller life with in-home care assistance, reach out to Amada Senior Care in Newtown today for your Free Care Needs Consultation. We care for seniors in areas around Philadelphia including Yardley, Bensalem, Bristol, Langhorne, Levittown, and Richboro, well as in Trenton, New Jersey, and the surrounding areas.
Amada Caregivers are Trained to Provide Assistance with Activities of Daily Living (ADLs) such as:
Meal Preparation, Feeding
Most Non-Medical Assistance
Amada Caregivers Go Above and Beyond Basic Senior Care
Amada Senior Care is well-regarded throughout the Newtown region for our high-quality, competent, friendly staff and caregivers. Our goal is to keep our clients in the comfort of their own home where they are surrounded by the things that they cherish, and our community knows we will do what it takes to achieve that.
We start with a personalized care plan. We include the seniors and their family members in conversations to develop a plan customized to meet our clients' unique needs. We don't assume we know the right care, so we rely on the feedback and partnership of the families to help us better understand the requirements, personalities, and special interests of our clients.
We match each home care client and family with the Amada caregiver who will best complement their personality and unique needs. Our plan includes assistance with activities of daily living (ADLs) that your loved one may no longer be able to perform on their own and that can be a source of frustration. The caring and sensitive nature of our team help our clients accomplish these tasks with dignity and respect. We can help them get dressed, take them shopping, get them to their medical appointments on time, and more.
Our care goes beyond physical caregiving. Amada Senior Care of Newtown care providers are also valued companions with whom our senior clients can share childhood stories, help them prepare family recipes, reminisce about "the good old days" and just enjoy the company of someone who is a trusted confidante who values their history.
Working Together to Create a Comprehensive Care Plan
When you and your family members realize the senior in your life needs support and care beyond what you can provide, getting agreement across family members about what the best route may be can be very difficult and stressful. Amada Senior Care of Newtown offers in-home senior care services that may be just what is needed to ease everyone's minds and to help your loved one maintain independent living as long as possible.
Contact us today for a Free Care Needs Consultation. We serve Newtown and the surrounding areas.
We don't take a cookie-cutter approach to our clients' care. Our comprehensive, non-medical, home care services plan is developed with the family, so it is customized to meet the unique needs of our clients and their families. With the families' input, we can learn the character, disposition, and physical assistance requirements of all our clients. Then, we match them with the qualified Amada caregiver compatible to serve their special needs.
At Amada we listen and collaborate. We want to hear your concerns, worries, and needs and discuss the level and type of care that will most benefit your loved one. With this information in hand, we develop a customized and comprehensive plan that provides the family and our senior clients with assurances that their needs come first.
We regularly review the care plan and maintain communication with the families and the clients for ongoing feedback. By constantly monitoring the effectiveness of our in-home care aides and our client's wellbeing, we can make appropriate adjustments to the plan to ensure that your loved one's safety, comfort, and quality of life is the best it can possibly be. That is our mission at Amada Senior Care.
Amada's Services in Newtown Extend
to Financial and Housing Counseling
Will Medicare or Medicaid help cover in-home senior care? How can I activate my Long-Term Care insurance (LTCi) benefits? As a U.S. military veteran am I entitled to any government senior care benefits? What is our next step after in-home senior care? Our Amanda financial and housing advisors can answer these questions and more.
We have a team of expert advisors at Amada who are there for you through every step of your senior care journey. We can help you find the appropriate senior care and help make it accessible and affordable.
When you and your family members realize the senior in your life needs support and care beyond what you can provide, we can help you find skilled nursing in-home care, assisted living facilities, senior living communities with nursing care, more specialized memory care and Alzheimer units, 24/7 nursing home care with on-call healthcare providers, and more. Our senior housing advisors can help decipher the entrance requirements of care facilities for you.
Because circumstances change, and Amada's in-home care services sometimes cease to be practical. When that happens, we can help find the housing and pricing option that is right for you and your family member. We have years of experience in eldercare as well as close contacts at local assisted living facilities to help find an option that meets your preferences, budget, and location.
Understanding the pricing structures and financing options go hand-in-hand with the housing options. Our financial advisors can help you find an affordable senior care solution.
If you have Long-Term Care insurance, our Long-Term Care insurance (LTCi) claims experts can help you understand your policy and what it does and doesn't cover. We can help you access and activate the policy, and provide assistance with submitting claims. Our financial counselors can also directly bill the insurance company so payments are managed quickly and fully.
We understand Veterans Administration (VA) benefits and for our U.S. military veterans and their spouses, we can determine if there are certain in-home senior care benefits for which you may be eligible. We can also help explain the VA eligibility requirements and explain how in-home care, respite care, nursing homes, or medical care at other residential settings can determine payments.
If you aren't covered by the VA or LTCi, don't think that senior care is beyond your reach. Our financial coordinators can identify appropriate in-home personal care or advanced care financing strategies, consider the pros and cons of each, and make a recommendation to help make senior care affordable.
Your care team at Amada Senior Care of Newtown will support you and your family every step of the way. You don't have to navigate senior care alone.
Amada Senior Care Caregivers' Unwavering Commitment
Our commitment is simple: We will exceed the expectations of all of the families we work with.
We recognize that inviting us into your loved one's home and entrusting their care to us is a big step, and it's one we do not take lightly. We are committed to delivering on the trust that you placed in us from the start.
We are committed to providing the highest quality personalized and compassionate senior care available in the Newtown area. We specialize in enriching seniors' lives and helping them live safely and independently in their own homes for as long as possible. We will be a source of unwavering commitment in support, guidance, and comfort to you and your family because we believe that nobody should navigate in-home care alone.
If you're looking for home care in Newtown, PA, please reach out to us for a free needs consultation or call us at our phone number, 215-422-3095.
FILL OUT THE FORM BELOW TO SCHEDULE YOUR FREE CARE NEEDS CONSULTATION
When you are ready for an in-home senior care agency you can trust in the Newtown area, Amada's care advisors are available to talk. We will explain all your available senior care options and financial options, so you can fund one of our expert caregivers, and find peace of mind. Contact Amada Senior Care in Newtown, PA today.
Nov 18, 2022
Really top-notch!
Amada is making the world of difference to my father - and to his daughters. He is getting really wonderful assistance, which is clearly provided with true warmth and care. Matt is terrific about keeping our far-flung family informed. We could not be happier that the Amada family is helping to care for our father!
Nov 4, 2022
Great Place to Work!
Amada is a great place to work! Flexible hours, pleasant working environment and helpful staff!
Nov 3, 2022
Amazing
Such a great experience! It's so hard to find people you feel you can trust to help care for people you love the most. So glad we went with Amada!
Page 1 of 5:
«
‹
1
2
3
4
5
›
»
Amada Senior Care Reviews
Average rating:
0 reviews