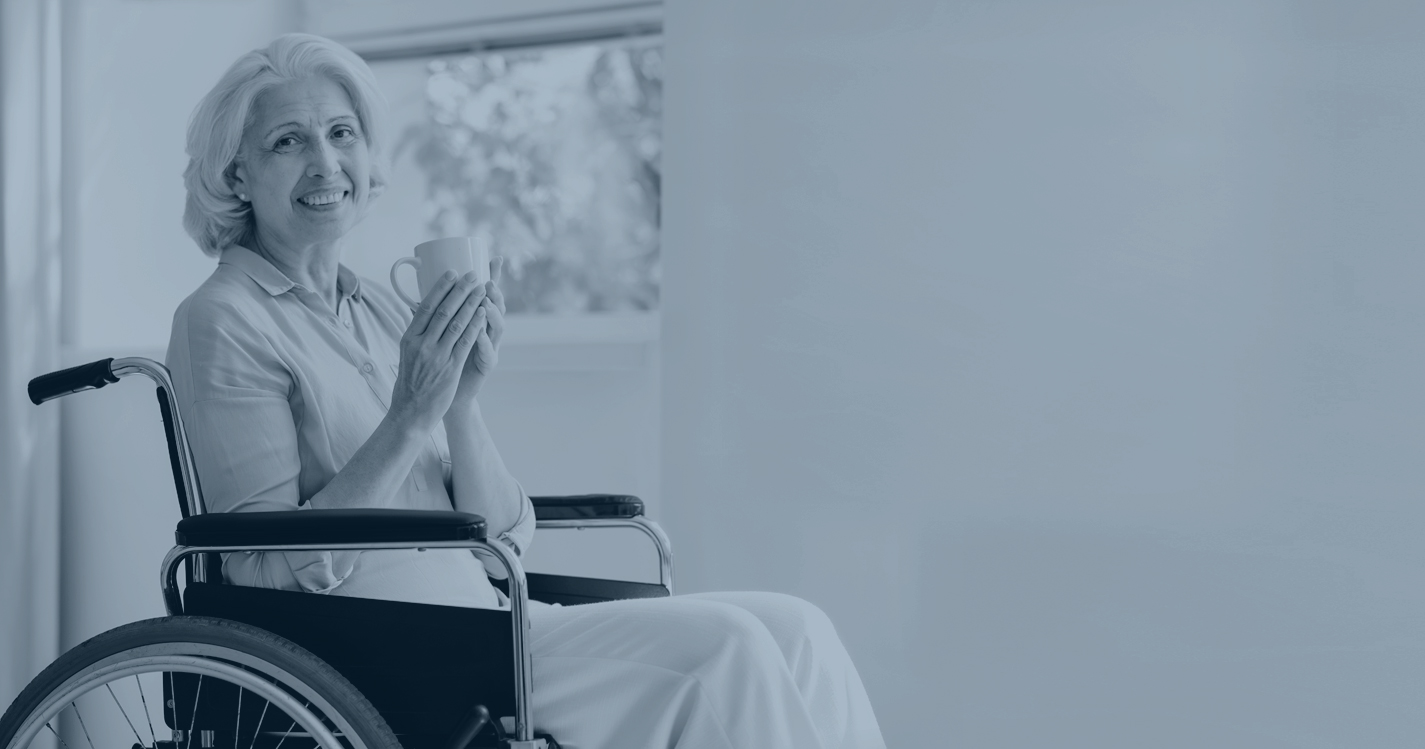 Slide 1
Would you or a loved one benefit from in-home senior care?
We specialize in providing comprehensive, non-medical, in-home care to seniors in the Bucks and Montgomery Counties area.
High-Quality At-Home Senior Care in Horsham, PA
When the only thing keeping your loved one from having to trade the comfort and security of their own home with an assisted living facility is finding the right caregiver, contact Amada Senior Care in Horsham, PA for a Free Care Needs Consultation. We specialize in providing comprehensive, non-medical, in-home care to seniors.
Our primary goal is to enrich seniors' lives, which means helping them live safely in their own homes, and supporting them so they can pursue their favorite activities, hobbies, and interests. High-quality, age-in-place senior services from our professional, compassionate care team help us meet that goal.
Where other home care agencies may stop with activities of daily living (ADLs) care, such as dressing and bathing clients and meal preparation, Amada care providers go beyond that. They build a personal connection with their clients through companionship and trust.
Going Beyond In-Home Senior Care
Amada Senior Care also provides expert senior housing and financial advisory services to help make senior care accessible and affordable. We will serve as your personal advocate for accessing Veterans Administration (VA) benefits and activating Long-Term Care insurance (LTCi).
Contact us online for a free needs consultation, or speak to a representative by calling 215-422-3095. We care for seniors in Pennsylvania in Horsham and throughout Montgomery County and the Philadelphia suburbs, including North Wales, Dresher, Blue Bell, Abington, Willow Grove, Warminster, and more.
Amada Caregivers are Trained to Provide Assistance with Activities of Daily Living (ADLs) such as:
Meal Preparation, Feeding
Most Non-Medical Assistance
In-Home Care and Companionship from Amada Horsham
Our Amada in-home care team treats their aging clients like they are part of their own family. Whether our senior clients are struggling with arthritis, Parkinson's, Alzheimer's, or other health needs, our kind, capable caregivers can turn frustration and despair into confidence and hope.
Our assistance with activities of daily living (ADL) is crucial for maintaining independent living, and our home care aides are skilled in supporting the special needs of each client. They can ease them into a warm bath, hold the spoon steady while they eat, help with light housekeeping, or drive them to their healthcare appointments. Their help with personal care, such as bathing, dressing, and toileting is done with respect and dignity.
We go beyond providing physical support. We also attend to our client's emotional well-being with companionship — a critical factor in ensuring your loved one is happy and thriving in their own home environment. Companionship means just being there and listening to our clients. Companionship means having someone around with whom they can share childhood stories, help them prepare family recipes, help find that missing sweater, and laugh at their jokes.
We do what it takes to ensure our clients enjoy a higher quality of life than before we arrived.
Planning for the Right In-Home Senior Care
We know it can be a difficult decision to invite Amada Senior Care into your lives and home, and we realize that what we do for your loved one affects your entire family. We value your input and feedback and we need your insight for devising the right care plan that addresses your loved one's unique needs and desires.
We start with a clean slate, and we consult with our families to learn the character, disposition, and needs of their loved ones. We take all issues and concerns seriously, and we collaborate on the type and level of support that will most benefit our clients at this turning point in their lives.
With this information in hand, we develop a customized, comprehensive plan that follows our goal to create a nurturing environment for each of our senior home care clients. We also match each of our senior clients with the Amada caregivers who will best complement their personality and unique needs.
This plan is reviewed regularly and the families and the clients are kept in the loop as we continually ensure that the outcome – their loved one's safety, comfort, and quality of life — is the best it can possibly be.
Home care is more than just a job for us at Amada Senior Care in Horsham, PA — it is our calling.
Horsham Senior Home Care Advisory Services
Amada Senior Care provides so much more than in-home care services: we help make care accessible and affordable. Our financial and senior housing experts can help you navigate the complexities of senior care.
When in-home senior care is no longer a safe option for you or your loved one, we can help find a skilled nursing facility that is right for you. Our trusted advisors have knowledge of the nursing homes, memory care facilities or other types of care facilities in the Horsham area that can serve the needs of your senior loved one, and meet the budget requirements and personal preferences of the family.
We have years of experience in eldercare and strong relationships with coordinators of the local senior living communities that are properly licensed and have passed our strict review. You are under no obligation to select a facility we recommend, and all our housing advisor services are FREE to our clients.
Our Long-Term Care insurance (LTCi) claims experts can:
Identify the requirements and terms of your Long-Term care insurance policy.
Access and activate the benefits.
Assist with verifying and submitting claims.
U.S. military veterans and their spouses may be eligible for Veterans Administration (VA) benefits. We can help:
Identify which, if any, VA benefits are available to you.
Explain the differences in the eligibility requirements for in-home care versus on-site healthcare.
Explain the factors that affect your VA payments.
For private pay clients who do not have LTCi or VA benefits, and neither Medicaid nor Medicare is an option, senior care may still be affordable. Our expert financial advisors can identify senior care financing strategies and provide recommendations to help make senior care accessible.
Your Amada Senior Care team of Horsham is with you for every step of your senior care journey.
Unwavering Commitment to our Horsham Clients and their Families
You have our unwavering commitment to exceed the expectations of every family we work with. But it doesn't end there. We are also committed to:
Keeping a well-trained, compassionate staff of caregivers who can care for our families' senior loved ones.
Providing only the highest quality senior care while treating your loved one with respect and dignity.
Enriching our seniors' lives.
Being a source of support, guidance, and comfort to you and your family, because we believe that nobody should navigate in-home care alone.
If you're looking for in-home senior care in Horsham, or other nearby locales, including Ambler, Hatboro, and Jenkintown, reach out to us by calling 215-422-3095 or by accessing our online Free Care Needs Consultation.
SCHEDULE YOUR FREE CARE NEEDS CONSULTATION. FILL OUT THE FORM BELOW
Amada Senior Care provides in-home senior care services, housing advisory services, financial counseling, and serves as your personal advocate for accessing and activating Long-Term Care insurance (LTCi) benefits.
When it is time for in-home senior services in Horsham, Amada is there to help you understand the complexities of senior care, so you can fund one of our expert caregivers.
Nov 18, 2022
Really top-notch!
Amada is making the world of difference to my father - and to his daughters. He is getting really wonderful assistance, which is clearly provided with true warmth and care. Matt is terrific about keeping our far-flung family informed. We could not be happier that the Amada family is helping to care for our father!
Nov 4, 2022
Great Place to Work!
Amada is a great place to work! Flexible hours, pleasant working environment and helpful staff!
Nov 3, 2022
Amazing
Such a great experience! It's so hard to find people you feel you can trust to help care for people you love the most. So glad we went with Amada!
Page 1 of 5:
«
‹
1
2
3
4
5
›
»
Amada Senior Care Reviews
Average rating:
0 reviews