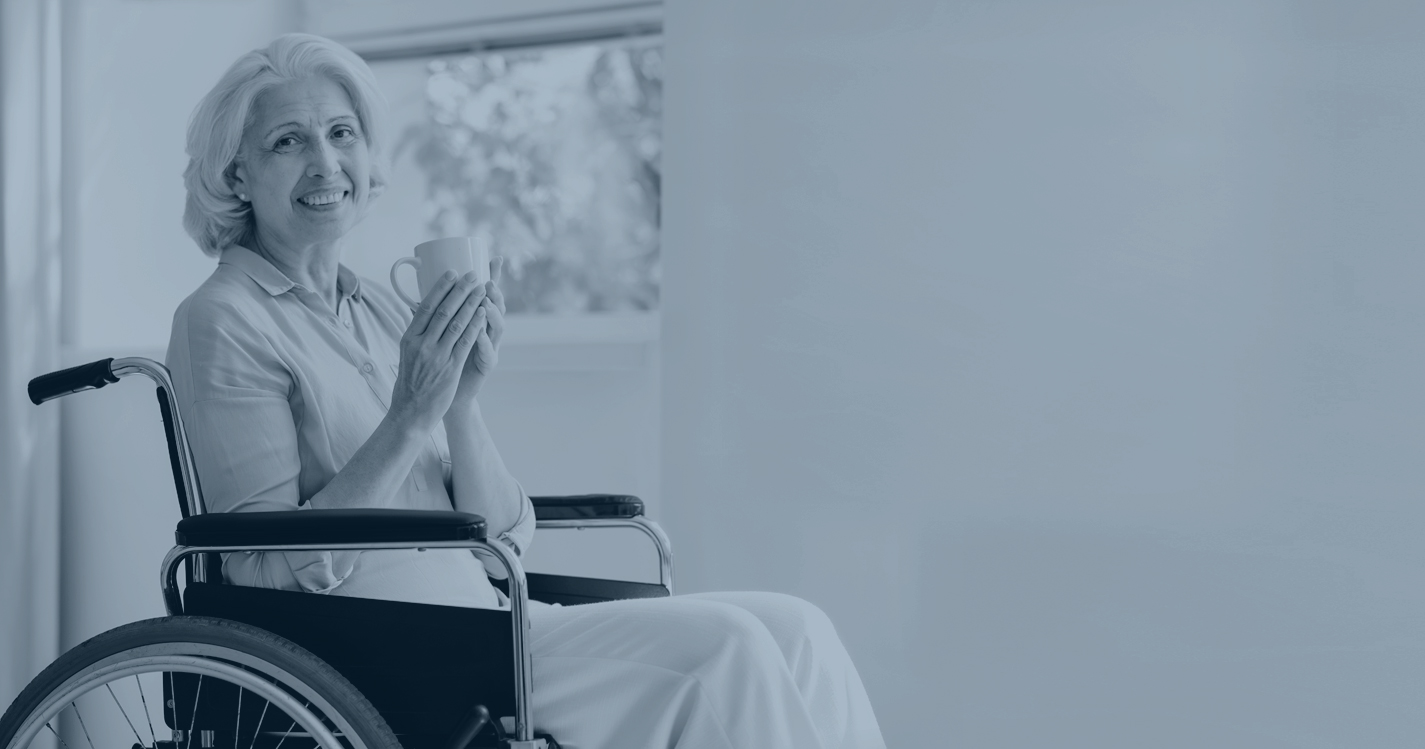 Slide 1
Would you or a loved one benefit from in-home senior care?
We specialize in providing comprehensive, non-medical, in-home care to seniors in the Orange County area.
In-Home Senior Home Care in Yorba Linda, California
When it becomes difficult to care for yourself or a senior loved one, finding the right caregiver can ensure continued safety and comfort. If you or a loved one would benefit from in-home senior care in Yorba Linda, contact Amada Senior Care for a Free Care Needs Consultation. We specialize in providing comprehensive, non-medical, in-home care to seniors.
We have a mission to enrich seniors' lives, and we achieve this by helping them live safely in their own homes and by supporting them in pursuit of their favorite hobbies and activities. Amada caregivers provide care that is catered to their clients' needs. Whether that includes preparing nutritious meals, helping them get dressed and out the door, or doing a little housekeeping, we focus on ensuring our clients' needs are met.
Amada Senior Care stands out from every other company that provides senior home care in Yorba Linda. Our services are not limited to in-home care – we also provide expert senior housing and financial advisory services. With years of experience working with older adults and their families, we know how to serve as a personal advocate for finding the appropriate assisted living community as well as accessing and activating Long-Term Care insurance (LTCi) benefits.
Find out if you or a loved one can benefit from in-home senior care in Yorba Linda, California. Contact Amada Senior Care today for your Free Care Needs Consultation.
Amada Caregivers are Trained to Provide Assistance with Activities of Daily Living (ADLs) such as:
Meal Preparation, Feeding
Most Non-Medical Assistance
Making a Difference with Companionship and Personalized Care in Yorba Linda
The most crucial component of caregiving, often missing from elderly care, is companionship. That is never the case with Amada Senior Care. We are most proud of our care providers and their focus on companionship and building personal connections and trust with their clients and families. We enrich our senior clients' lives every day by ensuring that they are not just safe and comfortable with independent living, but also happy and thriving. We work with our senior care clients and their families in Yorba Linda to create a customized, and personalized home care plan that enables seniors to remain safely and comfortably in their homes.
As part of our customized senior care plan, we pair each home care client and family with a caregiver who can best meet their special needs and complement his or her personality. We recognize this companionship and support could range from being engaged in sharing family stories to helping with the preparation of a favorite recipe handed down through the generations to just offering comfort on challenging days. Amada Senior Care in Yorba Linda is with you through every phase of your senior care journey.
Our team of skilled caregivers provide only high-quality, compassionate, and thoughtful senior in-home care so you can rest assured that your loved one is in good hands.
The Right Care Plan for Yorba Linda In-Home Senior Care
At Amada Senior Care in Yorba Linda, we realize that the care we provide our senior home care clients impacts their families as well. We know that watching someone else care for your beloved family member can leave you feeling frustrated and even helpless. We strive to minimize your stress and ease your concerns about the safety, quality of life, and comfort of your loved one under our care.
We involve the seniors' loved ones in our senior care plans so we gain that intimate glimpse into their personality, needs, likes, and dislikes that allows us to build the right care plan. With open, honest communication we focus on meeting our clients' and their families' needs at the same time.
To learn more about how Amada Yorba Linda's team of in-home caregivers can give you peace of mind that your loved one will be safe and comfortable, and will thrive in a nourishing and life-enriching environment, contact us for a Free Care Needs Consultation today. At Amada in Yorba Linda, we do more than keep your loved ones safe and comfortable – we help them thrive in their own home environment.
Home care is more than just a job for us at Amada Senior Care in Yorba Linda—it is our calling.
Contact us today for a Free Care Needs Consultation. We serve Anaheim, Anaheim Hills, Brea, Irvine, Placentia, Yorba Linda, and the greater Orange County area.
The development of a customized senior care plan is just the beginning of our journey with our clients. We regularly monitor each home care aide and check in with our clients and their families to ensure we continue to provide the very best care and companionship. As our clients' care needs change, so too does the care plan so we maintain the right care at the right time.
Amada's Expert Senior Housing and Financial Advisory Services
The health and wellness of your aging loved one comes first. The people at Amada Senior Care in Yorba Linda want to make sure those seniors' needs are met and that their care is accessible and affordable. When you consult with our senior care experts, we will help you get the most for your Long-Term Care insurance and help you find the appropriate level of care for your loved one.
Let our financial counselors answer your questions regarding Medicare and Medicaid, residential care vs. in-home care, the average cost of senior care, pricing structure within senior living options, and other general senior care questions that can leave you feeling overwhelmed.
We assist our clients and their families with the complexities of senior care including: verifying LTCi benefits and submitting claims; determining which benefits may be available through the Veterans Administration (VA) for clients and their surviving spouses who served in the U.S. military; and, for private pay clients, recommending the best financial strategies for in-home care in Yorba Linda.
Our senior housing advisors are here for you when circumstances dictate that a senior living community is a better alternative for your senior loved one than in-home care. Whether the time has come for an Alzheimer's or memory care facility, a nursing home, a skilled nursing center, or a senior community with 24/7 medical care, we can recommend assisted living facilities pre-screened to meet our high standards.
Let the Amada care team help you find the ideal senior residential community with the type of care needed to meet your senior loved one's specific physical, emotional, and financial needs. We have extensive experience and knowledge of eldercare and close relationships with staff at senior living communities in the Yorba Linda area.
You are under no obligation to select a facility we recommend, and all our housing advisor services are FREE to our clients. Some of the housing options in the Orange County area include Golden Years Villa Grande, Brookdale Nohl Ranch, Yorba Linda Senior Care (Acorn Court), Sunrise of Yorba Linda (4792 Lakeview Avenue, Yorba Linda, CA,  92886), and The Meridian at Anaheim Hills.
Committed to Quality Senior Care in Yorba Linda
Amada knows senior care, and we are committed to providing quality senior care to every one of our clients. Our clients expect this of us, and our exceptional team of caregivers are committed to exceeding those expectations every day.
We realize that when you invited us into your lives and home, you placed your trust in us. The senior home care advisors and caregivers at Amada Senior Care in Yorba Linda will strive every single day to make certain that trust is well-placed by providing ONLY the highest quality of personalized and compassionate senior care in Yorba Linda. We want to be a source of support, guidance, and comfort to you and your family, because we believe that nobody should navigate in-home care alone.
If you or a loved one would benefit from home care, please contact Amada Senior Care in Yorba Linda for a Free Care Needs Consultation. We work with families to create a customized plan of care that enables seniors to remain safe, independent, and comfortable in their homes.
If you're looking for home care in Yorba Linda, reach out for an online Free Care Needs Consultation, or call our phone number today at (949) 528-3500.
FILL OUT THE FORM BELOW TO ACCESS YOUR FREE CARE NEEDS CONSULTATION
We believe it is true that seniors and families make better care decisions when they're aware of all their care options. Let an Amada Senior Care advisor explain your available senior care options and the associated financial options to help fund one of our expert caregivers. We want to help make senior care more affordable. Turn to Amada Senior Care for a Yorba Linda senior care agency you can trust.
Jan 27, 2022
Service
My caregiver, Don, continues to be a true professional and a caring individual helping me in every way he can.
Oct 6, 2021
Review
Don Kekoa, my caregiver, is warm, friendly and very professional at what he does. Whatever assistance I need, Don is always willing to work with me to both assist and suggest more convenient ways to accomplish something.
Jun 18, 2021
Mr.
Having used Amada back to 2014 for my late wife and now in my later years for myself, should say it all. Their caregivers are highly qualified. They are kind, caring, professional and very giving of their skills.
Amada Senior Care Reviews
Average rating:
0 reviews