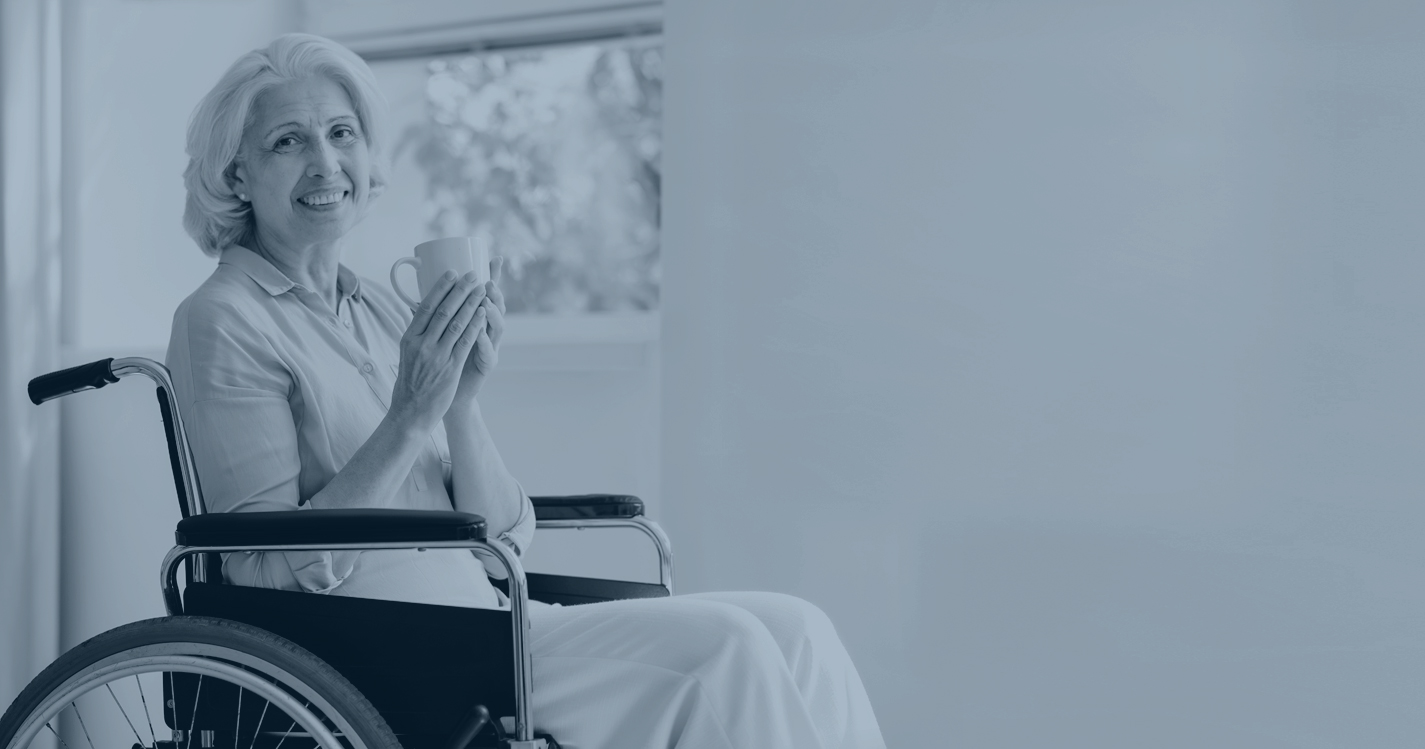 Slide 1
Would you or a loved one benefit from in-home senior care?
We specialize in providing comprehensive, non-medical, in-home care to seniors in the Orange County area.
Comprehensive Senior Home Care in Fullerton
If you or a senior loved one are now struggling to complete routine daily tasks, like fixing meals or getting dressed, you may benefit from in-home senior care. Talk to a home care services representative at Amada Senior Care in Fullerton. Contact us for your Free Care Needs Consultation.  We specialize in providing comprehensive, non-medical, in-home care to seniors.
Keeping older adults safely and comfortably in their own homes, for as long as possible, is one of the ways we enrich seniors' lives. Helping them stay active and engaged by supporting them with their favorite activities is another way. Our Amada home-care aides provide personalized care services to help our clients get through their days with a little less effort. Assistance includes help with activities of daily living (ADLs), such as grocery shopping and meal preparation, medication reminders, transportation to doctors' appointments, and more.
We go beyond personal care services. Our clients also have access to our expert senior housing and financial advisory services. We help make senior care accessible and more affordable. We can also serve as your personal advocate for accessing and activating Long-Term Care insurance (LTCi) benefits.
Find out if you or a loved one in Fullerton, California, can benefit from in-home senior care. Contact Amada Senior Care today for your Free Care Needs Consultation.
Amada Caregivers are Trained to Provide Assistance with Activities of Daily Living (ADLs) such as:
Meal Preparation, Feeding
Most Non-Medical Assistance
In-Home Senior Care with Warmth and Companionship
Amada is highly selective when it comes to our employees. We recruit and train only the most responsible and qualified caregivers who can provide our clients with ADL support, and who can also care for seniors with Alzheimer's, mobility limitations, or other health needs. But most importantly, our caregivers offer warmth, kindness, and companionship.
We have a mission to enrich our senior clients' lives, and that means keeping them safe and comfortable, as well as happy and thriving. With a customized home care plan created with input from our senior care clients and their families, Amada is focused on helping our clients continue to live independently for as long as possible. 
We match each home care client and family with a trained Amada caregiver who will best complement their personality and needs. It's this "fit" that leads to personal connections and enjoyable afternoons spent going through old photo albums or preparing a favorite recipe. It also means sometimes just sitting in comfortable silence and easing a senior's loneliness. 
We give our clients the kindness and attention they deserve.
Planning the Right Care for Seniors in Fullerton
Determining the right type and level of care for our clients doesn't happen by accident. We understand that our care not only affects our senior home care clients but also their families who worry about them every day. Our Amada team members are experts at providing senior care, but we don't know our clients the way their families do. That is why we involve the family and their loved ones in creating the right care plan. We value their input and feedback, and it is their insight into the unique needs, likes, dislikes, and disposition of the aging family member that gives us the knowledge to build the right care plan.
The resulting customized, comprehensive care plan follows our goal to create a nurturing environment for our senior home care clients. We also select the Amada caregiver with the interests, skills, and personality that best complements those of their clients.
The care plan is just the start. We regularly check in with our home care aides, our clients, and the families, and monitor and adjust the care plan as appropriate so we can be sure we continue to provide the highest quality care and companionship.
Learn more about how an Amada Fullerton in-home caregiver can enhance the comfort, safety, and quality of life of your loved one. Contact us for your Free Care Needs Consultation.
We serve Anaheim, Brea, Fullerton, Garden Grove, Orange, Santa Ana, Tustin, Yorba Linda, and other cities in and around Orange County.
Free Expert Advisory Services for Our Clients
When you turn to Amada Senior Care for in-home services, you get much more. We have a team of expert senior housing and financial advisors who can help you navigate the complexities of senior care and its associated finances. Worrying about the monthly cost of continuing care, the cost of assisted living, and finding the best assisted living community for your loved one is stressful. It doesn't have to be. Amada's expert advisors can help.
Financial Counseling
Long-Term Care Insurance (LTCi) Consulting. Our Long-Term Care insurance claims experts can:
Identify and explain the terms of the long-term care policy.
Serve as your personal advocate for accessing and activating Long-Term Care insurance (LTCi) benefits.
Review and file claims, and more.
Veterans Administration (VA) Benefits. We can help U.S. military veterans and their surviving spouses:
Identify which benefits may be available for your situation.
Explain the eligibility requirements for in-home nursing care, respite care, or residential care.
Assess factors that may affect your costs and VA payments.
For private pay clients without access to VA benefits or LTCi, our financial advisors can clarify Medicare or Medicaid requirements, explain senior care pricing, outline financing strategies and weigh the pros and cons of each, and make a recommendation to help make senior care more affordable.
Senior Housing Advisors
Amada Senior Care senior housing advisors can help families transition to the next phase of senior care. If circumstances have changed and your loved one's health, safety, and wellbeing can no longer be maintained at home, we can help. We have years of experience in eldercare, as well as close contacts at local assisted living facilities, to help identify appropriate care facilities that are right for you.
Whether you need an assisted living community, a nursing home, a skilled nursing facility with access to round-the-clock health care, or another type of senior living community, turn to our trusted advisors. We only recommend facilities that have passed our strict review standards.
Senior living options in and around Fullerton, conveniently located near medical centers, include Oakmont of Fullerton (retirement community, assisted living, and memory care), St. Jude's Elder Care, Sunnycrest Senior Living, and Sunrise of Fullerton.
Your care team at Amada Senior Care of Fullerton will support you and your family every step of the way. We can coordinate in-home senior care, maximize your financial benefits, and take care of other details to ease your mind so you and your family can focus on more important matters.
Amada Senior Care Caregivers: Our Commitment to Our Clients
Our commitment to our clients and their families is simple: we will exceed their expectations. We realize that by inviting us into your lives and homes, our clients put their trust in us to care for their special family members. The senior home care advisors and care providers at Amada Senior Care in Fullerton will go above and beyond every day to make certain that trust in us is well-placed. We are committed to providing only the highest quality of personalized and compassionate senior care in Fullerton.
We will be your source of support, guidance, and comfort because we believe that nobody should navigate in-home care alone.
When you or a loved one need home care, let Amada Senior Care in Fullerton be your source for care and support. We are committed to helping seniors remain safe, independent, and comfortable in their homes. We also provide expert senior housing and financial advisory services to our Fullerton clients. We want to make senior care accessible and more affordable.
If you're looking for home care in Fullerton, reach out to us online free care needs consultation or call our phone number at (949) 528-3500.
SCHEDULE YOUR FREE CARE NEEDS CONSULTATION WITH THE FORM BELOW
Amada Senior Care in Fullerton is a senior care agency you can trust. Talk to one of our eldercare experts today so you can better understand how an Amada in-home caregiver can provide in-home wellness care for you or your loved one. We can advise you on your available senior care and financing options. For quality in-home senior care contact Amada Senior Care.
Jan 27, 2022
Service
My caregiver, Don, continues to be a true professional and a caring individual helping me in every way he can.
Oct 6, 2021
Review
Don Kekoa, my caregiver, is warm, friendly and very professional at what he does. Whatever assistance I need, Don is always willing to work with me to both assist and suggest more convenient ways to accomplish something.
Jun 18, 2021
Mr.
Having used Amada back to 2014 for my late wife and now in my later years for myself, should say it all. Their caregivers are highly qualified. They are kind, caring, professional and very giving of their skills.
Amada Senior Care Reviews
Average rating:
0 reviews