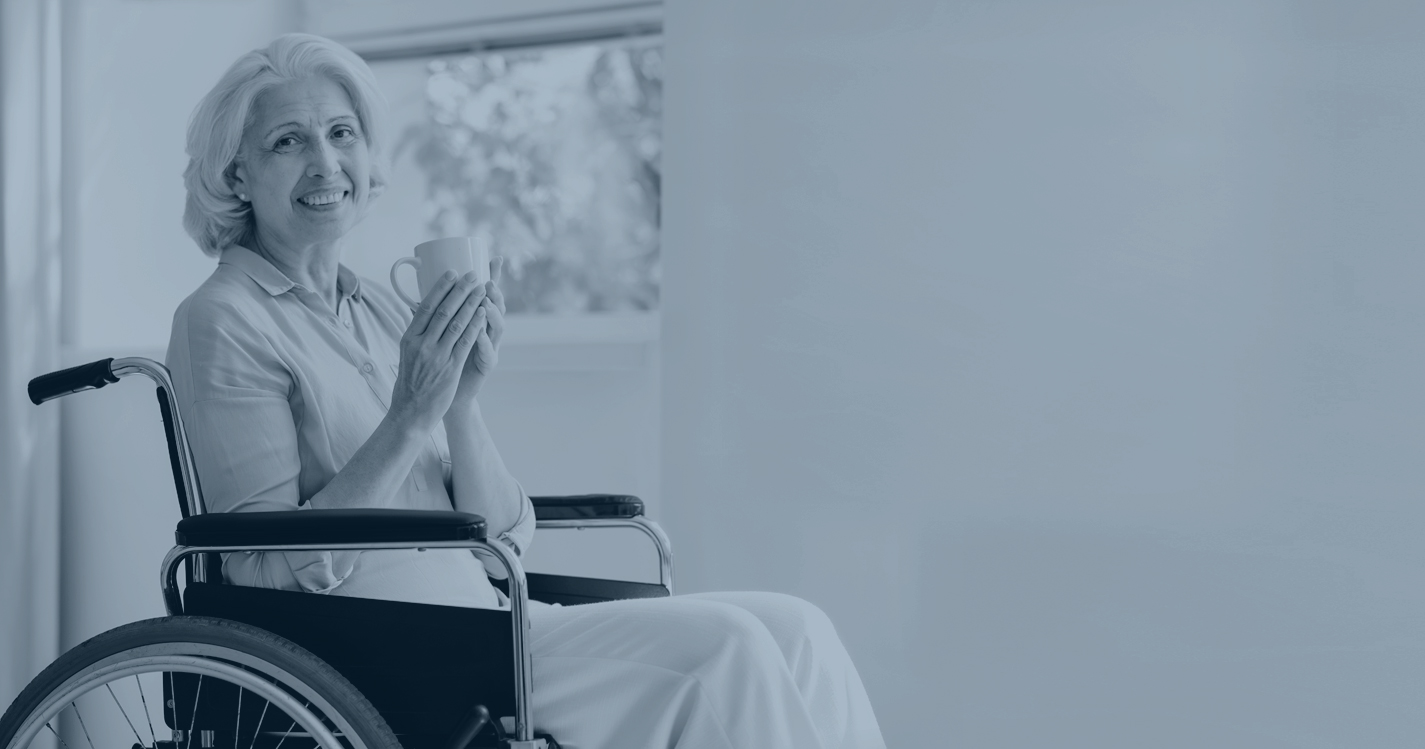 Slide 1
Would you or a loved one benefit from in-home senior care?
We specialize in providing comprehensive, non-medical, in-home care to seniors in the Orange County area.
Quality, Personal, In-Home Senior Care in Brea, CA
When you or your family can no longer provide the appropriate level of care for yourself or your senior loved one, it may be time to look for an in-home senior care agency. Contact Amada Senior Care in Brea, California for a Free Care Needs Consultation. We specialize in providing comprehensive, non-medical, in-home care to seniors in the Brea area.
It's not just about personal care. We have a mission to enrich seniors' lives by helping them live safely in their own homes and by supporting them in participation of activities that keep them engaged and content. The personalized services our Brea home-care aides provide include assistance with activities of daily living (ADLs), like grocery shopping, light housekeeping, meal preparation, bathing, and much more.
There is so much more to finding the best senior home care in Brea than checking off a few boxes. While caregivers should bring precision, experience, and ability to the job, as ours do, important qualities such as good listening skills, a positive attitude, creativity, generosity of spirit, willingness to facilitate fun activities, and encouragement can mean the difference between an average senior home care experience and an exceptional one. Amada's rigorously screened and trained caregivers allow the client's focus to remain on the familiar things that give him or her the most comfort, joy and fulfilment, while their daily needs (ADLs) and so much more are met. 
Amada Senior Care is different from every other company in Brea that provides home care; we offer advisory services as well. Providing expert senior housing and financial advisory services is all a part of our mission to enrich seniors' lives. We support our clients and their families through every phase of older adult care needs. We strive to make care easy to access and more affordable. We can serve as your personal advocate for accessing and activating Long-Term Care insurance (LTCi) benefits, help with Veterans Administration (VA) benefits, and help find skilled nursing care when needed.
Find out if you or a loved one can benefit from in-home senior care in Brea, CA. Contact Amada Senior Care today for your Free Care Needs Consultation.
Amada Caregivers are Trained to Provide Assistance with Activities of Daily Living (ADLs) such as:
Meal Preparation, Feeding
Most Non-Medical Assistance
Skilled, Compassionate Care for Brea Seniors
Amada Brea caregivers make a difference. Our highly trained staff offer home care services by helping with ADLs, and they also give seniors the compassionate care and specialized support they need for conditions like Parkinson's and Alzheimer's, or for recovery from surgery. But Amada care providers are most proud of the companionship they offer and the special bonds they form with their senior clients.
We tailor our care to each client so it meets their unique needs. The right care doesn't just happen – we match each home care, client and family, with the Amada caregiver who will best complement the client's personality and care requirements. Through customized home care plans, created with input from our senior care clients and their families, we ensure our seniors remain safely independent and comfortable in their homes for as long as possible.
Whether our in-home provider is making a favorite recipe, dusting treasured heirlooms, or simply listening to stories of bygone days, you can be certain our care is done with compassion, respect, and dignity.
At Amada, we provide the right care and the attention and warmth seniors deserve.
Amada's Customized Senior Care Plans for Peace of Mind
We know that when we provide care services to our senior clients, their family members are also impacted by that care. Turning over the care of a loved one to a stranger can be overwhelming. It doesn't have to be. When you partner with an Amada Senior Care team from Brea, your anxiety will quickly be replaced with peace of mind.
You can rest assured that your Amada providers will provide the highest quality care, along with life-enriching activities, so your loved one is happy and thriving. We don't do that in a vacuum. We recognize that no one knows your loved one better than you, so we need the family's input to identify the type and level of care needed, his or her personality, likes and dislikes, and any other special needs or requirements.
Our customized, personal care plan is devised from this collaboration, not by pulling from standard service offerings. Your loved one's comprehensive senior care plan will support his or her particular situation. Our caregivers are also hand-selected based on each client's personality, interests, and care needs.
The creation of the plan and placement of our caregiver is just the start of our senior care journey. We regularly check in with the family, the client, and our caregivers and fine-tune the plan and services as needed. We aim to ease your concerns about your loved one's safety, quality of life, and comfort.
Learn more about how an Amada Brea in-home caregiver can enhance the comfort and safety of your loved one by helping with ADLs and life-enriching activities. Contact us for your Free Care Needs Consultation. We serve Anaheim, Anaheim Hills, Fullerton, Garden Grove, La Habra, Placentia, Santa Ana, Whittier, Yorba Linda, and other cities in and around Orange County.
Expert Senior Care Advisory Services in Brea
Looking for the right care for your senior loved one while at the same time trying to understand the complexities of long-term care insurance can be overwhelming. Let Amada's expert senior housing and financial advisors help.
Amada Senior Care financial advisory services includes access to our Long-Term Care insurance (LTCi) claims experts. We assist our clients by explaining the terms and conditions of their policy, verifying their benefits, and submitting claims. We will serve as your personal advocate for accessing and activating Long-Term Care insurance (LTCi) benefits.
For U.S. military veterans and their surviving spouses, our Veterans Administration (VA) benefits expert will help you identify appropriate financial support for your senior care needs. Increase the likelihood of a VA approval with our guidance and planning.
If you do not have VA or LTCi benefits, don't be discouraged – senior care may still be affordable. Our financial counselors can answer your Medicare questions, explain typical pricing structures of home health care or residential living, and suggest appropriate financial strategies for you.
Expert senior housing advisors can ease the transition. If the time comes when our clients' health, safety, and well-being can no longer be maintained at their home, moving them to an assisted living community may be necessary. Our senior housing experts guide our families through this challenging time. We know our clients' and their families' needs, and we will work to help them find a new home. We use our experience and knowledge in the eldercare business, and strong relationships with the staff at local senior care facilities to help with the process.
Whether an assisted living community, a memory care facility, a nursing home, a 24/7 skilled nursing care facility, or another type of senior living community is needed, we can recommend pre-screened options that meet our tough standards. We can help ensure you and your senior loved one's physical, emotional, and financial needs are addressed.
Some senior living options in the Brea, CA 92821 zip code area, conveniently located near health care facilities, include Brookdale Brea Senior Living, Silverado Brea Memory Care Community, Atria Golden Creek, La Palma Nursing Center, and many other care facilities.
Put your trust in Amada so you and your family can focus on more important matters.
We offer our FREE, no-obligation advisory services to all our Amada clients. Contact us today for your free care needs consultation.
Amada Senior Care of Brea: Our Caregivers' Commitment
At Amada we are committed to exceeding the expectations of every family we work with, and we are here for you through every phase of senior care.
We are committed to:
Providing only the best skilled and compassionate caregivers who can fulfill our clients' needs.
Providing the highest quality personalized and compassionate senior care with warmth, respect, and dignity.
Keeping our seniors happy and thriving in their homes while increasing their overall quality of life.
Being a source of support, guidance, and comfort to you and your family, because no one should navigate in-home care alone.
If you're looking for home care in Brea, reach out to us by calling (949) 528-3500 or by accessing our online Free Care Needs Consultation.
FOR A FREE CARE NEEDS CONSULTATION COMPLETE THE BELOW FORM
When you're ready for in-home senior care in Brea, reach out to an Amada care advisor. We believe when seniors and their families are informed and educated about all their care options, they can make better care decisions more quickly. Let us educate you and help you through this difficult life transition so you can get the care you need. Fill out the form today for peace of mind.
Jan 27, 2022
Service
My caregiver, Don, continues to be a true professional and a caring individual helping me in every way he can.
Oct 6, 2021
Review
Don Kekoa, my caregiver, is warm, friendly and very professional at what he does. Whatever assistance I need, Don is always willing to work with me to both assist and suggest more convenient ways to accomplish something.
Jun 18, 2021
Mr.
Having used Amada back to 2014 for my late wife and now in my later years for myself, should say it all. Their caregivers are highly qualified. They are kind, caring, professional and very giving of their skills.
Amada Senior Care Reviews
Average rating:
0 reviews