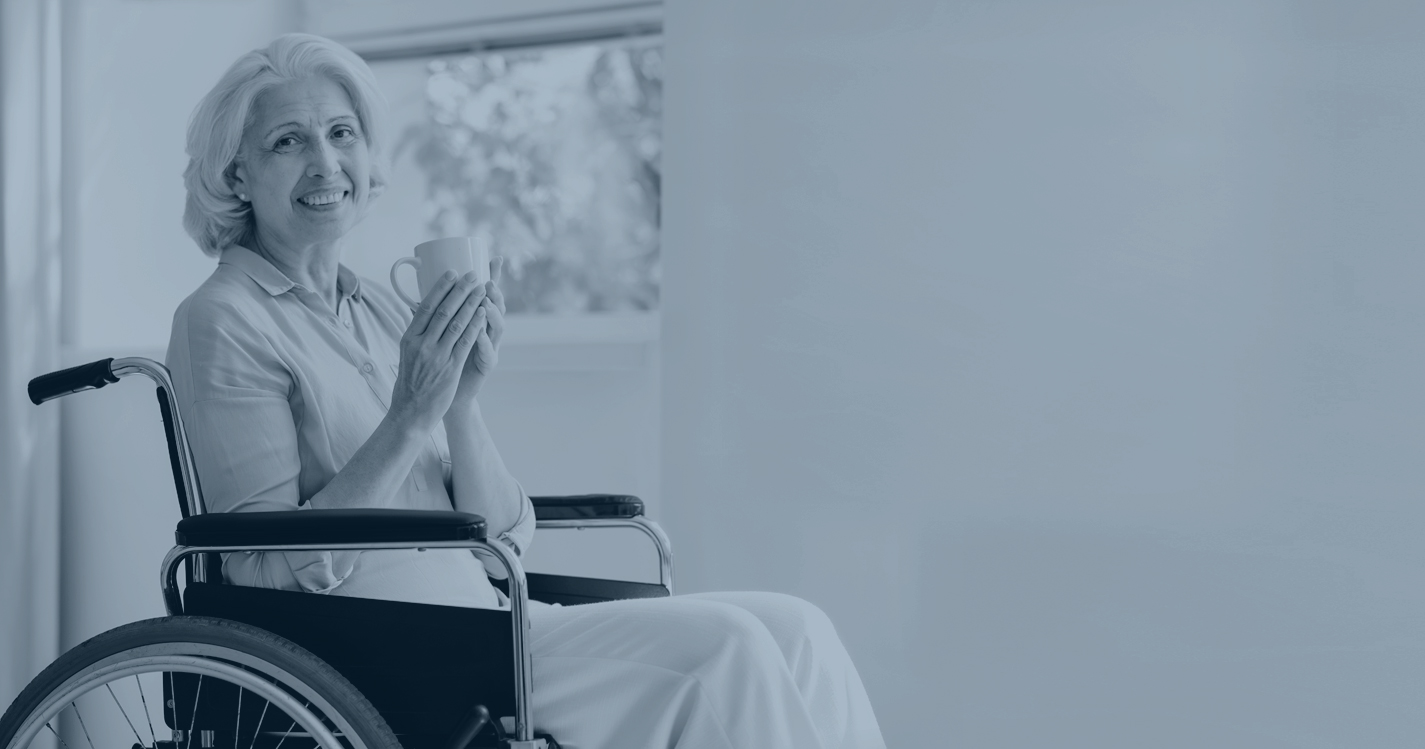 Slide 1
Would you or a loved one benefit from in-home senior care?
We specialize in providing comprehensive, non-medical, in-home care to seniors in the NorthShore area.
Elderly Home Care Services in Northbrook, Illinois
Would you or a loved one benefit from an in-home care provider in Northbrook? If so, please contact us for a Free Care Needs Consultation. We specialize in providing comprehensive, non-medical, in-home care to seniors in Northbrook, Skokie, Evanston, and the surrounding areas of Illinois. We are dedicated to enriching seniors' lives by supporting their independent living and helping them remain safely in their own homes. We also support them as they continue to pursue their favorite activities, hobbies, and interests.
Among the personalized services Amada in Northbrook home-care aides provide to our clients is assistance with activities of daily living (ADLs) — everything from meal preparation and medication reminders to transportation around town, running errands, and much more.
What makes Amada Senior Care stand out among other senior home care providers in Chicago's Northshore area? For one, our services aren't limited to in-home care: we also provide expert senior housing advisory services throughout the Northbrook area, financial counseling, and clear pricing to make care more affordable. We also offer representation as your personal advocate when it comes time to access and activate any Long-Term Care insurance (LTCi) benefits.
Amada Caregivers are Trained to Provide Assistance
with Activities of Daily Living (ADLs) such as:
Meal Preparation, Feeding
Most Non-Medical Assistance
Top-Quality Senior Care in Cook County
As part of our comprehensive senior care services in the Northbrook area, we match each home care client and family with the trained Amada caregiver that best meets their care needs.  Whether our in-home caregiver is reading aloud from Grandpa's favorite book or taking Mom shopping for a new pair of shoes, you can always be certain that all of us on the team at Amada Senior Care in Northbrook are with you throughout each and every step of your senior home care journey.
Everyone on our team strives to provide the highest quality senior in-home care in the area, and we do it with a sense of kindness, compassion, and genuine warmth. While helping with ADLs is certainly a vital part of the senior care services we provide, a very big part of the caregiving provided by our home care aides is genuine companionship. For the staff at Amada of Northbrook, enriching senior clients' lives every day means more than just taking care of their day-to-day needs; it also means ensuring that they get the absolute most out of life. Our goal is to create a safe and nurturing environment for each of our senior home care clients because we want to help them continue doing the things they love.
Ready to learn more about our top-quality senior services? Contact us today for a free consultation.
Home Care Services in Northbrook
At Amada Senior Care in Northbrook, we know that what we do affects more than just our senior home care clients; it affects those who love them. It's not always easy to transition to a new phase of life; however, by always involving a seniors' loved ones in our senior care plans and by remaining in frequent communication with those loved ones, we are able to ease concerns, while making the process of transitioning to home care as seamless and relaxed as possible.
To find out more about how an Amada Northbrook, Illinois in-home caregiver can enhance comfort, well-being, and safety by helping you or your loved one with ADLs and daily life-enriching activities, please contact us for a Free Care Needs Consultation.
The development of a customized senior care plan is what begins the senior care journey, but once you or a loved one starts receiving home care services from our friendly, professional team, you can be certain that we will stay in regular communication with you to ensure so that we know without a doubt that you and your loved one are happy with our services. We also check in regularly with each of our caregivers and clients, because doing so gives us that face-to-face contact that can be so important in evaluating overall health and well-being.
Meeting Seniors' Needs with Home Care in Northbrook
Because seniors' needs rarely begin and end with in-home care, we take a consultative approach to offering senior services in Northbrook. As experts in Long-Term Care insurance(LTCi) claims, we also offer clients our expert assistance with verifying benefits and submitting claims. For private pay clients, we can enlist the help of a senior home care financial adviser to recommend the best payment options for in-home care in Northbrook. We can also provide assistance in determining any benefits that may be available through the VA for clients and/or their spouses who served in the U.S. military.
Sometimes a senior community is a better fit for a senior than in-home care. Whenever this assessment is made, we are more than happy to recommend Northshore communities that we have pre-screened with an in-person visit. We can help you find the ideal senior community in the Northbrook area, a place where all your senior loved one's specific physical,  financial, and emotional needs can be met. We have years of experience and knowledge with the senior living options in the Northbrook area. We also have strong relationships with the coordinators overseeing assisted living, skilled nursing, board-and-care homes, and other types of senior living communities.
In other words, at Amada Senior Care in Northbrook, you can be sure that we will support you and your family with whatever you need. Whether you are coordinating home care with us, or you need assistance moving a loved one into memory care or another elder care-type facility, our goal is to reduce your burdens and make senior care in Northbrook as stress-free as possible.
The Amada Senior Care Aides' Commitment to Excellent Care
We want to exceed the expectations of every family we work with. We realize that by inviting us into your lives and home, you are signaling that you trust us. The senior home care advisers and caregivers at Amada Senior Care in Northbrook don't take your trust in us for granted. We will strive every day to show it is well-placed by providing the highest quality compassionate and personalized senior care in Northbrook. In addition, we will be a source of support and guidance to you and your family, because we don't want anyone to have to navigate in-home care alone.
If you or a loved one could benefit from excellent home care services in Northbrook, please contact us at Amada Senior Care in Northbrook for a Free Care Needs Consultation. We work closely with families to create a customized plan of senior care that allows seniors to remain at home: safe, independent, and comfortable. Our services, however, are not limited to in-home care. We also offer financial counseling to make care more affordable, and we provide expert senior housing advisory services in the areas of Northbrook, Deerfield, Highland Park, Highwood, and beyond.
GET YOUR FREE CARE NEEDS CONSULTATION TODAY!
At Amada Senior Care, we know that seniors and families in the Northbrook area make better home health care decisions when they know about all their wellness and care options. When you're ready for home caregiving for yourself or a family member in Northbrook, Amada's care advisors will help you understand all available personal care options and the available financial options to fund one of our expert caregivers.
If you are looking for home care for older adults in Northbrook or beyond, please call 847-324-9450.
Nov 27, 2023
Dedicated and Wonderful Care!
I could not be happier with the care provided by Amada Senior Care, Northshore. Each caregiver was so kind and attentive, making sure all my needs were addressed throughout the day and night. Because of their dedication and wonderful care I'm feeling stronger with each day. Thank You Amada!!
Oct 31, 2023
We Appreciate All the Care
Hi Jenny - We are staring at a beautiful vase of fresh cut flowers and it is making us smile. Mort was surprised and very happy to be the one to receive the birthday flowers. He will be 86 on Sunday and every birthday is special, just as he is. Thank you for this lovely gesture. We both also want to take a moment to thank you and your staff. We appreciate the care they always take to meet our needs. Warm regards, Mort & Bonnie
Apr 26, 2023
Ready to Listen to Caregivers
The office staff is easily accessible and ready to listen to caregivers. They always have whatever you need. It's a high priority. Each time we go for training, they give me more insight and confidence when it comes to my clients.
Amada Senior Care Reviews
Average rating:
0 reviews