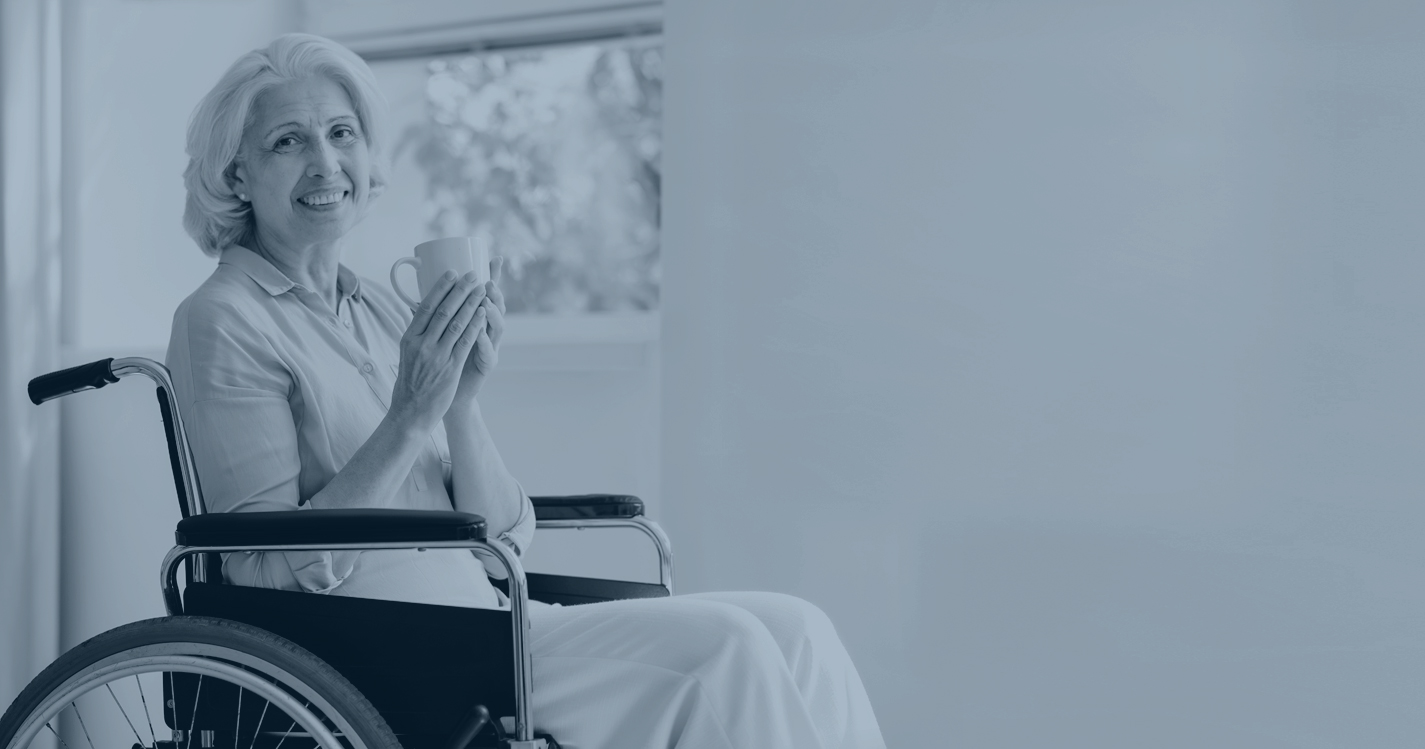 Slide 1
Would you or a loved one benefit from in-home senior care?
We specialize in providing comprehensive, non-medical, in-home care to seniors in the Nashville area.
Murfreesboro, TN At-Home Senior Care Services
If you can no longer provide needed care to a family member, or you need assistance for yourself, don't assume it is time to explore assisted living options. Before you start packing to move into a care facility, reach out to a representative at Amada Senior Care in Murfreesboro for your Free Care Needs Consultation. We provide comprehensive, non-medical, in-home care to seniors in the Murfreesboro area.
Our mission at Amada Senior Care Murfreesboro is to support seniors, so they can live independently while safe and comfortable. Amada in Murfreesboro has competent and compassionate home caregivers who assist with varying degrees of non-medical activities of daily living (ADLs) ranging from running errands to helping with meal preparation and feeding, to walking and bathing their clients. Our age-in-place care providers' sole focus is on the emotional and physical wellbeing of our clients.
Our company's services, however, go beyond that. We stand above other home care service companies in Rutherford County by offering advisory services. Our financial and senior housing experts will advise you on requirements for independent living, the differences between in-home care and assisted living facilities, as well as how to make senior care more affordable. In addition, we will review your Long-Term Care Insurance benefits (LTCi) and represent you as an advocate for accessing and activating the coverage.
Residents of Murfreesboro and the surrounding areas, including Brentwood, Smyrna, Lebanon, and Franklin, can contact Amada Senior Care online to schedule a Free Care Needs Consultation.
Amada Caregivers Provide Assistance with Activities of Daily Living, including:
Meal Preparation, Feeding
Most Non-Medical Assistance
Companionship and ADL Assistance in Murfreesboro
Lending a hand with activities of daily living, or ADLs, is certainly an important part of Amada in-home services, but just as crucial to our team is the companionship that our home care aides provide. For the team at Amada in Murfreesboro, we don't just want to see our senior clients safe and comfortable; we want to see them thriving and happy in their familiar surroundings, too.
We will work in partnership with you to develop a customized home care plan that will safeguard that at-home living environment our clients and their families crave. As we develop our senior care plan, we focus on learning the character, disposition, and physical requirements of each client. Then, we match that client with the qualified Amada caregiver most compatible to offer companionship and serve their unique needs.
We combine the experience of an ADL care provider with companionship to create the perfect blend: companion care. That means that not only will our care providers do light housekeeping, meal prep, errands, and bathing, but they will also talk to and listen to your loved ones, take them to the park or out on a stroll through their neighborhood (if appropriate), and fix their favorite meal.
This is all part of giving your loved one the kindness, compassion, and attention they deserve, all while bringing you peace of mind.
A Customized Senior Care Plan That Makes All the Difference
At Amada Senior Care in Middle Tennessee, we realize that the care we provide goes beyond just our senior clients. We also pride ourselves on providing support to family members.
We want to reduce the worry and stress that too often accompanies senior care by partnering with families to develop a customized senior care plan that evolves as their senior loved one's needs evolve. Even more, the care plan is just the start of our caregiving. With regular check-ins with each home care aide, our client, and our client's family we strive to provide the highest quality care and companionship that follows our goal to create a nurturing environment for each of our senior home care clients.
To learn more about how Amada Murfreesboro in-home caregiving services can enhance the comfort and safety of seniors by helping them with ADLs and life-enriching activities, contact us for a Free Care Needs Consultation.
Amada Senior Housing & Financing Advisory Services in Murfreesboro
When you turn to Amada Senior Care for in-home services, you get much more. We have a team of financial and senior housing experts who can help you navigate the complexities of senior care, senior housing, and the associated finances. Worrying about pricing and how to finance the necessary care can be overwhelming, but it doesn't have to be. Our financial advisors can help.
For private pay clients, our financial advisors can outline your in-home care financing strategies, weigh pros and cons, and make a recommendation to help make senior care more affordable.
Our Long-Term Care insurance claims experts help our clients navigate LTCi. We can:
Identify the requirements and terms of the long-term care policy.
Explain and clarify the "elimination period."
Activate LTCi benefits.
Assist with submitting claims and more.
U.S. military veterans and their spouses may be eligible for VA benefits. We can help:
Identify which, if any, benefits may be available to you or a loved one through the VA.
Explain the differences in the eligibility requirements for in-home care, respite care, or care in a nursing home or residential setting.
Analyze the factors that affect your costs and VA payments.
Our Amada Senior Care senior housing advisors can help families transition to the next phase of senior care.
Amada's Senior Care Evolves With You
When circumstances change and independent living is no longer viable, we can help you find the housing and pricing option that is right for you and your family member. We have years of experience in eldercare as well as close contacts at local assisted living facilities to help us find a location that is the perfect fit for you.
Whether you need an Alzheimer's or memory care facility, a nursing home with extensive health care services, or another type of senior living community, turn to our trusted advisors. We only recommend facilities that have passed our strict review standards.
Your care team at Amada Senior Care of Murfreesboro will support you and your family every step of the way. Let us coordinate in-home senior care, maximize your financial benefits, or take care of other details — whatever you need — so you and your family can focus on more important matters.
Amada Senior Care Caregivers' Unwavering Commitment
to Murfreesboro Seniors

Our commitment to all of the families we work with is simple: We will exceed their expectations. We recognize that taking that first step to ask for help was a difficult one, and we promise to deliver on the trust that you placed in us from that first conversation.
The senior home care advisors and caregivers at Amada Senior Care of Murfreesboro are engaged from day one to make certain that all team members are providing the highest quality personalized and compassionate senior care in Murfreesboro.
The Amada Senior Care team sees ourselves as an extension of our senior clients' families, who want to maintain a safe and fulfilling life for their loved one in the comfort of their own homes.
We will be a source of unwavering commitment in support and comfort to you and your family because we believe that nobody should navigate in-home care alone.
If you're looking for home care in Murfreesboro, contact us online for a free needs consultation, or call 615-933-7494.
TO SCHEDULE A FREE CARE NEEDS CONSULTATION, FILL OUT THIS FORM
When you are educated and informed about your senior care options, you are better able to make appropriate care decisions. At Amada Senior Care in Murfreesboro, we can help you understand and weigh those options.
When you're ready for home care in Murfreesboro, contact our care advisors. We will help you understand your care options and financial options to ensure your senior loved one stays safe and independent. You need a Murfreesboro senior care agency you can trust. Contact Amada Senior Care today.
Jun 17, 2023
www.com
So Good and so cool
Mar 10, 2023
Great Caregiver and Amada Staff
I was blessed when I was able to have someone help me with my home health care. I had no idea that I would be so happy with the care that I have received by the staff and my caregiver ***Tracy***. I was really apprehensive as to the class of service that I would receive. I am very happy that I did not listen to others. I have been treated with all of the respect and help that anyone could ask for, starting with the Staff and Owners, to the wonderful caregiver that I have been blessed for my caregiver. All are very professional in everything they do to ensure my health and happiness are taken care of each visit.
!!!WAY TO GO AMADA!!!
Oct 24, 2022
Great Company
We have been with Amada for over a year and we are awed by their service to us. Courtney is my mom's caregiver and we couldn't have asked for anyone as kind and caring as she is. Amada has also helped on several instances with the long term care insurance company. We highly recommend Amada if you have a senior in your home that needs care.
Amada Senior Care Reviews
Average rating:
0 reviews