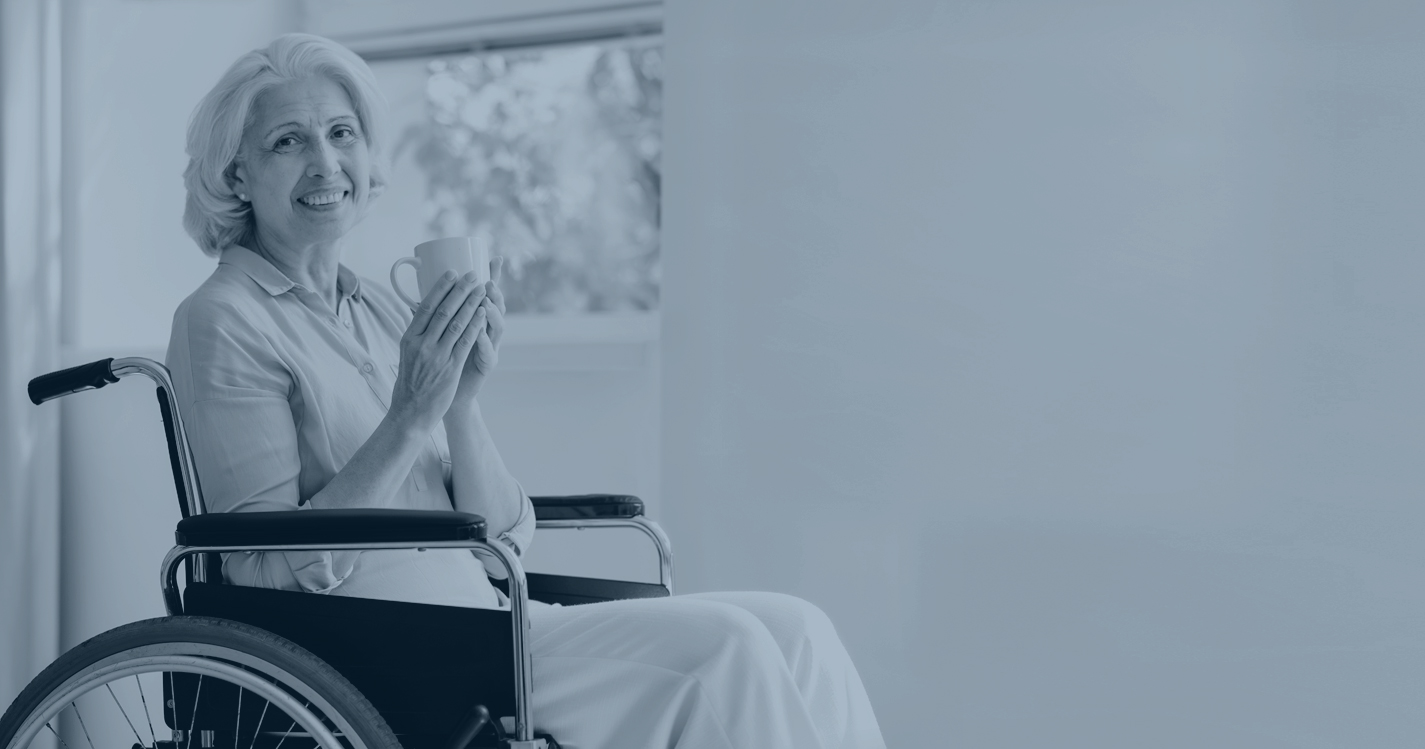 Slide 1
Would you or a loved one benefit from in-home senior care?
We specialize in providing comprehensive, non-medical, in-home care to seniors in the Nashville area.
Brentwood, TN At-Home Senior Care Services
Have you and your family members started having conversations concerning your aging loved one's changing needs, but no one can agree on what to do? If so, contact us at Amada Senior Care in Brentwood for a Free Care Needs Consultation. Our comprehensive, non-medical, at-home care for seniors may be just what you need.
When your loved one starts to get frustrated and depressed because getting through each day becomes a struggle, our experienced, trained staff can be the right resource to improve their quality of life. An Amada care team member will come into the home and provide personal care and assistance with activities of daily living (ADLs), and so much more. Regardless of whether your family member needs help with getting up and moving around, getting dressed, light housekeeping, eating, or getting to a medical appointment, we will be there for them.
Our primary goal is to support seniors so they can age in place with dignity and continue to live safely in their own homes for as long as possible. We also want to give you peace of mind as you entrust your loved one to our compassionate caregivers.
Amada Senior Care can help you find the best way to secure affordable in-home care for your loved one. We provide expert financial counseling, senior housing advisory services, and we can also serve as your personal advocate for accessing and activating Long-Term Care insurance (LTCi) benefits.
Amada Caregivers Provide Expert Assistance with ADLs such as:
Meal Preparation, Feeding
Most Non-Medical Assistance
Find the Right Senior Care Services for Yourself
or an Aging Loved One in Brentwood
When you and your family can no longer give the kind of special care that is needed for your parent, spouse, or another senior family member, finding someone who can is important. Before you settle on anything, consult with a care advisor at Amada Senior Care in Brentwood where we will guide you through the complexities of your senior care options in Tennessee.
We know these life-changing decisions can be stressful and overwhelming. We also know that through open, honest communication the senior care services that are right for you and your family will become clear. We take the time to explain the differences between Amada Senior Care's stay-at-home care services and other living arrangements such as independent living apartments, an assisted living community, memory care housing, or nursing homes.
Should you decide that Amada Senior Care will bring the right level of care for you or your loved one, we will collaborate with you to develop a customized, comprehensive senior care plan. Our plans ensure a nurturing environment with an appropriate engagement level that stimulates the mind as well as the body for each of our senior home care clients. Your loved one wants to continue doing the things they love, and we want to help them do just that.
To learn more about how Amada Brentwood's in-home caregiving services can enhance comfort and safety by helping with ADLs and life-enriching activities, please contact us for a Free Care Needs Consultation.
The customized senior care plan is only the beginning. We also regularly monitor each home care aide, check in with our clients and their families for feedback, and adjust care plans as appropriate to ensure our clients receive the very best care and companionship.
Building Personal Connections with Our Clients
Our capable caregivers know the proper way to help someone with mobility issues, but the care they offer is not all about the physical support our home care aides give their clients. It is also about their emotional well-being. It is the companionship and personal connections we make.
Enriching our senior clients' lives means keeping them safe, comfortable, and happy, and thriving. We work with our senior care clients and their families in Brentwood to create a customized home care plan with the best care services to meet those goals. Part of that includes matching each home care client and family with the trained Amada caregivers who can best manage their unique needs as well as complementing their temperament and personality.
When we help with activities of daily living, like bathing, dressing, grocery shopping, and keeping the home clean and organized, we help maintain your loved one's dignity and independence. When we listen, get to know them, and offer "good old-fashioned companionship," we make them feel special.
Listening to our senior clients' favorite stories about growing up in the 'olden days,' fixing a batch of cookies for the grandkids, and going through photo albums is all part of the personalized care we provide.
If you're looking for home care in Brentwood, Belle Meade, Franklin, Smyrna, or in the surrounding areas, reach out to us by calling our phone number at (615) 933-7494 or accessing our online Free Care Needs Consultation.
Amada's Financial Advice and Client Advocacy
We know that trying to sift through paperwork and financial requirements can be overwhelming. Let us help. At Amada, we go beyond providing in-home care by offering you access to our financial advisors and LTCi claims experts. Our financial services can help reduce financial burdens and keep in-home care accessible.
Our Long-Term Care insurance claims experts will assist and guide you through the complexities of verifying benefits and submitting claims. We can also analyze and review your Veterans Administration (VA) benefits to determine what may be available for those clients or their spouses who have served in the U.S. military. Enlist the help of an Amada senior home care financial advisor to determine the best payment options for in-home care in Brentwood.
If circumstances dictate that the time has come to move your loved one to a senior health care community, we can recommend communities our advisors have pre-screened by way of in-person visits. Choosing the best community for senior care in Brentwood is not something most people are prepared to do. That's alright. Our Amada Senior Care advisors take the time to listen to you and understand your needs for the next phase of care for your loved one. We understand family, so let us help find what's best for your family.
We use our experience, knowledge, and strong relationships with the coordinators who oversee local live-in senior care communities in the Brentwood area to help with the process. We take a collaborative approach, and through patience and understanding, we will explore all options and work with you and your loved one to find a location and community that is right for you.
In short, at Amada Senior Care in Brentwood, we can support you and your family every step of the way. Let us coordinate an in-home senior care plan that manages payments, makes the best use of your loved one's Long-Term Care insurance benefits, and takes care of other details so you and your family can focus on your loved one and your lives.
Amada Caregivers' Do Not Waver in Our Daily Commitment to Seniors
We may have a business relationship with our senior clients and their families, but we see it as a commitment to the health and safety of the aging members of our community. We are committed to exceeding the expectations of every family we work with. Inviting us into your lives and home is a sign of trust, and our senior home care advisors and caregivers strive every day to make certain that trust is well-placed.
We will be a source of unwavering commitment for support, guidance, and comfort to you and your family because we believe that nobody should try and navigate in-home care alone.
Please contact Amada Senior Care in Brentwood for a Free Care Needs Consultation to find out if you or a loved one can benefit from home care in Brentwood that's tailored for seniors. We also offer expert senior housing advisory services, financial counseling, and more to support you and your loved ones through every step of your senior care journey.
Amada Senior Care throughout Brentwood and the Nashville area also provides senior housing advisory services and financial counseling. We can also serve as your personal advocate for accessing and activating Long-Term Care insurance (LTCi) benefits.
If you're looking for home care in Brentwood, please reach out to us for a free needs consultation or call 615-933-7494.
FOR YOUR FREE AMADA CARE NEEDS CONSULTATION, FILL OUT THE FORM BELOW
When it is time for in-home senior services in or near Brentwood, including Green Hills, Hickory, Davidson, and Cool Springs, Amada's care advisors will help you understand all available care options and your financial options so you can secure a home care provider you can trust. Contact the senior care agency you can trust. Contact Amada today.
Jun 17, 2023
www.com
So Good and so cool
Mar 10, 2023
Great Caregiver and Amada Staff
I was blessed when I was able to have someone help me with my home health care. I had no idea that I would be so happy with the care that I have received by the staff and my caregiver ***Tracy***. I was really apprehensive as to the class of service that I would receive. I am very happy that I did not listen to others. I have been treated with all of the respect and help that anyone could ask for, starting with the Staff and Owners, to the wonderful caregiver that I have been blessed for my caregiver. All are very professional in everything they do to ensure my health and happiness are taken care of each visit.
!!!WAY TO GO AMADA!!!
Oct 24, 2022
Great Company
We have been with Amada for over a year and we are awed by their service to us. Courtney is my mom's caregiver and we couldn't have asked for anyone as kind and caring as she is. Amada has also helped on several instances with the long term care insurance company. We highly recommend Amada if you have a senior in your home that needs care.
Amada Senior Care Reviews
Average rating:
0 reviews