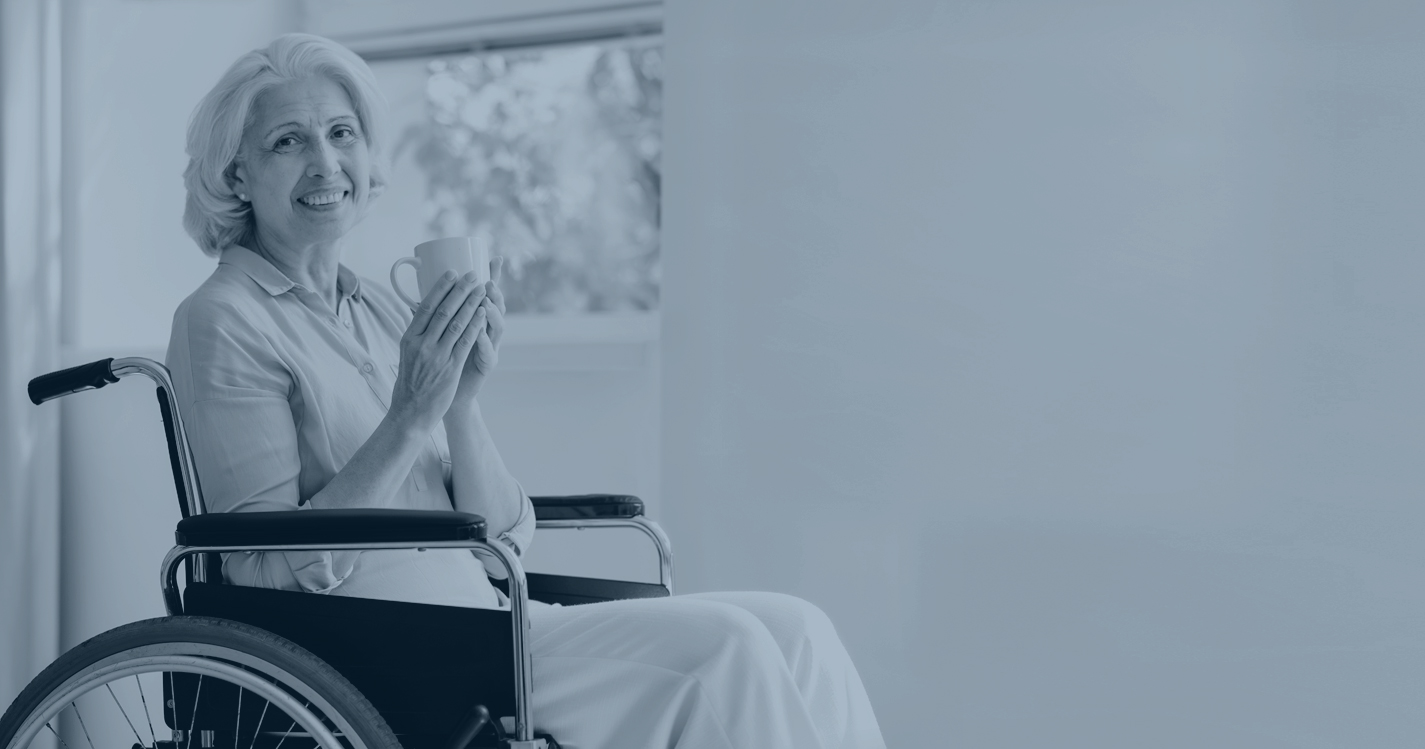 Slide 1
Are you looking for in-home senior care
for yourself or someone you love?
Amada Senior Care specializes in providing comprehensive, non-medical, in-home care to seniors in the Knoxville area.
Quality In-Home Care in Oak Ridge, TN Seniors
When preparing meals, cleaning the house, or quick trips to the grocery store become difficult or impossible for you or a senior loved one, you may benefit from in-home senior care. Contact Amada Senior Care in Oak Ridge, TN for a Free Care Needs Consultation. We specialize in providing comprehensive, non-medical, in-home care to seniors.
The mission at Amada Senior Care is to enrich seniors' lives. That means helping older adults live safely in their own homes, and keeping them active and engaged. Our Oak Ridge home care aides provide assistance with activities of daily living (ADLs), including basic help ranging from grocery shopping to running errands and meal preparation, to personal care such as help with bathing and dressing. We help make it easier for seniors to get through the day.
Amada Senior Care of Oak Ridge stands apart from every other local senior home care agency. Because part of what we do includes making senior care more affordable. Our expert senior financial advisors offer representation as your personal advocate for accessing and activating Long-Term Care insurance (LTCi) benefits, help identify Veterans Administrations (VA) benefits for our veterans, identify financing options, and, if the time comes, our senior housing advisors can assist with finding the right assisted living community.
We can help you or a loved one with your senior care needs. If you are in Oak Ridge, TN, and you can benefit from in-home senior care, contact Amada Senior Care today for your Free Care Needs Consultation.
Amada Caregivers are Trained to Provide Assistance with Activities of Daily Living (ADLs) such as:
Meal Preparation, Feeding
Most Non-Medical Assistance
Compassionate Senior Care in Oak Ridge
When an Amada Senior Care professional comes into your home, you not only get a trained care provider but also a warm, caring friend. Sure, our caregivers can cook, help you walk, and help with medication management, but they also bring kindness and companionship that breaks up the monotony and loneliness that comes when seniors live alone and struggle with daily care.
At Amada Oak Ridge, we aim to enrich our senior clients' lives every day. That means we keep them safe and comfortable AND happy and thriving. By working with senior care clients and their families, we create a customized home care plan that helps us enable seniors to remain safely independent and comfortable in their homes. Our unique ability to match each home care client and family with a compatible Amada caregiver is one of the reasons Amada stands out from other senior care agencies.
One day our in-home caregiver may help their client bake chocolate chip cookies, another they will sit and listen to their client's stories of growing up before everyone had "all these gadgets." Whatever the day looks like, you can be sure that your family at Amada Senior Care in Oak Ridge is with you through every step of your senior home care journey.
Our team offers at-home senior care services to Tennessee in Oak Ridge and our Knoxville location.
We strive to provide the highest quality of senior in-home care with a sense of warmth, kindness, and compassion.
Care Plans for Oak Ridge Seniors
Our Amada Senior Care team realizes that the senior care we provide goes beyond just our senior clients—it is a journey for the entire family. We pride ourselves on providing skilled care to our senior clients, and guidance and support to the extended family members who are frustrated at relying on others to care for their loved one.
We help ease that worry and stress by partnering with the family to develop a customized senior care plan that changes with the changing needs of their senior loved one. We need the personal insight families have to ensure our clients' unique needs are met. We listen to the concerns and build the care plan based on what our clients want, not what we think they want.
Contact us today for a Free Care Needs Consultation to learn more about how an Amada Oak Ridge in-home caregiver can provide you or your loved one with support with ADLs, and a more secure and active home life. We work with families throughout Oak Ridge, Lenoir City, Clinton, Knoxville, West Knoxville, and the surrounding areas.
We conduct regular check-ins with each home care aide, our client, and our client's family to help ensure we always provide the highest quality care and companionship. Our goal is to create a nurturing environment for each of our senior home care clients and to treat them with the dignity and respect they deserve.
Home care is more than just a job for us at Amada Senior Care in Oak Ridge—it is our calling.
Senior Care Guidance in Oak Ridge
Our senior housing and financial advisory experts take a consultative approach with all our Oak Ridge clients and their families. We help guide them through the challenges of senior care and its associated care costs. Our goal is to help make senior care accessible and affordable.
Our financial advisors can help explain senior care pricing structures and identify financing strategies, so whatever level of care your loved one needs you are prepared. Our Long-Term Care insurance (LTCi) experts can serve as representation to access and activate your LTCi policy and assist with submitting claims.
For U.S. military veterans, or spouses of veterans, our Veterans Administration (VA) benefits experts identify your VA eligibility requirements and help you apply to those for which you are entitled.
We will meet with our private pay clients, we can help weigh the pros and cons of different payment strategies. We want all of our clients to understand that senior care is within reach.
Transitioning to a Senior Living Community
When the health of your loved one changes and a higher level of care is needed, Amada's senior housing experts are there for you. Our patient advocates and advisors at Amada Senior Care in Oak Ridge have years of experience in eldercare, and we know and understand the local senior living community. We can help you find the right type of care to manage both the physical and emotional well-being of your loved one. Our experienced senior housing experts only recommend facilities that have passed our strict review standards.
Our FREE, no-obligation advisory services are available to all our Amada clients. Contact us today for your free care needs consultation. 
In Oak Ridge, Tennessee, and the surrounding areas, seniors can find a variety of senior living communities. The options include assisted living facilities, nursing homes, memory care homes, etc. Local care facilities offer older adults and their families peace of mind. Some provide care services and amenities such as on-site wellness centers, on-call health care, various floor plans, barbershops, and social events.
Let Amada's senior care experts create an in-home senior care plan that keeps your loved one safe and happy and maximizes your LTCi benefits.
Amada Senior Care Caregivers' Commitment to Our Families
Quite simply, we are committed to exceeding the expectations of the Oak Ridge families we work with every day. We understand it can be overwhelming and scary to take that first step to entrust you or your senior loved one's care to someone else. We strive to be your trusted partner every step of the way.
The senior home care advisors and caregivers of Amada Senior Care Oak Ridge are closely involved with our clients' day-to-day care to ensure that you always receive the highest quality personalized and compassionate senior care.
We believe that nobody should navigate in-home care alone. That is why you and your family have our unwavering commitment of support, guidance, and comfort.
If you or a loved one are seeking home health care in the Oak Ridge, TN area, access our online free care needs consultation, or call our phone number at (865) 409-0282.
USE THE FORM BELOW TO SCHEDULE YOUR FREE CARE NEEDS CONSULTATION
We believe when you are educated about your different senior care options, you are better able to make appropriate care decisions. At Amada Senior Care in Oak Ridge, we can help you understand and compare those options.
When you're ready for in-home senior care in Oak Ridge, contact us. Our senior care advisors will talk you through all available care and financial options so you can help your senior loved one stay safe and comfortable. Turn to an Oak Ridge senior care agency you can trust. Contact Amada Senior Care today.
Jan 11, 2023
Wonderful and Safe Senior Care
Amada Knoxville has been so incredible! The entire senior care team is understanding, compassionate and caring. The owner, Mr. Pell, was so kind and patient when my grandmother started to need in-home assistance. He helped our family navigate all of the decisions and payment options, in addition to setting up a care schedule. Every Amada person we have worked with has been helpful and friendly.

My grandmother's caregiver, Liz, is simply wonderful, and my grandmother loves her. Liz not only is kind and patient but really helps my grandmother feel like she is cared for and has a friend instead of feeling she's just being looked after. Our family highly recommends Amada Senior Care to other families looking for wonderful, knowledgeable and safe senior care. Thank you for all you do!
Nov 2, 2022
Caring company
We have been very impressed with Amada Senior Care. Jeff Pell really takes the time to help prospective clients get their needs met and goes above and beyond every time. We have had a lot of great caregivers and especially love Cherelle P, wow!
Jun 18, 2022
Knoxville Area Senior Sitter
I thank you for your quick and professional assistance at a time of need. AMADA's care giver staff is of the highest quality.



AMADA is the first group that I will turn to if the need arises again for sitter/care giver services for my mother. Furthermore, I will let people I talk to know what a good service AMADA here in in the Knox County area provided us.
Amada Senior Care Reviews
Average rating:
0 reviews