Home Slide 1
Click Below for A Free Care
Does someone you love need in-home care? Tell us their needs and one of our advisors will reach out to you shortly!
Amada Senior Care Denver
Ken Jenson,  owner of Amada Senior Care Denver, knows that delivering excellent quality care for senior clients is just part of the job for him and his team. A close second in priority to providing the best care is giving dedicated support to seniors' families. Being a devoted family man, Ken believes that senior care—like everything else in life—should be a family endeavor. Ken and his team's commitment to caring for seniors and their families has earned Amada Senior Care Denver its reputation for providing superior senior care to families in Denver, Centennial, Lakewood, Littleton, Highlands Ranch, Englewood, Aurora, Parker, Castle Rock, Denver, Arapahoe, Douglas, Jefferson and other area communities, cities and counties.
Click HERE to listen to Ken discuss COVID safety protocols that protect clients and communities.
Click HERE to hear Ken clarify long-term care insurance and rising premiums.
The goal at Amada Denver is to not only meet all of a family's senior care needs but also exceed their expectations of care. If we have been brought in to provide in-home care for a senior, we go beyond activities of daily living (preparing meals, housekeeping or shopping) because we want to enrich our client's life in the most meaningful ways possible. For example, discussing a favorite scripture would bring peace of mind to Aunt Beth, or having someone bake his favorite cookies would delight Dad, or helping tidy her prized rose garden would thrill Grandma Jo. Adding personal touches to the care we provide allows us to show our senior clients just how much we truly value them while we work to vastly improve the quality of their lives.
When home is no longer the ideal environment for a senior, we will guide that senior and his or her family to the assisted living environment that ideally suits their unique needs and preferences. We will even continue to check in on clients who have moved to senior housing communities, just to make sure we haven't missed an opportunity to be of service to them.
At Amada Denver, we have learned through personal and professional experiences that the loved ones of senior care clients are often overlooked. We know how stressful and overwhelming it can feel to try to ensure the best care for a loved one who struggles due to his or her age. We believe that if we are to properly honor our calling to provide the best senior care possible, we must make sure that a senior client's loved ones feel encouraged and supported throughout their senior care journey.
We invite you to contact us at Amada Senior Care Denver to learn more about how we can help a senior in your life age with dignity and give your family the peace of mind they deserve. Let our family take care of yours, because, as we say, "Someone you love needs us."
Amada Caregivers are Trained to Provide Assistance with Activities of Daily Living (ADLs) such as:
Meal Preparation, Feeding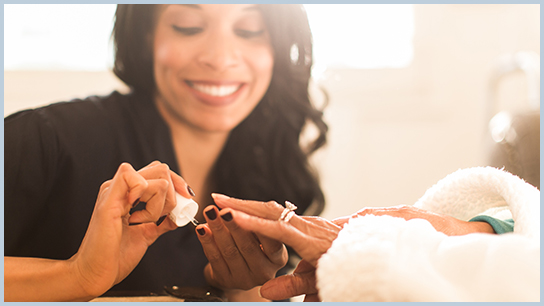 Most Non-Medical Assistance
If you or your loved one could use assistance with these or other activities of daily living, we invite you to contact us today for a free Care Needs Consultation with an experienced member of the Amada Senior Care Denver team. Our trained and compassionate caregivers provide the highest-quality, in-home care to seniors living in Denver, Centennial, Lakewood, Littleton, Highlands Ranch, Englewood, Aurora, Parker, Castle Rock, Arapahoe, Douglas, Jefferson and other area communities, cities and counties. We know that each of our clients has unique needs, desires, and budgets, and we are able to customize a care plan ideal for each situation.
Our personal involvement doesn't simply end with caregiver placement. We also monitor our caregivers and regularly check in with clients and their families to ensure that we are doing all we can to help them live safer, happier, and more fulfilled lives.
Long-Term Care Insurance Claims Experts
Review Policies and Verify Benefits
Long-term care insurance can help you or your loved one get the senior care you deserve, but it's important that you understand your policy and what it entitles you to. We will help you make sense of your LTCi policy and verify your benefits so you can be sure you are using them to your greatest advantage.
Process Claims and Submit Paperwork
The experts at the Amada LTCi Resource Center will walk you through the completion of claims forms and other paperwork, which can help you get quality senior care more quickly.
Your Personal LTCi Advocates
Members of our Amada family never need to feel stuck waiting on hold to speak with a representative of their LTCi carrier. We have built professional relationships with most carriers and administrators, and are happy to call our contacts directly to advocate for you.
Benefit Assignments and Payment Monitoring
We will help you use your LTCi benefits most effectively by assigning them to a care plan specific to your unique needs. We can also take over payment monitoring or even bill your LTCi carrier directly, so you have one less thing to worry about.
Our Commitment
For the members of our team at Amada Senior Care Denver, providing in-home senior care is much more than just a job. It is a fulfillment of our personal goal to enrich the lives of our clients at every level. Whether it is helping a client to adjust his or her care plan, engaging in an activity or hobby a client likes, sharing a friendly word with a family member, or preparing a meal that tastes like home to a client, we truly enjoy what we do—and it shows.
" Someone you love needs us. Trust Amada Denver to provide the best personal care."
[custom-facebook-feed id=AmadaSeniorCareColoradoSprings]
Amada Senior Care Denver
Average rating:
11 reviews
Jan 22, 2019
Whitney Taylor And Allison Matheny VA Help
We cannot thank Whitney and Allison enough for their commitment and care in helping us to get paperwork in place to get VA Aid and Attendance for our mother(mother in law). They came several times to our house and went way out of their way to help us and check things very carefully. They explained things to us so we could understand. They were very professional and caring. A true asset to your company. They are well organized. We will highly recommend your organization to others. Your company is an amazing service to people dealing with difficult decisions to help with their parents. We will forever be thankful
Jan 22, 2019
Superior Company
I have worked for Amada Senior Care for over a year and can not say enough good things. First of all, as my parents near the age of needing care themselves, you can bet I will be sending them to Ken and Natasha! I have never met a team of people with more heart, integrity and passion for what they do! I am proud to consider myself a part of this team. We all give 110% to make sure our clients are taken care of. We also take great pride in taking care of our caregivers. I love what I do, I love what this company stands for, and I love our clients like they are my own family!
Jan 22, 2019
Strong Values
In the short time I have been with Amada, I have witnessed tremendous growth not just within our administrative team but also with our team of dedicated and compassionate caregivers. It's truly heartwarming to know that the seniors and their families whom we care for have experienced peace of mind thanks to our caregivers. Amada Senior Care has such strong values that are practiced by everyone here! I recommend Amada Senior Care to everyone, whether you are the one who needs help or know someone who needs help. Trust in us at Amada Senior Care.
Jun 24, 2017
The rating/reviews that were previously stated about staff being well trained in an over statement. If all your loved one needs is a companion then Amada is good but they lack in any other training
Apr 28, 2017
Patrick Murphy
I cannot praise Ken Jensen and his company, Amada Senior Care any more highly. My family is so very grateful for the expert care Amada provides on a daily basis to my Dad who is recovering from hip replacement surgery. Ken and Natasha personally got to know my Dad and my family and then expertly matched him with a very experienced caregivers. The Amada team became deeply involved with my Dad's needs in order for them to have the best chance of healing him. Amada's team stayed on top of my Dad and made sure to keep us abreast of any concerns. Natasha and the caregivers are very friendly, caring, expert professionals who always act in the best interests of my Dad while respecting the wishes of my family. You can confidently put your trust and faith in Ken and know that they will do the best job possible for your parents. Amada has superseded my family's expectations with helping my Dad. Thank You Amada!
Dec 6, 2016
Joanna Marrow
Very wonderful place to work i would highly recomend working here couldnt be happier
Nov 29, 2016
Chloe Chace
AMADA senior care has been a great place to work. I have been an employee here for over a year and in the last year I have learned a lot, made a lot of memories and gained experience caring for others. And when the time comes I will only trust AMADA senior care to provide care to my own family. They always make sure the client is a priority and they strive to make sure that care received to all clients is exceptional all the time. Great place to work, great place to work with.
Nov 18, 2016
Danny Jenson
Great home care company. High level of professionalism, and staff is well trained.
Nov 17, 2016
G Carino
Amada Senior Care (specifically from Colo Blvd) is by far the best company to work for as a caregiver or CNA, and by what clients tell me - an amazing company that they can trust and feel so much care from. The staffs, especially the office manager, is great at meeting the employee's and client's needs. They have so much care for all of us! I highly recommend this company!
Nov 17, 2016
High Quality Home Care!
Amada takes care of their clients as if the clients are their own family. They are very attentive, and the caregivers are great. The office staff is very friendly and always willing to help! They are accessible, and you can reach them anytime. What an excellent group!! Highly recommend choosing this company to provide your Home Care service.
Senior Housing Advising
When seniors or their loved ones begin to feel that they require more support than in-home care and assistance with basic ADLs, it may be time to consider transitioning to an assisted living community.
This is an emotional decision for everyone involved, and our goal at Amada Senior Care in Denver is to guide families through the placement process with wisdom, empathy, and competence.
For some seniors, an assisted living community, typically offering non-complex medical services, may be a good fit. Others may require a bit more support and may be better served in a nursing home or different type of care community.
The team at Amada Senior Care Denver has years of experience with senior care in Denver, Centennial, Lakewood, Littleton, Highlands Ranch, Englewood, Aurora, Parker, Castle Rock, Denver, Arapahoe, Douglas, Jefferson and other area communities, cities and counties. As a result, we have deep knowledge of all local care communities and can make sure our clients find the ideal placement to suit their care needs, locations, lifestyles, and budgets.
We also rely on our extensive experience to help our clients make full use of all benefits available to them, including veterans' benefits and Long-Term Care Insurance benefits. The costs of assisted living may intimidate many families, but we can help them make financial decisions with confidence. To further ease cost concerns, the Amada Denver team is pleased to offer its placement services free of charge.
When in-home care is no longer ideal for our clients, we are honored to guide them through this next phase. Our specialty is referring seniors to the right community or placement for them, which may include:
Assisted living communities
Large and small communities
Independent living communities
Board and care homes
Adult family homes
Senior care homes
Skilled nursing facilities
Alzheimer/dementia communities
Veterans Assistance Programs
Many of our veterans, their spouses, and their families may not be aware of their potential eligibility for financial assistance from the government. At Amada Senior Care Denver, we are dedicated to helping individuals eligible for VA Aid and Attendance benefits and other forms of financial support take full advantage of these resources.
To learn more about Aid and Attendance and other benefits for veterans, please
How is Aid and Attendance Eligibility Determined?
1. Military Service
A minimum of 90 days of active duty, with at least one of those days during wartime.
Must not have been dishonorable discharged.
2. Personal Care Needs
Applicant must currently require assistance with activities of daily living, such as walking, eating, toileting, or dressing.
3. Income
Majority of applicant's income must currently be spent on care expenses.
The percentage of income currently spent on care will determine the benefits they receive.
4. Assets
The VA will determine an acceptable threshold for applicants' assets.
Determination of financial assets will depend upon age and financial need.
How VA Aid and Attendance Benefits can Help You:
Through the use of VA benefits, seniors gain more financial flexibility for their care plans and potential placements. This may include:
More in-home care.
The community of their choice.
Benefits paid monthly with no repayment required.
Benefits are paid directly to claimants by the United States Treasury and are tax-free.
"Amada Senior Care has such strong values that are practiced by everyone here! I recommend Amada Senior Care to everyone, whether you are the one who needs help or know someone who needs help."
Natalia Rivera