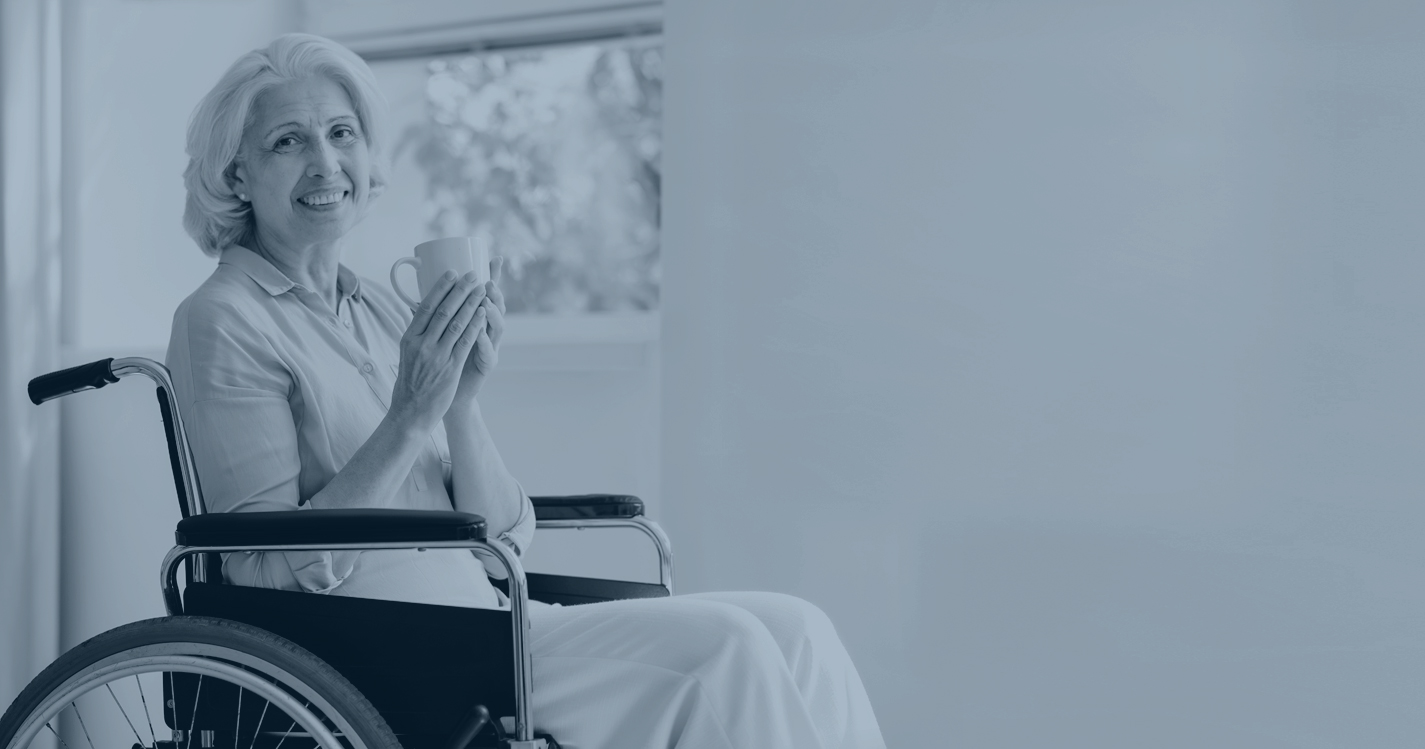 Slide 1
Would you or a loved one benefit from in-home senior care?
We specialize in providing comprehensive, non-medical, in-home care to seniors in the Denton and Frisco area.
Skilled, Compassionate In-Home Senior Care in Lewisville, TX
It can be daunting to find reliable, skilled home care services for a senior family member. If you or a loved one are ready for in-home senior care, turn to a company you can trust. Amada Senior Care of Lewisville specializes in providing comprehensive, non-medical, in-home care to seniors.
Whether you are looking for assistance with activities of daily living (ADLs) like grocery shopping and meal preparation, light housekeeping, and transportation, or other basic caregiving services, our home care team can provide the support you need. Our age-in-place senior services are geared towards enriching seniors' lives. That means keeping them safely and comfortably at home while helping them continue to pursue the activities they love.
We stand apart from other Lewisville senior care agencies. We not only deliver personalized elder care services, but we also offer senior housing and financial advisory services to our clients. Ensuring senior care is accessible and affordable is just another way we help enrich seniors' lives. We can serve as a personal advocate for Long-Term Care insurance (LTCi) benefits, help identify appropriate Veterans Administration (VA) benefits, and help find the best healthcare services or in-home care to meet your needs.
Find out if you or a loved one could benefit from in-home senior care in the Dallas Metroplex region. Contact Amada Senior Care in Lewisville, Texas today for your Free Care Needs Consultation.
Amada Caregivers are Trained to Offer Help with Assistance with Activities of Daily Living (ADLs) such as:
Meal Preparation, Feeding
Most Non-Medical Assistance
Amada In-Home Care Makes the Difference
We always assist our clients with everyday tasks and ADLs, such as driving them to their doctor's appointments and helping them get a meal on the table, but it is our privilege to provide companionship and kindness. Amada caregivers bring a balance of physical and emotional wellness to their clients, and that is something you won't get from other senior care agencies.
Caregiving isn't just a job for the Amada team. The special bond and caring relationships our caregivers create with their senior clients is our special way of helping our seniors live happy and thriving lives. Through companionship, patience, respect, and dignity we help our seniors enjoy each day. We are there for our clients when they want to go for a walk in the park, sort through family photographs, or just talk about current events.
Whatever we do, we strive to provide the highest quality of in-home senior care with a sense of warmth, kindness, and compassion.
A Collaborative Approach to Care Plans
When Amada is invited to provide in-home care for a senior, we don't assume we know the right care. What we do know, however, is that what we do affects not just our client, but also the people who love them and worry about them. That is why we need the client and their family's input and feedback.
We collaborate with the family to determine the type and level of support that will most benefit our senior client. The family gives us valuable insight into their loved one's individual needs, their personality, limitations, and preferences.
With this information in hand, we develop a customized, personal care plan that helps us make the most positive impact possible throughout this care journey. We also select the Amada caregivers who will best complement the personality and meet the unique needs of our clients.
We regularly check in with our caregivers, our clients, and the families, and revise the plan as needed to ensure that our client's safety, comfort, and quality of life is the best it can possibly be.
Home care is more than just a job for us at Amada Senior Care in Lewisville, Texas — it is our calling.
Contact us today for a Free Care Needs Consultation. We serve Lewisville, Carrollton, Dallas, Flower Mound, Grapevine, Highland Village, Plano, Southlake, and other cities in Dallas-Fort Worth and the surrounding areas.
Expert Lewisville Senior Care Advisory Services
Let our Amada Senior Care senior housing and financial experts walk you through the intricacies of senior care. We can narrow the scope and cover the information that is pertinent to you so you can more quickly find the right, affordable care for you and your loved one.
Our Long-Term Care insurance claims experts can review and explain your insurance policy and coverage, serve as your personal advocate and representative for accessing and activating the benefits, and assist with submitting LTCi claims.
For U.S. military veterans and their spouses, our advisors can explain the various Veterans Administration (VA) benefits and assist with filing for benefits for which you may be available. Knowing the differences between respite care, home health care, residential care facilities, and other care options can help you better assess what is right for you or your loved one.
We can help private pay clients without LTCi or VA benefits find quality senior care that fits their budgets. Our financial advisors can explain senior care pricing and identify financing strategies that may make senior care accessible and affordable.
If circumstances change and at-home independent living is no longer a safe option, we can help transition your loved one to a suitable assisted living community. Our senior housing advisors have years of eldercare experience, have close relationships with nearby residential community coordinators, and maintain a list of housing options that we have pre-screened against our tough standards.
We will help find the appropriate level of care and healthcare services your loved one needs. Whether your loved one is best served by an assisted living facility, nursing home, Alzheimer's care or memory care community, full-time medical care center, or another care facility, we can help you find an option that meets your budget requirements as well as the physical and emotional needs of your loved one.
At Amada Senior Care, we will support you and your family every step of the way.
Our Commitment to Senior Care
Everyone at Amada Senior Care shares the same commitment: to exceed the expectations of every family we work with. We realize that inviting us into your lives and homes is a sign of trust, and our home care advisors and care providers strive every day to make certain your trust in us is well-placed. We are also committed to always treating your loved one with respect and dignity.
We are committed to providing the highest quality of personalized and compassionate senior care in and around Lewisville, TX. In addition, we want to be a source of support, guidance, and comfort to you and your family because we believe that nobody should navigate in-home care alone.
If you're looking for home care in Lewisville, Denton, or other cities in Denton County, access our online free care needs consultation, or call our phone number at 469-906-2399.
SCHEDULE YOUR FREE CARE NEEDS CONSULTATION BELOW
At Amada Senior Care in Lewisville, we believe that informed seniors and families make better care decisions. Contact our care advisors to find out about your available care options and the financing strategies to help make senior care accessible and affordable. Turn to a senior care agency you can trust. Amada Senior Care representatives are available today.
May 9, 2023
Great job
My care with Amada has been wonderful.
Kacey Howell has gone above and beyond.
She has taken care of all my needs and done a great job.
Mar 16, 2023
Gentle and Kind Care
Amada found a caregiver immediately to come to my home when my husband needed more help than I could provide. The caregiver assists Jim with dressing and mobility -- helping to keep him from falling. We are so happy with the gentle and kind care given by Tonimarie and highly recommend her as a caregiver! Thank you, Amada Senior Care, for all you did to help our family in our time of need!
Mar 29, 2017
Outstanding Care
When my active, overall physically healthy 89-year-old mother (suffering from all the signs of dementia/Alzheimer's) fell and fractured her hip, her world turned upside down. She had to endure several weeks in therapy, which affected her mental state tremendously and our family had to make the difficult decision to move her from her home of 45 years to a memory care facility. She needed 24-hour companions in the therapy center, and for several more weeks more when she transitioned to her new home. The kind, caring, compassionate and professional staff and caregivers from Amada Senior Care were the answers to our prayers. They were patient to her every mood swing, made her feel safe in the new surroundings. They listened and responded to her every need—they made her smile. Their training in dealing with her memory issues was amazing. They communicated honestly and openly with us and helped us as we struggled within ourselves to make the right decisions for our mother, showing us compassion and support as well. There is no way our family alone could have accomplished all the things they did. We will be forever grateful for the loving and professional care they gave our wonderful mother and support they provided to us.
Amada Senior Care Reviews
Average rating:
0 reviews