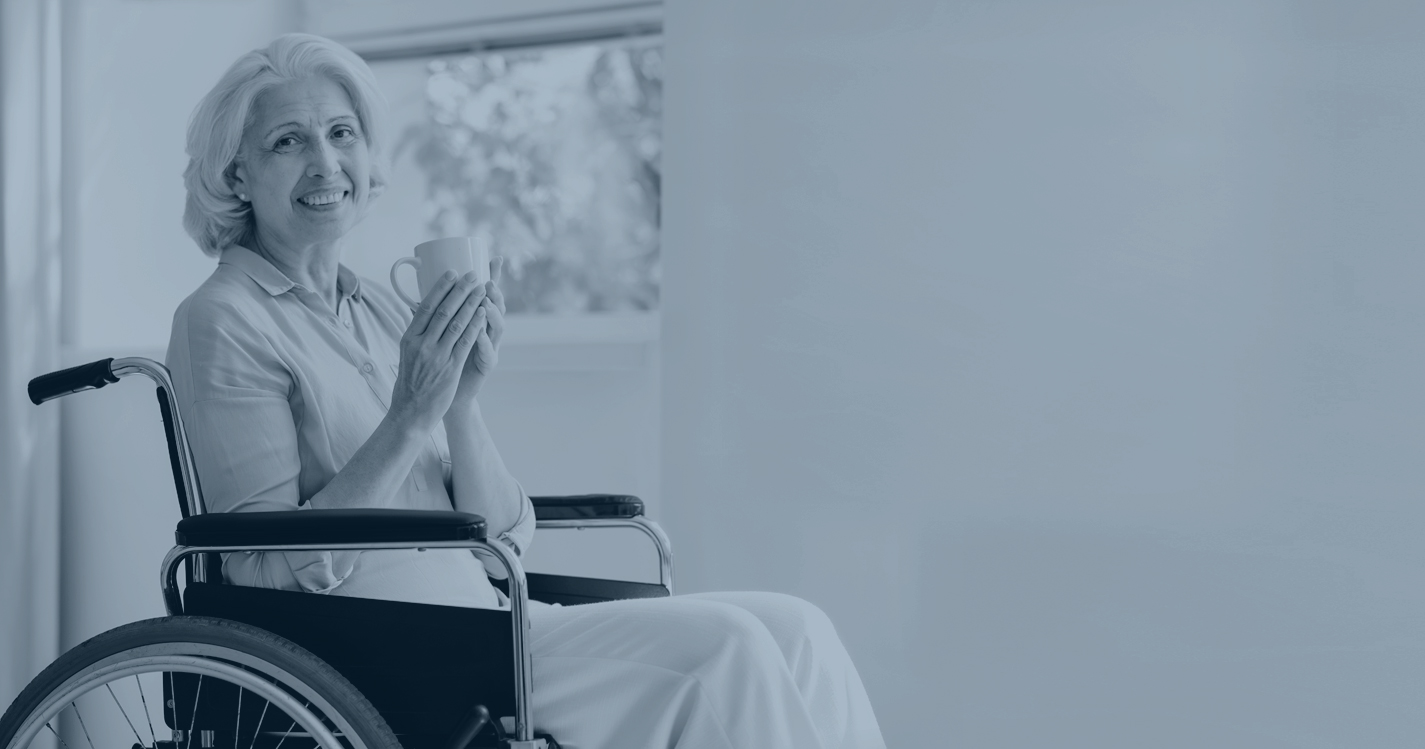 Slide 1
Would you or a loved one benefit from in-home senior care?
We specialize in providing comprehensive, non-medical, in-home care to seniors in the Denton and Frisco area.
Trusted In-Home Senior Care in Grapevine, Texas
When you or your senior loved one begin to struggle with basic activities like fixing meals, or getting behind the wheel of a car is no longer safe, don't be discouraged. Let our trusted caregivers help make life a little easier. Contact Amada Senior Care of Grapevine, TX to find out how our team of compassionate care providers can help. We specialize in providing comprehensive, non-medical, in-home care to seniors.
Our primary focus is to enrich our seniors' lives by keeping them in their own homes for as long as possible and to support them in doing the activities they love. Our home care services include assistance with activities of daily living (ADLs) such as meal preparation, light housekeeping, bathing, transportation, as well as companionship, and so much more. We offer personal care that meets each clients' needs.
Amada Senior Care stands above all other Grapevine senior care service providers by going beyond basic care services. We want to help make senior care accessible and affordable, and in support of that goal we provide senior housing and financial advisory services. We can serve as your personal advocate for accessing and activating Long-Term Care insurance (LTCi) benefits, help access eligible Veterans Administration (VA) benefits, explain senior housing options, and more.
If you or a loved one can benefit from in-home senior care in Grapevine, or in the Dallas-Fort Worth, Texas area, contact Amada Senior Care today for your Free Care Needs Consultation.
Trained Amada Caregivers Provide Assistance with Activities of Daily Living (ADLs) including:
Meal Preparation, Feeding
Most Non-Medical Assistance
Warm, Kind, In-Home Senior Care in Grapevine
Amada Senior Care prides itself on ensuring all our caregivers provide high-quality, expert personal care and ADL support with a sense of warmth, kindness, and compassion. All of our home care team members are trained to help older adults with age-related conditions including Alzheimer's, Parkinson's, arthritis, or other limiting conditions, and to do so with dignity and respect.
We develop a customized care plan, developed with the family's guidance, to provide the right care for ongoing safe, comfortable independent living, and to ensure that our senior clients stay safe, happy, and engaged. We take that extra step to make sure the assigned Amada caregivers best complement the personality and unique needs of their clients. We offer the right care to help seniors get through their day effortlessly. But, it's not all about the hands-on care.
Amada is especially proud of the companionship and comfort our caregivers bring to their clients. When living alone, days can feel extra-long, but our caregivers help alleviate those feelings of loneliness and isolation by just being there and being attentive. Whether our providers are helping bake their client's favorite pie, listening to childhood stories, or driving them to get an ice cream, it is all part of giving your loved ones the attention and respect they deserve.
Personalized Care Plans for Peace of Mind
When a family realizes they need skilled caregivers to help with their senior loved one, they can feel frustrated and helpless. Those feelings quickly give way to overwhelm when they start searching for a professional agency in which they can trust. You can trust Amada Senior Care of Grapevine. We know that when we come into your home, the care and support we provide affects the family just as much as it does their loved one.
For that reason, we involve the client and their family throughout the planning process. Every client is unique, so we never assume we know the right care. We collaborate with the family to gain the personal insight into your loved one's health and wellness needs, preferences, likes and dislikes and to ease concerns about his or her quality of life and comfort. This information helps us determine the appropriate level of care and build the right personalized care plan.
It doesn't stop there, though. The care plan is a living document that we continually adjust based on feedback from the client, family, and our Amada caregivers. We want to create a nurturing environment, so everything we do leads towards safer, happier, and more fulfilled lives.
We help our clients continue to do the things they love while giving their family peace of mind. Home care is more than just a job for us at Amada Senior Care in Grapevine — it is our calling.
Contact us today for a Free Care Needs Consultation. We serve Arlington, Grapevine, Bedford, Lewisville, Carrollton, Colleyville, Coppell, Euless, Flower Mound, Grapevine, Irving, Keller, Plano, Southlake, North Richland Hills, and other cities in Dallas, Fort Worth, and the surrounding areas.
Grapevine Expert Senior Living Advisory and Financial Services
Trying to understand your financial situation when you are worried about your senior loved one's declining health can be nerve-racking. If you don't fully understand your long-term care insurance (LTCi) policy, potential veteran's benefits, and other home health care or residential care requirements and guidelines, you could face an unnecessary financial burden.
Let our Amada Senior Care financial advisors help; we go beyond basic home care by offering you access to our Long-Term Care insurance (LTCi) claims experts. We assist our clients in understanding the complexities of their policies, verifying benefits, and submitting claims. For U.S. military veterans and their spouses, we can identify eligible Veterans Administration (VA) benefits, and recommend the optimal payment options for in-home care.
For our private pay clients without LTCi or VA benefits, we can help find quality senior care that fits your budget. Our financial advisors can interpret senior care pricing, and identify financing strategies that can help make senior care accessible and affordable.
Amada Senior Care in Grapevine Supports You Every Step of the Way
If the time comes when your loved one's healthcare requirements go beyond what Amada Senior Care can provide, and at-home independent living is no longer safe or practical, we can help transition your loved one to a suitable assisted living community. Our senior housing advisors are here to help by guiding you through this challenging time. We have years of experience in the eldercare business, have close relationships with nearby residential community coordinators, and we maintain a list of pre-screened living communities that meet our tough standards.
We will help find the appropriate senior healthcare services to look after your loved one's physical and emotional well-being. Whether your loved one is best served by a memory care community, an assisted living facility, nursing home, or another type of care facility, we can help you find an option that meets your budget as well as the special care needs of your loved one.
We will analyze and explain the benefits of the different amenities, such as supported daily activities or outings, floor plans, meal plans, and more.
Amada Senior Care Caregivers Are Committed to Exceeding Expectations
We want each client and family member to feel supported and confident in their decision to place their trust in us, and we are committed to exceeding the expectations of our clients and their families.
We are committed to:
Providing skilled, compassionate caregivers to fulfill our clients' needs.
Always providing the highest quality of personalized and compassionate senior care with respect and dignity.
Helping seniors thrive and maintain a safe level of independence.
Being a source of support, guidance, and comfort for our client's and their family because no one should navigate senior care alone.
If you're looking for in-home senior care in Grapevine, Texas, access our online free care needs consultation or call our phone number at 469-906-2399.
FILL OUT THE FORM BELOW FOR YOUR FREE CARE NEEDS CONSULTATION
When seniors and their families are aware of their senior care options, they can find it easier to make the right senior care decisions. We can educate you and help you determine the best type of care for your aging loved one. If you are ready for in-home senior care in Grapevine, contact Amada today. A trusted Amada care advisor will help you understand all available care and financial options so you can get the care you need. Fill out the form today for peace of mind.
May 9, 2023
Great job
My care with Amada has been wonderful.
Kacey Howell has gone above and beyond.
She has taken care of all my needs and done a great job.
Mar 16, 2023
Gentle and Kind Care
Amada found a caregiver immediately to come to my home when my husband needed more help than I could provide. The caregiver assists Jim with dressing and mobility -- helping to keep him from falling. We are so happy with the gentle and kind care given by Tonimarie and highly recommend her as a caregiver! Thank you, Amada Senior Care, for all you did to help our family in our time of need!
Mar 29, 2017
Outstanding Care
When my active, overall physically healthy 89-year-old mother (suffering from all the signs of dementia/Alzheimer's) fell and fractured her hip, her world turned upside down. She had to endure several weeks in therapy, which affected her mental state tremendously and our family had to make the difficult decision to move her from her home of 45 years to a memory care facility. She needed 24-hour companions in the therapy center, and for several more weeks more when she transitioned to her new home. The kind, caring, compassionate and professional staff and caregivers from Amada Senior Care were the answers to our prayers. They were patient to her every mood swing, made her feel safe in the new surroundings. They listened and responded to her every need—they made her smile. Their training in dealing with her memory issues was amazing. They communicated honestly and openly with us and helped us as we struggled within ourselves to make the right decisions for our mother, showing us compassion and support as well. There is no way our family alone could have accomplished all the things they did. We will be forever grateful for the loving and professional care they gave our wonderful mother and support they provided to us.
Amada Senior Care Reviews
Average rating:
0 reviews