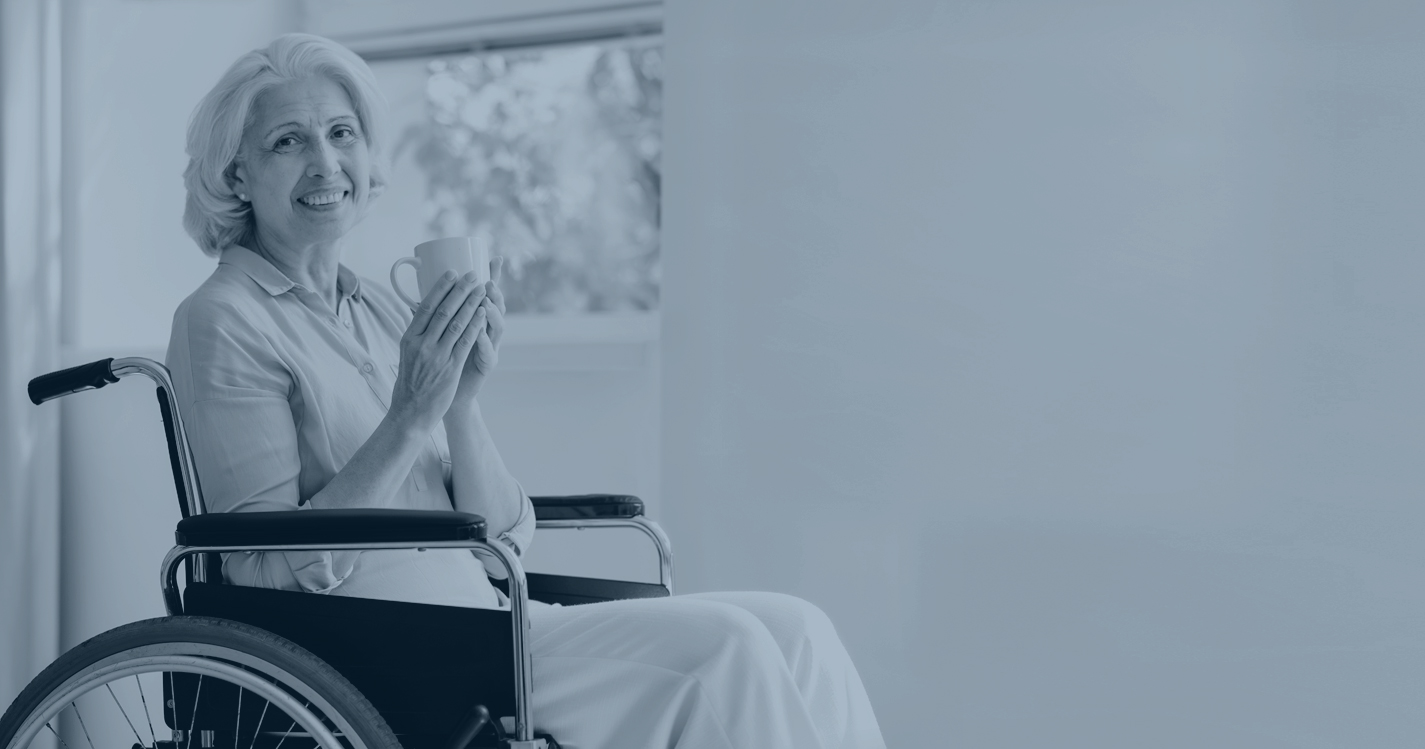 Slide 1
Are you looking for in-home senior care
for yourself or someone you love?
Amada Senior Care specializes in providing comprehensive, non-medical, in-home care to seniors in the Knoxville area.
Senior Home Care in Sevierville, Tennessee
Amada Senior Care specializes in comprehensive, in-home, non-medical care to seniors in the Sevierville area. Our mission: to enrich seniors' lives guides everything we do. We help seniors experience independent living as we make sure they are safe and comfortable in their own homes. We offer assistance with activities of daily living (ADLs) such as meal prep, transportation, medication reminders, running errands, shopping more. We don't stop there, either. We're also interested in our senior client's happiness, so we support them in the pursuits of their favorite activities, interests, and hobbies.
In-home care services are just the beginning. As part of our mission to enrich seniors' lives, we also offer expert senior housing advisory services in the Sevierville and Sevier County area, personal advocacy for accessing and activating Long-Term Care insurance (LCTi) benefits, and we provide financial counseling to assist in making care more affordable.
Amada Caregivers in Sevierville Provide Assistance with Activities of Daily Living (ADLs) such as:
Meal Preparation, Feeding
Most Non-Medical Assistance
The Best in Home Care for Seniors in Sevierville
In addition, to help out with ADLs, another crucial element of the caregiving our home care aides provide is companion care, or, simply being a friend. Enriching senior clients' lives every day means going further than just providing for safety and comfort. For this reason, we work with senior care clients and their families in Sevierville to create customized home care plans suited to each individual senior client.
As part of our comprehensive senior care plan, we match each home care client and family with one of the Amada caregivers who will best complement their personality and temperament, while also meeting their unique needs. Whether our in-home caregiver is making Grandma's favorite breakfast, ironing Dad's collar just right, or simply listening to stories or concerns about your loved one, you can be sure we are with you to help out through every step of the senior home care journey. We strive to provide the highest quality senior in-home care available in East Tennessee, and we provide that care with a sense of warmth, kindness and compassion.
.
Caring for Beloved Seniors in Sevierville
At Amada Senior Care in Sevierville, we are aware that our work affects not only our senior home care clients but also those who love them and fret over them. It can be challenging to trust someone new like a home care provider. By always involving a seniors' loved ones and family in our comprehensive senior care plans and by remaining in frequent contact, we gain deeper insight into clients' needs, while bringing peace of mind to families regarding safety, quality of life, and comfort.
Would you like to learn more about how an Amada Sevierville in-home caregiver can enhance comfort and safe living? Please contact us for a Free and Confidential Care Needs Consultation. We create a nurturing environment for each one of our senior home care clients throughout the Smoky Mountains. With our care, seniors can continue doing the things they love. Home care is more than just a job for all of us at Amada in Sevierville—it really is our calling.
Once we've developed a customized senior care plan, we regularly monitor each home caregiver, and we also check in with clients and their families. We want to be certain that we continue to provide the very best care and companionship for seniors in Sevierville.
Our team offers at-home senior care services to Tennessee in Sevierville and Knoxville.
Amada Senior Home Care Shines in Sevierville
Our consultative approach to home care in Sevierville goes well beyond in-home care. As experts in Long-Term Care insurance (LTCi) claims, we help clients navigate the complexities of submitting claims and verifying benefits. Did you or a spouse serve in the military? We also determine what benefits may be available through the Veterans Administration. For all of our private pay clients who would like us to, we can enlist the help of a senior home care financial adviser to recommend payment options for top-quality in-home care.
Transitioning to a Senior Care Facility
If circumstances dictate that a senior community will work better than in-home care, we are happy to recommend communities that we have visited and pre-screened. We will help you find the ideal senior community in the Sevierville area—one that can meet all your senior loved one's specific social, physical, and emotional needs and with pricing you can afford. Our years of experience and knowledge of senior living options in the Sevierville area combined with the strong relationships we have with facility coordinators and directors means that we can recommend the facility that offers the exact level of care needed. Whether a senior assisted living facility, a skilled nursing home, a memory care or Alzheimer's unit, a board-and-care home, another type of senior living community, or retirement community, we know the ins and outs of finding the right placement. We know the many senior living options available in the Sevierville area can be overwhelming. We will help you explore all your options so that you can feel confident your care or your loved one's care is in the best hands.
You can trust us to coordinate an in-home senior care plan that makes the best use of your or your loved one's LTCi benefits. We can also manage payments and take care of other details so you and your family can focus on more important matters. We want your experience of in-home care to be as stress-free as possible.
The Amada Senior Care Caregivers' Commitment to Sevierville Seniors
We realize that inviting Amada staff into your lives and home is a sign of trust. We promise to strive every day to show you that your trust in us is well-placed by providing the highest quality personalized senior care in Sevierville. We are also committed to being a source of support, guidance, and comfort to you and your family throughout each step of the senior care process because we believe that nobody should have to navigate it alone.
If you feel that you or a loved one would benefit from home care in Sevierville, Morristown, Jefferson City, or any of the towns east of Knoxville, please contact Amada Senior Care in Sevierville for a Free Care Needs Consultation. We work with families and seniors to create a customized plan of care, so seniors can remain in their homes safe, independent, and comfortable. Our services are not limited to senior home care, either. We also provide expert senior housing advisory services throughout the broader Sevierville area, financial counseling that can help make care more affordable, and assistance with LTCi and VA benefits, because it is our mission to enrich seniors' lives and support you and your loved ones throughout your senior care journey.
If you're looking for home care in Sevierville, please reach out to us for a free needs consultation or call our phone number at (865) 409-0282.
FOR YOUR FREE CARE NEEDS CONSULTATION, PLEASE FILL OUT THE FORM BELOW
We understand that seniors and families make better care decisions when they're aware of all their care options, not just us. When you think you're ready for home care in Sevierville, Amada Senior Care's care advisors will walk you through all the available care options and the available financial options, so you can fund one of our expert caregivers. We know that quality Sevierville home care can be difficult to come by. That's why we're here.
Mar 15, 2022
Care Team Goes Above and Beyond
We cannot thank Amada Knoxville owner Jeff Pell and his team enough for going above and beyond. He answered our call on a Friday evening and had friendly professional caregiver for our loved one the next day. Service continued as needed. The Amada Knoxville team provided such peace of mind.
Nov 18, 2021
Help With Coordinating Long-Term Care Policy Benefits
We enjoyed working with the Amada staff. Jeff helped us coordinate getting benefits approved under my dad's long term care policy and worked with us to get the right caregiver in place. My dad and his caregiver became good friends during his time of care. He has since moved into an assisted living facility but he still keeps in touch with his caregiver regularly. We were pleased with the caregiving, meal prep, and light housekeeping services provided. This allowed our family to enjoy more conversation/visitation with him during our time together and gave us peace of mind when we could not be there. She was also willing to accompany him to medical appointments which kept me from having to take time off from my job. Thank you Jeff, Diane, and Amada!
Oct 20, 2021
Amada is very responsive and helpful with my mom. They truly care about your loved ones safety and well being.I would trust them with my family. If you are looking for a great place to work highly consider Amada.
Amada Senior Care Reviews
Average rating:
0 reviews