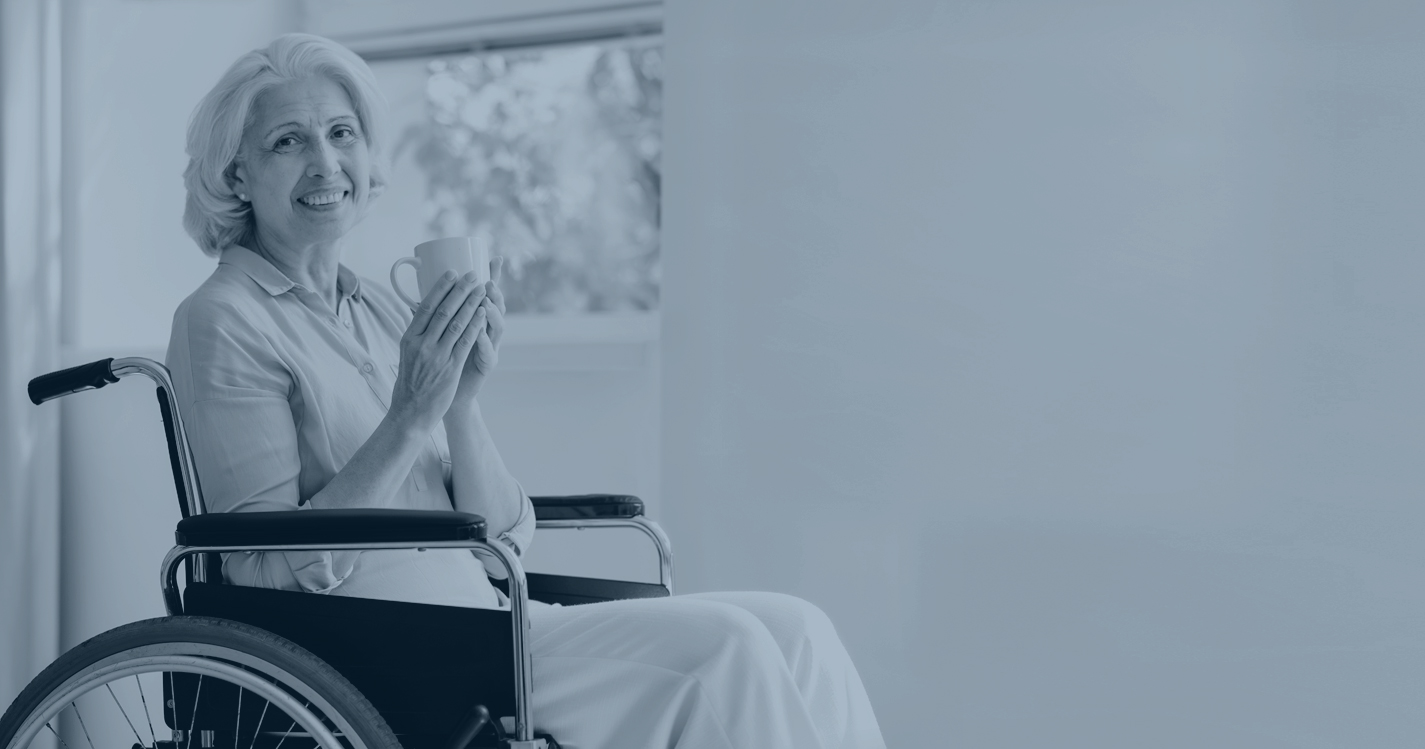 Slide 1
Are you looking for in-home senior care
for yourself or someone you love?
Amada Senior Care specializes in providing comprehensive, non-medical, in-home care to seniors in the Knoxville area.
Skilled In-Home Senior Home Care in Lenoir City, TN
When you or a senior loved one need personal care or support to complete previously simple daily tasks, it may be time to look for in-home care services. Contact Amada Senior Care in Lenoir City, Tennessee for a Free Care Needs Consultation. We specialize in providing comprehensive, non-medical, in-home care to seniors in the Lenoir City area. 
We go beyond personal care. With a mission to enrich seniors' lives, we help them live safely in their own homes, for as long as possible. By supporting older adults so they can participate in their favorite hobbies and activities, we keep them engaged and content. The personalized services our Lenoir City home care aides provide include assistance with activities of daily living (ADLs), like grocery shopping, meal prep, light housekeeping, dressing, bathing, and much more.
Amada Senior Care surpasses the offerings from other in-home senior care agencies in Lenoir City. That's because we go beyond personal care by also offering expert advisory services. Our senior housing and financial advisory services are all a part of our mission to enrich seniors' lives. We help make senior care accessible and affordable.
We can serve as your personal advocate for accessing and activating Long-Term Care insurance (LTCi) benefits, help with Veterans Administration (VA) benefits, and help find skilled nursing care when needed.
We can help you or a loved one with your senior care needs. If you are in Lenoir City, TN, and you can benefit from in-home senior care, contact Amada Senior Care today for your Free Care Needs Consultation. We serve Lenoir City and the surrounding areas in Loudon County.
Amada Caregivers are Trained to Provide Assistance with Activities of Daily Living (ADLs) such as:
Meal Preparation, Feeding
Most Non-Medical Assistance
Compassion and Respect for Lenoir City Elders
Amada Senior Care Lenoir City caregivers make a difference in our senior client's lives. Our highly trained staff offer help with ADLs, but they also offer "good old-fashioned companionship", and it helps our clients thrive.
We tailor our care specifically to each client's unique needs. The right care doesn't just happen. We take the time to match each home care client and family with the Amada caregiver who will best complement the client's personality and care requirements. Through customized home care plans, created in partnership with our senior care clients and their families, we ensure our seniors retain safe, independent living in the comfort of their own homes.
Whether our in-home provider is making a favorite recipe, dusting precious heirlooms, or simply listening to stories of bygone days, with Amada, you can be certain your loved ones get the compassion, respect, and dignity they deserve.
We are proud to offer at-home elder care services to Tennessee in Lenoir City and our Knoxville location.
Planning the Right In-Home Senior Care
At Amada Senior Care in Lenoir City, we realize that the care we provide to our clients not only affects them but also the families who entrust us with the care of their loved ones. Our goal is to provide the right care, support, and engagement to keep our clients happy and thriving.
That is why we include seniors' loved ones in the development of their senior care plan. It is the family's insight into their loved one's needs, personality, and interests that helps us build the right care plan. The plan drives our care and helps ease the family's concerns about safety, quality of life, and comfort.
Contact us today for a Free Care Needs Consultation to learn more about how an Amada Lenoir City in-home caregiver can provide you or your loved one with support with ADLs, and a secure and active home life. We work with families throughout Lenoir City, Clinton, Farragut, Kingston, Knoxville, Loudon, Maryville, Oak Ridge, and the surrounding areas.
The development of a customized senior care plan is just the start of our journey with our Lenoir City clients. We regularly monitor each home care aide and check in with our clients and their families, and adjust the plan as needed to continue to provide the very best care and companionship.
Expert Senior Care Advisory Services
Our senior housing and financial experts take a consultative approach with Lenoir City families who are seeking the right level of care for their senior loved ones.
We are experts in Long-Term Care insurance. Let us analyze and assess your policy, assist with verifying benefits, and help ensure you get the most from your policy. For U.S. military veterans or their surviving spouses, we can determine what benefits may be available through the Veterans Administration (VA). Private pay clients can lean on our senior care financial advisors to recommend the best payment and financial strategies to ensure their aging loved ones get the care services they need.
If circumstances change, and an assisted living facility is needed to provide a higher level of care services, Amada's senior housing experts are there for you. Our patient advocates and advisors at Amada Senior Care in Lenoir City help seniors and their families understand the differences in the overwhelming number of senior living service options. Our advisors have a finger on the pulse of the local senior living community, and we can help you find the right type of care. Our experienced senior housing experts only recommend facilities that have passed our strict review standards.
Our FREE, no-obligation advisory services are available to all our Amada clients. Contact us today for your free care needs consultation.
Lenoir City, Tennessee, and the surrounding areas have a wide variety of senior living communities. Options include assisted living, nursing homes, memory care homes, skilled nursing care, etc. Many of the settings include amenities and special senior services such as on-call medical care or dementia care floor plans. Let Amada's senior care representatives assist in helping you find a senior living placement that suits your needs and maximizes your LTCi benefits.
Amada's Commitment to Senior Care in Lenoir City, Tennessee
Amada Senior Care is committed to exceeding the expectations of every family we work with in Lenoir City. We understand that when you invite us into your lives and home you are entrusting a beloved member of your family to our care. We commit to always proving to you that your trust in us is well-placed.
We are committed to employing only the most responsible and qualified caregivers who can help fulfill our senior clients' needs. We are here for our senior clients and their families.
We believe that nobody should navigate in-home care alone. That is why you and your family have our unwavering commitment of support, guidance, and comfort.
If you or a loved one are seeking home health care in Lenoir City, access our online free care needs consultation, or call our phone number at(865) 409-0282.
SIMPLY FILL OUT THE FORM BELOW TO SCHEDULE YOUR FREE CARE NEEDS CONSULTATION
Amada care advisors believe educated seniors and their families can better determine appropriate senior care. Let our senior care experts explain your Lenoir City senior care options. We will help identify your available care and financial options so you can help your senior loved one stay safe and comfortable. Turn to the Lenoir City senior care agency you can trust. Contact Amada Senior Care today.
Mar 15, 2022
Care Team Goes Above and Beyond
We cannot thank Amada Knoxville owner Jeff Pell and his team enough for going above and beyond. He answered our call on a Friday evening and had friendly professional caregiver for our loved one the next day. Service continued as needed. The Amada Knoxville team provided such peace of mind.
Nov 18, 2021
Help With Coordinating Long-Term Care Policy Benefits
We enjoyed working with the Amada staff. Jeff helped us coordinate getting benefits approved under my dad's long term care policy and worked with us to get the right caregiver in place. My dad and his caregiver became good friends during his time of care. He has since moved into an assisted living facility but he still keeps in touch with his caregiver regularly. We were pleased with the caregiving, meal prep, and light housekeeping services provided. This allowed our family to enjoy more conversation/visitation with him during our time together and gave us peace of mind when we could not be there. She was also willing to accompany him to medical appointments which kept me from having to take time off from my job. Thank you Jeff, Diane, and Amada!
Oct 20, 2021
Amada is very responsive and helpful with my mom. They truly care about your loved ones safety and well being.I would trust them with my family. If you are looking for a great place to work highly consider Amada.
Amada Senior Care Reviews
Average rating:
0 reviews