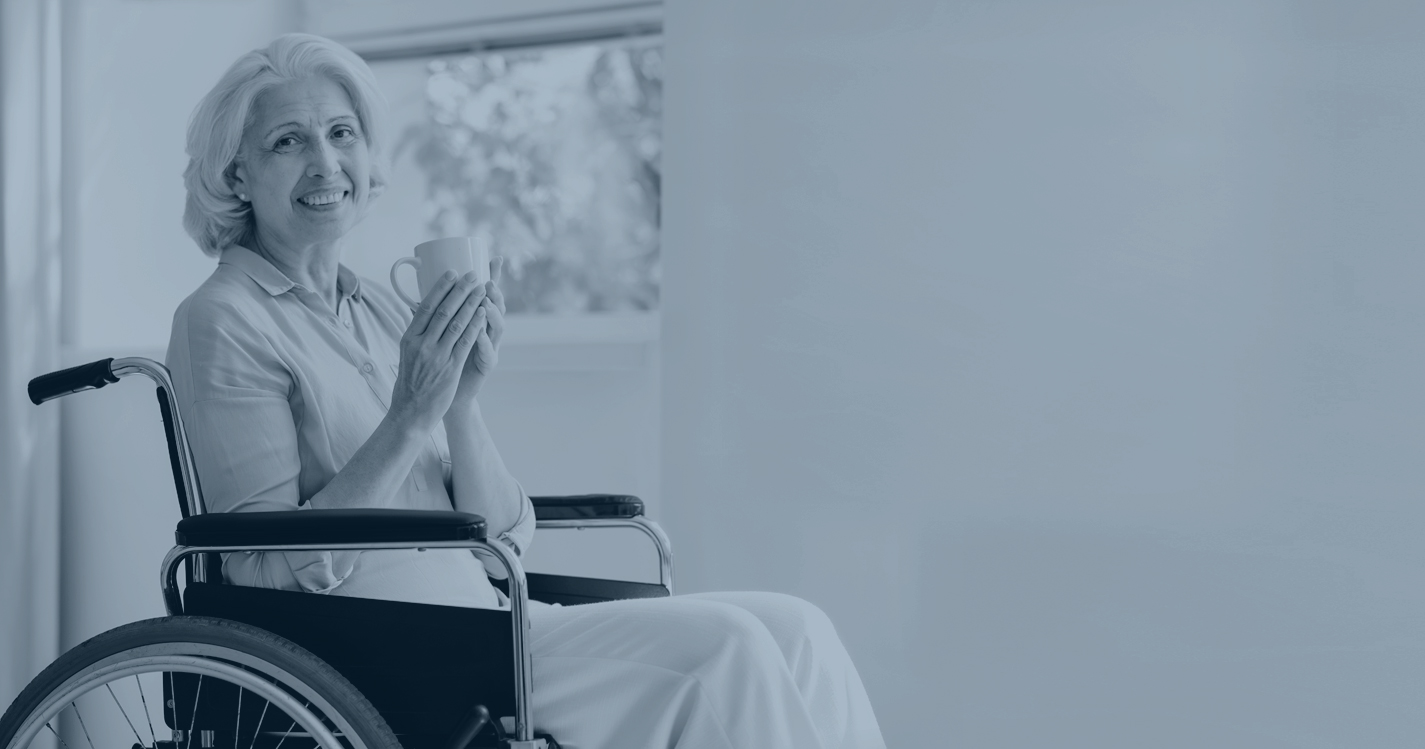 Slide 1
Would you or a loved one benefit from in-home senior care?
We specialize in providing comprehensive, non-medical, in-home care to seniors in the Central Houston area.
Senior At-Home Care in Missouri City, TX
If you or a loved one can no longer drive or have found it difficult or impossible to complete previously simple daily tasks, like fixing a meal or keeping the house clean, in-home senior care may be beneficial. Amada Senior Care in Missouri City specializes in providing comprehensive, non-medical, in-home care to seniors. Contact us today for a Free Care Needs Consultation. 
We have a mission at Amada Senior Care to enrich seniors' lives, and it starts with keeping them living at home as long as possible. Our skilled, compassionate care team will do just that. Our age-in-place senior care services provide support and care that lets your loved one continue to live safely and independently—without having to relocate. In addition, we create a nurturing environment by helping them continue doing the things they love.
Our Missouri City home-care aides provide assistance with activities of daily living (ADLs) according to each client's needs, ranging from grocery shopping and meal preparation to bathing and dressing. We offer personal care with kindness and dignity.
Our services go above and beyond what other home care agencies in Missouri City offer with our expert senior housing and financial advisory services. At Amada Senior Care in Missouri City, we help make senior in-home care more affordable. We also offer representation as your personal advocate for accessing and activating Long-Term Care insurance (LTCi) benefits.
We can help you or a loved one with your senior care needs. If you are in Missouri City, or the Houston–The Woodlands–Sugar Land metropolitan area of Texas, and can benefit from in-home senior care, contact Amada Senior Care today for your Free Care Needs Consultation.
Amada Caregivers are Trained to Provide Assistance with Activities of Daily Living (ADLs) such as:
Meal Preparation, Feeding
Most Non-Medical Assistance
Attentive and Compassionate In-Home Senior Care in Missouri City
We know what it takes to keep our clients safe and comfortable, and we provide the right services to help them get through their days with a little less effort – and to bring their families peace of mind. Our personalized care includes lending a hand with ADLs, but our caregivers' favorite part of home care is plain and simple companionship.
Enriching senior clients' lives every day means ensuring that they are not just safe and comfortable, but also happy and thriving. For this to happen, we invite our senior care clients and their families to help create a customized home care plan. The right plan is personalized to meet each client's needs and to create a nurturing environment.
We select each home care aide so that they complement their client's personality while also being sure they can provide the right care to meet the client's unique needs. Our in-home caregiver can help make a favorite recipe, listen to special stories from "back in the day," or maybe drive their client through their old neighborhood. We focus on providing the highest quality of senior in-home care in an especially attentive and compassionate way.
You can be certain that your family at Amada Senior Care in Missouri City is with you through every step of your senior home care journey.
Creating Personalized Care Plans for Missouri City Elders
The senior care providers at Amada Senior Care in Missouri City realize what we do impacts our clients and the family members who love them, so we don't just tell them what we will do — we listen and learn from them. We gain insight into the unique needs of our senior clients by listening to the client and their families' concerns, worries, and fears. It's this collaboration with the family that allows us to develop a personalized care plan that eases everyone's concerns about safety, quality of life, and comfort.
Contact us today for a Free Care Needs Consultation to learn more about how an Amada Missouri City in-home caregiver can provide you or your loved one with personal care and support with ADLs for a more secure and active home life. We work with families throughout Missouri City, Katy, Pearland, Rosenberg, and the surrounding areas.
Home care is more than just a job for us at Amada Senior Care in Missouri City —it is our calling.
Our personal involvement doesn't simply end with caregiver placement. We also monitor our caregivers, regularly check in with clients and their families, and adjust the senior care plan as our clients' needs change to ensure that we are doing all we can to help them live safer, happier, and more fulfilled lives.
Expert Advisory Services for Missouri City Senior Care
Finding the right senior care for you or your loved one can be an overwhelming and difficult process. Amada Missouri City offers expert senior housing and financial advisory experts to help minimize the stress and reduce the financial burden by helping to make senior care accessible and affordable.
Amada's financial counselors can help our clients understand senior pricing and estimate their associated averages costs while researching senior in-home or residential care. We can also:
Help manage long-term care insurance (LTCi) benefits and serve as representation to access and activate your LTCi policy, and assist with submitting claims.
Our VA eligibility benefits experts can help our U.S. military veterans and their surviving spouses identify and apply for those benefits for which they may be eligible.
We can help our private pay clients find an appropriate level of care in an assisted living community that fits their budget and the wellness needs of their loved ones.
Unfortunately, the time may come when circumstances require an alternative to Amada's in-home care. We know this can feel overwhelming, and our patient advocates and advisors at Amada Senior Care in Missouri City are here to guide you through this next phase. We can help find quality living and get pricing options for care facilities that are right for you and your senior family member. Our experienced eldercare experts maintain contact with coordinators at local senior residential facilities, and they want to help you. We only recommend facilities that have passed our strict review standards.
Our FREE, no-obligation advisory services are available to all our Amada clients. Contact us today for your free care needs consultation.
Types of senior living options in Missouri City range from traditional senior living communities offering independent living to nursing homes with 24/7 residential care. Other options include memory care facilities, respite care, and various other levels of care.
Residential living care facilities in the Missouri City, TX 77459 zip code area, conveniently located near medical care centers, include The Avenues of Fort Bend, The Villa at Riverstone (for all stages of Alzheimer's and dementia care), The Reserve at Braeswood, The Auberge at Sugar Land, and more.
Amada's senior care experts can create an in-home senior care plan to keep your loved one safe and happy while maximizing your LTCi benefits.   
Let us coordinate an in-home senior care plan that makes the best use of your or your loved one's long-term care insurance benefits, manages payments, and takes care of other details so you and your family can focus on more important matters.
Amada Senior Care Caregivers' Commitment to Quality Care
Amada's care providers understand that our clients and their families expect compassionate, quality care every time we walk in their door. We plan on delivering on that. In fact, it is our commitment to our clients and their families in Missouri City that we will exceed those expectations.
To us at Amada, it's not hard. We recruit and train only the most qualified caregivers, and our professional senior home care advisors and caregivers at Amada Senior Care in Missouri City are committed to providing only the highest quality of personalized and compassionate senior care.
If you think you or a loved one are ready for home care in Missouri City, contact Amada Senior Care for a Free Care Needs Consultation. We work with families to create a customized plan of care that enables seniors to remain safe, independent, and comfortable in their homes. We also provide expert senior housing and financial advisory services to make care more affordable.
We offer our unwavering commitment to be your source of support, guidance, and comfort throughout your senior care journey.
If you or a loved one are looking for home health care in Missouri City, or other areas in Fort Bend County, access our online free care needs consultation, or call our phone number at 281-652-5492.
ACCESS A FREE CARE NEEDS CONSULTATION WITH THE FORM BELOW
At Amada Senior Care in Missouri City, we believe informed seniors and families make better senior care decisions. When you're ready to find out about in-home care in Missouri City, Amada's care advisors will help you understand care options that support your needs. We also provide expert financial counseling to help you fund one of our expert caregivers. Turn to Amada Senior Care when you need a Missouri City senior care agency you can trust.
Jan 31, 2023
AMADA is the best!
I have known William and Brent for over seven years now. Their company has taken care of many of our residents at Village On The Park in Friendswood. They help enable our residents to live here longer in the community that they love without having to go to Assisted Living. Their caretakers are wonderful as well as all of their employees. Donna Orozco is a wonderful representative to their company as well and volunteers in our community and checks on our resident! We appreciate all of you!
Jan 23, 2023
Office Manager
I had the pleasure to speaking with the Office Manager Michelee and she was very detailed and specific with the services provided. My family and I see the value in what you can provide us. Michelee was able to answer all of our questions and even gave additional information we didn't even think to ask. Our family will be
Sep 6, 2022
Amazing Company to work for
I have worked for William and Brent for over a year now and I am happy I came to Amada. The opportunities in this company are limitless. They also treat me with respect and a genuine caring attitude. Not only do they care about their staff, they also treat their clients the same way. They are amazing individuals to have working for you!
Amada Senior Care Reviews
Average rating:
0 reviews