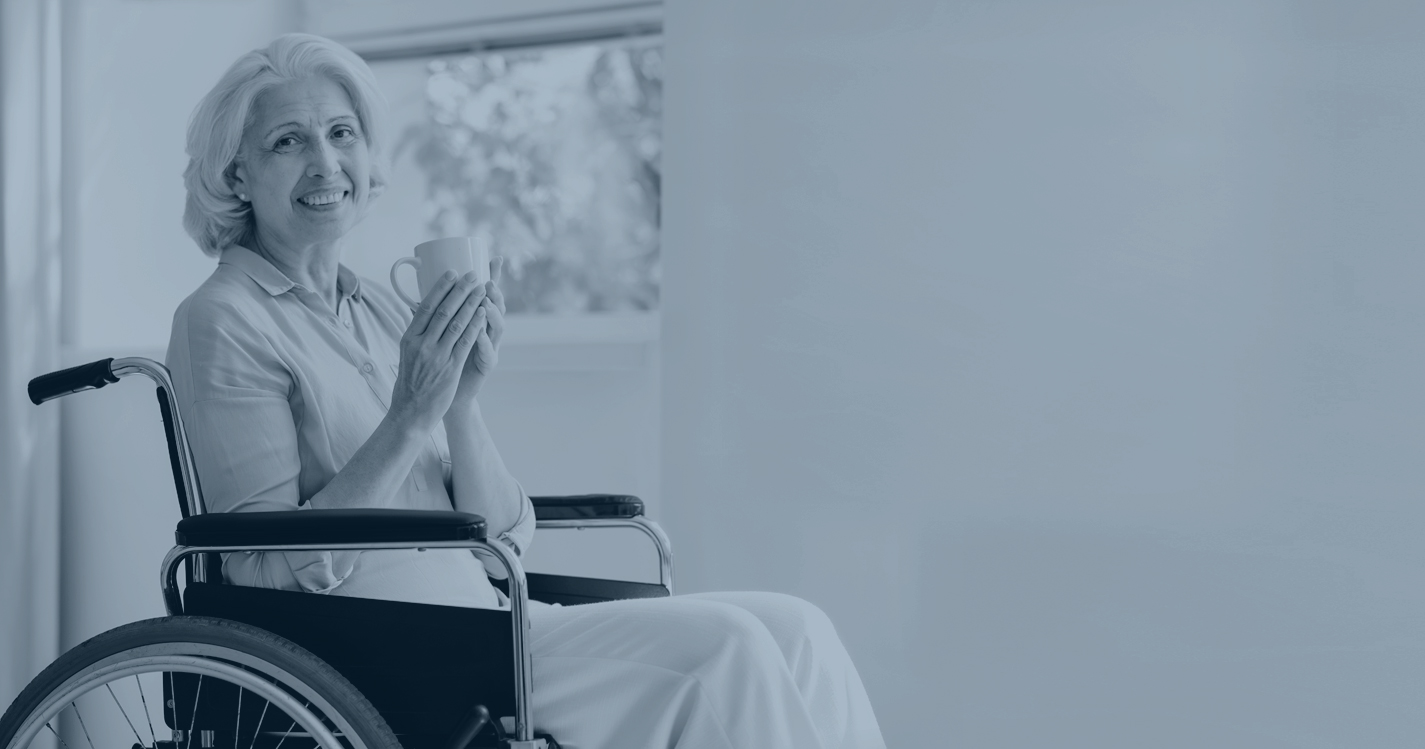 Slide 1
Would you or a loved one benefit from in-home senior care?
We specialize in providing comprehensive, non-medical, in-home care to seniors in the Central Houston area.
Comprehensive In-Home Care for Baytown Seniors
If previously simple daily tasks like cooking, keeping the house clean or finding the car keys are now difficult and stressful for you or a senior loved one, you may benefit from in-home senior care. Contact Amada Senior Care in Baytown, TX for a Free Care Needs Consultation. We specialize in providing comprehensive, non-medical, in-home care to seniors.
We have a mission at Amada Senior Care to enrich seniors' lives and that includes helping them live safely in their own homes and stay active with their favorite hobbies and interests. Our Baytown home-care aides provide assistance with activities of daily living (ADLs) including meal preparation, medication reminders, grocery shopping, transportation, help with bathing and dressing, and so much more.
We stand apart from every other company that provides home care in Baytown because part of our mission to enrich seniors' lives includes making senior care more affordable. Our expert senior housing and financial advisory services help do just that. We offer representation as your personal advocate for accessing and activating Long-Term Care insurance (LCTi) benefits, help identify Veterans Administrations (VA) benefits for our veterans, identify financing options, and, if the time comes, we can assist with senior housing.
We can help you or a loved one with your senior care needs. If you are in Baytown, Texas, and you can benefit from in-home senior care, contact Amada Senior Care today for your Free Care Needs Consultation.
Amada Caregivers are Trained to Provide Assistance with Activities of Daily Living (ADLs) such as:
Meal Preparation, Feeding
Most Non-Medical Assistance
Lending A Hand, Offering Companionship Through In-Home Senior Care
Amada's skilled caregivers provide the right, quality care services to seniors for their non-medical care needs. Whether their senior clients have Alzheimer's, are recovering from an accident or surgery, or have Parkinson's disease, lending a hand with ADLs is a key component for helping our clients maintain safe and comfortable independent living. However, it is our companionship and kindness that makes our caregivers proud and brings joy to our seniors.
By creating personal connections, our caregivers help ease the loneliness and despair that comes from being alone for hours, and sometimes days, at a time. It is this kindness that keeps our clients happy and thriving. We work with our senior care clients and their families in Baytown to create a customized home care plan that focuses on safe living, while bringing joy and contentment.
Our compassionate senior care providers treat their clients with respect and give them the personal care and attention they deserve. Listening to their childhood stories, helping them fix a family-favorite recipe, or just being there when they wake from a nap gives our seniors the comfort of knowing someone is there for them.
We strive to provide the highest quality of senior in-home care with a sense of warmth, kindness, and compassion.
Personalized Senior Care Plans for Baytown Elders
Finding senior care to meet the needs of you or your loved one can be a difficult and overwhelming process. Amada Senior Care experts help to minimize that stress by taking the time to listen to the concerns and wishes of each of our clients and their family members. We realize that the care we provide affects our senior home care clients as well as the people who love them and worry about them. That is why we involve our clients' loved ones in developing our senior care plans.
Through open, honest, and frequent conversations we gain deeper insight into our clients' needs and character allowing us to assign the caregivers with the right personality and skills to promote the physical and emotional well-being of their clients. Together, we create a comprehensive senior care plan that brings the top-quality care our clients need to stay safe and independent – and to ease everyone's concerns about their safety, quality of life, and comfort.
Find out how an Amada Baytown in-home caregiver can enhance comfort and safety by helping you or your loved one with ADLs and life-enriching activities. Contact us today for a Free Care Needs Consultation. We serve Baytown, Friendswood, League City, Pasadena, Sugar Land, and the surrounding areas.
We regularly monitor each home care aide and check in with our clients and their families, to be sure that we always provide the very best care and companionship. The custom, in-home senior care plan is just the start of our journey with you – we are with you every step of the way.
Home care is more than just a job for us at Amada Senior Care in Baytown—it is our calling.
Baytown Senior Care Housing and Financial Advisory Services
Amada Senior Care in Baytown gives you so much more than in-home care services. Our caregivers provide quality ADL home care services while our expert senior housing and financial advisors guide you through the complexities of senior care and its associated finances. Let us answer your questions and concerns about the Baytown area's average cost and pricing for senior care, the various types of living communities, and so much more.
Our capable financial counselors are skilled in managing Long-Term Care insurance (LTCi). We will assess your long-term care insurance policy, serve as your personal advocate to ensure you receive the benefits in a timely manner, and assist with submitting LTCi claims. We also have the expertise to support our U.S. military veterans in receiving the Veterans Administration (VA) benefits for which they are eligible and in guiding them through the application process.
We will help our private pay clients find the right care to fit their budget. Our financial advisors can identify financing strategies to help make senior care accessible and affordable.
Amada's home health care team of Baytown is here for you and your family on every step of your senior care journey.
When it is time for more support than the in-home care and assistance Amada caregivers provide, we can help transition your loved one to appropriate skilled nursing or assisted living community. We will help you determine which senior living option best accommodates your loved one's needs: independent living assisted living facilities, nursing home, on-site medical care providers, or other residential senior care provider options.
Our senior housing advisors can recommend housing options that have been pre-screened against our strict standards, including Alzheimer's care facilities and senior homes in Baytown with varying levels of care. Let us help you find an option today.
Senior living options in the Baytown area, conveniently located near medical care centers, include The Auberge at Sugar Land, The Lodge at Pine Creek (secure and gated retirement community), The Waterford at Baytown (day care/respite care options), Swan Manor Assisted Living, and others.
Our senior care experts can create an in-home senior care plan that keeps your loved one safe and comfortable and maximizes long-term care insurance benefits.
Let us take care of the details so you and your family can focus on more important matters.
Amada Senior Care Caregivers' Commitment to Quality
Your Amada team is committed to exceeding the expectations of every family we work with in the Baytown area. We realize that when you invite us into your home you are placing your trust in us. The senior home care advisors and caregivers at Amada Senior Care in Baytown strive every day to make certain that trust in us is well-placed.
We are committed to providing only the highest quality of personalized and compassionate senior care. We want to be your source of support, guidance, and comfort because we believe that nobody should navigate in-home care alone.
We work with families to create a customized plan of care to help seniors age in place and remain safe, independent, and comfortable in their own homes. We also provide expert senior housing and financial advisory services in the Baytown area. It is our mission to support you and your loved ones through every step of your senior care journey.
If you're looking for home health care in Baytown, or other cities in and around Central Houston, access our online free care needs consultation or call our phone number at 281-652-5492.
FILL OUT THE FORM BELOW TO GET YOUR FREE CARE NEEDS CONSULTATION
The best decisions regarding Baytown senior care options are made by families who are informed of all of their options. The Amada Senior Care in Baytown staff can help you understand your available options for senior home care, residential senior care, and the associated financing requirements. Quality Baytown home caregivers may be difficult to come by, so turn to a senior care agency you can trust. Contact Amada Senior Care today.
Jan 31, 2023
AMADA is the best!
I have known William and Brent for over seven years now. Their company has taken care of many of our residents at Village On The Park in Friendswood. They help enable our residents to live here longer in the community that they love without having to go to Assisted Living. Their caretakers are wonderful as well as all of their employees. Donna Orozco is a wonderful representative to their company as well and volunteers in our community and checks on our resident! We appreciate all of you!
Jan 23, 2023
Office Manager
I had the pleasure to speaking with the Office Manager Michelee and she was very detailed and specific with the services provided. My family and I see the value in what you can provide us. Michelee was able to answer all of our questions and even gave additional information we didn't even think to ask. Our family will be
Sep 6, 2022
Amazing Company to work for
I have worked for William and Brent for over a year now and I am happy I came to Amada. The opportunities in this company are limitless. They also treat me with respect and a genuine caring attitude. Not only do they care about their staff, they also treat their clients the same way. They are amazing individuals to have working for you!
Amada Senior Care Reviews
Average rating:
0 reviews