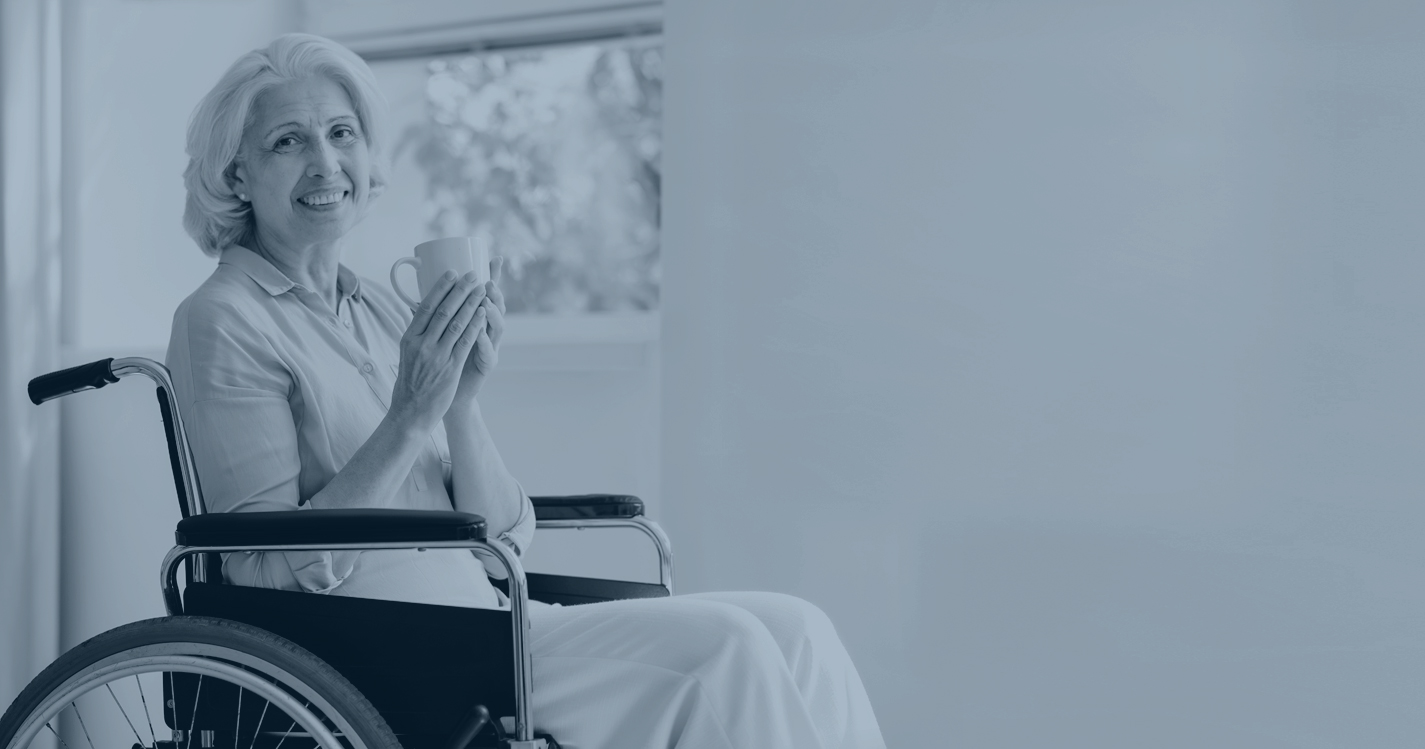 Slide 1
Would you or a loved one benefit from in-home senior care?
We specialize in providing comprehensive, non-medical, in-home care to seniors in the Denton and Frisco area.
The Best In-Home Senior Care in McKinney, Texas
It can be overwhelming and scary when the time comes to find someone to care for you or your loved one. It doesn't have to be. At Amada Senior Care of McKinney, we specialize in providing comprehensive, non-medical, in-home care to seniors. Contact us online today for your Free Care Needs Consultation.
We enrich seniors' lives by helping them live safely and comfortably in their own homes — for as long as possible. We also help seniors continue to participate in those hobbies and activities that keep them engaged in the lives and world around them and that also bring them joy.
Our personalized services include companionship and assistance with activities of daily living (ADLs). Whether you are looking for meal preparation services, transportation, light housekeeping, or basic caregiving, look no further than Amada Senior Care of McKinney.
Our services are not limited to in-home care either. We also provide expert financial and senior housing advisory services. We offer representation as your personal advocate for accessing and activating Long-Term Care insurance (LTCi) benefits, support with Veterans Administration (VA) benefits, guidance for finding appropriate senior care, and more.
If you or a loved one can benefit from in-home senior care in the Dallas metroplex area, contact Amada Senior Care in McKinney, Texas today for your Free Care Needs Consultation.
Amada Caregivers Provide Expert Assistance with Activities of Daily Living (ADLs) such as:
Meal Preparation, Feeding
Most Non-Medical Assistance
Choose Amada for Happy and Thriving Seniors
Our Amada care providers are proud to offer personal care services geared specifically towards their clients' needs. Whether assisting older adults with Alzheimer's, hearing or vision loss, or other age-related conditions, our caregivers have the skills and experience it takes to help seniors maintain safe, independent living.
We go beyond basic hands-on care; we also offer companionship and friendship. We take the time to get to know our clients and their families, and we select the caregivers who best complement the personality and needs of the clients and their families. We may drive our clients to doctors' appointments or the grocery store, do light housekeeping, and prepare their meals, but it is the companionship that makes the most difference.
Our compassionate caregivers create a personal connection and give their clients the respect and attention they deserve. They listen to their clients' stories, look through old pictures, and help them locate a misplaced sweater. Our providers also help with social interaction through outings so their clients can visit their friends or take a class at the senior center. In short, our caregivers do what it takes for our senior clients to be safe and comfortable — and happy and thriving.
Our age-in-place senior home care services provide the support and care that lets aging seniors continue to live safely and independently and gives their families peace of mind.
Collaborating for the Right Personal Care Plan
We know that everything we do affects not only our senior home care clients but also the people who love them. We also know that entrusting a loved one to our care is stressful and frustrating. It is for these reasons that we involve our clients and all the appropriate family caregivers in the care planning. Talking to the clients and their family helps us gain deeper insight into our clients' needs, disposition, schedule, likes, and dislikes. This collaboration and feedback allow us to build a comprehensive, personalized care plan that meets our clients' unique needs.
The plan serves as a guide to help us create a nurturing environment so we can help our clients continue doing the things they love. It also addresses the families' concerns about their loved one's safety, quality of life, and comfort.
Our journey starts with caregiver placement, but it doesn't end there. We monitor each home care aide, regularly check in with our clients and their families, and adjust the plan as needed to ensure that we continue to provide the very best, high-quality care and companionship.
Home care is more than just a job for us at Amada Senior Care in McKinney — it is our calling.
Contact us today for a Free Care Needs Consultation. We serve Allen, Dallas, Flower Mound, McKinney, Plano, and other cities in and around the Dallas-Fort Worth metro area.
Helping Make Senior Care Affordable in McKinney
The Amada Senior Care team in McKinney goes above and beyond in-home senior care services by also offering expert financial and senior housing advisory services. Managing the health and finances for an aging family member is complicated. Let our trusted advisors ease the burden and help you navigate the complexities of senior care.
Transitioning to a Senior Care Living Community
When in-home care is no longer a reasonable or viable option for our clients, we can help find a residential care facility that is right for them and their families. Our housing advisors will guide families through the senior housing discernment and acceptance process. We will help identify the appropriate level of care, amenities, floorplan, and healthcare services your loved one needs and explain the differences in each of the available housing options. McKinney-area senior living options include assisted living facilities, nursing homes, memory care communities, full-time medical care, and more.
Our extensive experience in eldercare and strong relationships with local senior housing coordinators give us the inside knowledge and familiarity of area senior health care facilities. We know which ones are properly licensed and we can recommend communities that have passed our strict review. You are under no obligation to select a facility we recommend, and all our housing advisor services are FREE to our clients.
Expert Financial Counseling Services
The senior housing that caters to your loved one's physical and emotional well-being must also be affordable. Our financial counselors can assist in explaining pricing, as well as options to help make senior care accessible and more affordable.
Our Long-Term Care insurance claims experts can assist you with managing the ins and outs of LTCi. We can review and explain your long-term care policy and coverage, serve as your advocate to activate the policy, and assist with submitting claims so you can get paid quickly and fully.
For U.S. military veterans and their spouses, we can identify potential VA benefits available to you, explain the eligibility and payment requirements, and help you assess your options.
If you are a private pay client, we can explain senior pricing options and the corresponding financing strategies. Talk to one of our financial counselors for a recommendation to help make senior care more affordable.
Our Unwavering Commitment to Our McKinney Clients and their Families
Our commitment to our McKinney clients and their families means that we work hard every day to exceed your expectations. We do this by consistently providing the highest quality of personalized and compassionate senior care.
Everyone on the Amada Senior Care team in McKinney is committed to:
ALWAYS treating your loved one with respect and dignity.
Maintaining a skilled, compassionate staff that can fulfill our clients' needs.
Providing the right care at the right time so our seniors are happy and thriving and living safely and comfortably in their own homes.
Being an unwavering source of support, guidance, and comfort to our clients and their families because we believe that nobody should navigate in-home care alone.
If you're looking for home care in McKinney, Plano, or other cities in Collin County, access our online free care needs consultation, or call our phone number at 469-906-2399.
FILL OUT THE FORM BELOW FOR YOUR FREE CARE NEEDS CONSULTATION
Speak to a representative at Amada Senior Care in McKinney, so you can better understand your senior care options. If you will benefit from in-home support for you or your senior loved one, Amada's care advisors will help you bring a skilled caregiver into your home. You want trusted, quality caregivers, and Amada McKinney is a senior care agency you can trust. Contact us today.
Jul 5, 2023
Fantastic Job!
We have been using Amada for the past couple years for my father-in-law. Our attendant Margret is fantastic! She works really well with him and he is always excited to see her! Great job pairing us with a great member from your team.
May 9, 2023
Great job
My care with Amada has been wonderful.
Kacey Howell has gone above and beyond.
She has taken care of all my needs and done a great job.
Mar 16, 2023
Gentle and Kind Care
Amada found a caregiver immediately to come to my home when my husband needed more help than I could provide. The caregiver assists Jim with dressing and mobility -- helping to keep him from falling. We are so happy with the gentle and kind care given by Tonimarie and highly recommend her as a caregiver! Thank you, Amada Senior Care, for all you did to help our family in our time of need!
Amada Senior Care Reviews
Average rating:
0 reviews