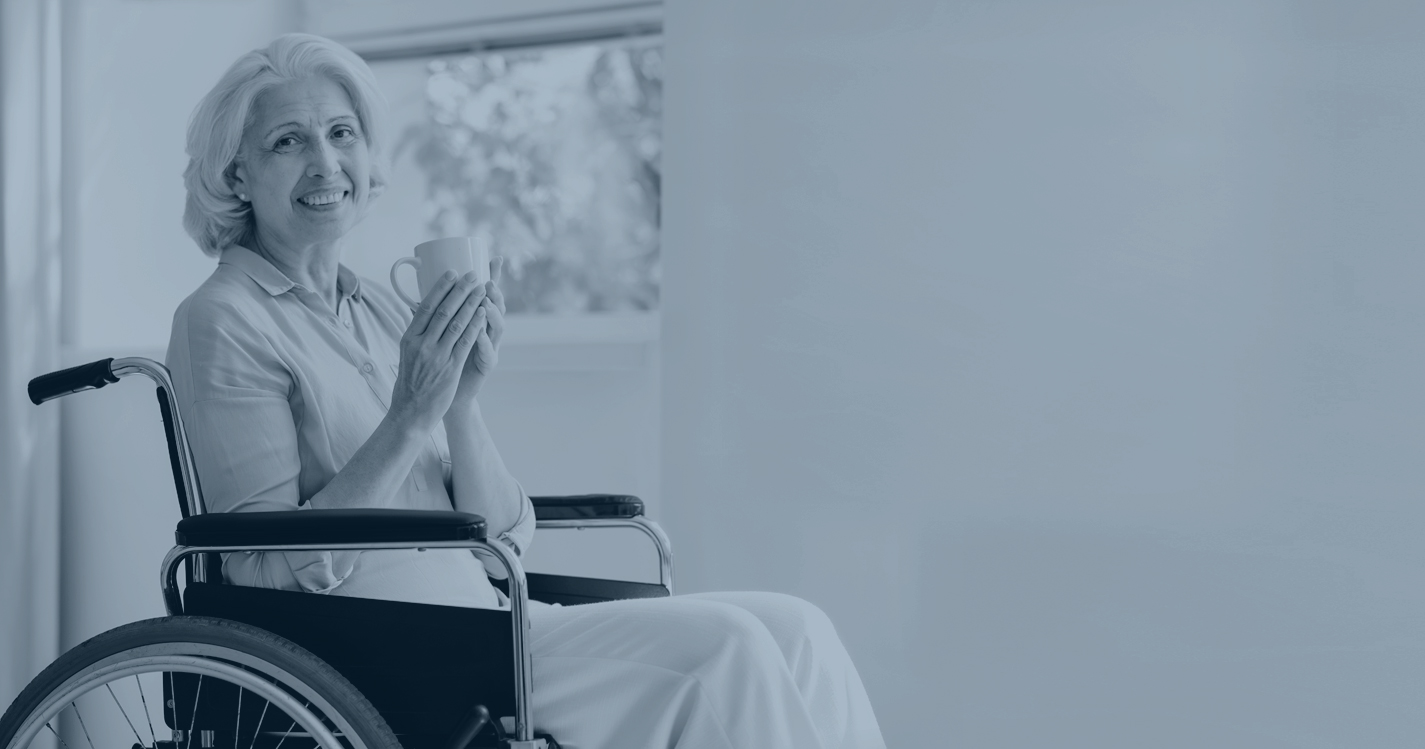 Slide 1
Would you or a loved one benefit from in-home senior care?
We specialize in providing comprehensive, non-medical, in-home care to seniors in the Westminster area.
At-Home Elder Care in Arvada
Are you considering senior care for yourself or a loved one in the Arvada, CO area? Find out if Amada Senior Care in Arvada is right for you with a Free Care Needs Consultation. Our comprehensive, skilled, non-medical, in-home senior care can be had throughout the Arvada area, including Lakewood, Westminster, Wheat Ridge, Broomfield, Thornton, Littleton, and more. At Amada Senior Care in Arvada, we see it as our mission to help enrich our senior clients' lives. We help them achieve safe independent living in their own homes. We also offer the support they need to continue their favorite activities, interests, social clubs, and hobbies. Chief among the personalized services Amada in Arvada in-home care aides provide is assistance with activities of daily living (ADLs). ADLs range from meal preparation, toileting, and dog walking to medication reminders, dressing, and running errands.
Amada Senior Care Arvada's senior care services don't stop at in-home care. We also provide expert senior housing advisory services in the Arvada and Westminster area for senior clients who are looking to transition to a senior living community or skilled care home. Because we know senior care costs can be intimidating to seniors and their loved ones, we also offer financial counseling. Our goal is to make care more affordable. We can also function as your personal advocate when you're trying to understand, access, and activate Long-Term Care insurance (LCTi) benefits.
Amada Caregivers are Trained to Provide Assistance with Activities of Daily Living (ADLs) such as:
Meal Preparation, Feeding
Most Non-Medical Assistance
Senior Care and Senior Companionship in Arvada
While lending a hand with ADLs forms the benchmark of quality elder care, at Amada, we also offer another crucial element of caregiving. We call it "good old-fashioned companionship." We know loneliness can hamper our seniors' quality of life. That's why all of us at Amada Senior Care in Arvada work to make sure our clients are not just safe and comfortable, but that they're contented and thriving, too. We work closely with our senior care clients and their families to design a home care plan that is fully customized to meet each senior's physical, financial, emotional, and social needs.
To that end, we match each home care client and their loved ones with one of our trained Amada caregivers whose personality and temperament will best complement the senior client's personality and temperament. We also routinely monitor and check in with each home care aide, so families and seniors know they are receiving the very best care and companionship. Whether our skilled in-home caregiver is playing Bridge with Grandma and her friends, polishing Dad's boots so he can see his reflection in them, or simply listening to a favorite concert from yesteryear on the radio, you can trust that all of us at Amada Senior Care in Arvada care about each step of your senior home care journey.
Westminster Seniors and Their Families Deserve Great Care
We know our work at Amada Senior Care in Arvada affects more than just our senior in-home care clients. The care and companionship we provide also affects our senior clients' loved ones. Realizing it's time to seek outside help for a senior you love or for yourself can be difficult. We work to lessen this difficulty by involving our senior clients' loved ones in their senior care plans. Throughout the senior care journey, we stay in frequent contact with our seniors' families. Doing so gives us ongoing insight into our clients' needs, while also easing the concerns of loved ones about safety, wellness, and level of care.
We know how complicated navigating senior care can be, so we take a consultative approach. As experts in Long-Term Care insurance (LTCi), we regularly help our clients with LCTi benefits and claims. We can also offer assistance in determining whether or not any benefits are available through the Veterans Administration (VA) for clients or their spouses who served in the U.S. military. For our private pay clients, we offer the help of a senior home care financial adviser, who can recommend payment options for in-home care in Arvada.
To find out if an Amada Arvada in-home caregiver can help you or a loved one with ADLs and other happiness-supporting activities, please contact us for a Free Care Needs Consultation. We strive to create a nurturing environment for all our senior home care clients, so they can continue doing what they love and living on their own. Home care isn't just a job for us at Amada Senior Care in Arvada; it's our calling.
Senior Care at Home and in Communities in Arvada
Sometimes, circumstances dictate that an assisted living community is a better alternative than an in-home care service. While such a realization can be disappointing, we can recommend pre-screened communities that we have visited in person. Choosing the right nursing home or assisted living facility in Arvada is something most families are unprepared to do. Our advisers at Amada Senior Care in Arvada can help show you the way.
We will work with you to find the senior community in the Arvada area that can meet all your senior loved one's unique social, emotional, physical, and financial needs. We have deep knowledge of senior living options in the Arvada area. That, along with our relationships with the directors and coordinators overseeing assisted living, skilled nursing, Alzheimer and memory care homes, board-and-care homes, and other care facilities, make us uniquely qualified to guide you as you seek the right placement.
For people new to elder care, the many senior living options available in Arvada and the surrounding area can be quite difficult. We work hard to ensure our home care clients and their families feel safe and supported to explore all their options with patience, understanding, and confidence. When you're in Amada's care, you're in the best hands — even during times of transition.
At Amada Senior Care in Arvada, you can trust that we will support you and your family throughout the details and challenges of your senior care journey. We genuinely want to reduce our clients' burdens and make receiving high-quality home care easy and stress-free. Let us help manage payments and facilitate the best use of your or your loved one's Long-Term Care insurance (LCTi) or VA benefits. We can handle the details so you can return your attention to what really matters.
Amada Caregivers: Committed to Excellence in At-Home Elder Care
Amada Senior Care in-home care aides seek to exceed the expectations of every senior and family we work with. We know you are placing a lot of faith in us when you invite us into your lives and home. Every day we will strive to prove to you that your faith is rightly placed as we provide high-quality and compassionate personal care services to all our senior clients.
If you think that you or a loved one could benefit from compassionate home care in Arvada, please contact Amada Senior Care in Arvada for a Free Care Needs Consultation. We work closely with families and seniors to create customized plans of care that allow seniors to stay safe, while living in their own homes. Our services, however, are not limited to in-home care. We can provide you with expert senior housing advisory services in the Westminster area and care-centered financial counseling to help make senior care more affordable.
Reach out today for a free needs consultation if you're looking for home care in Arvada, or call our phone number at 720-239-1337.
FOR YOUR FREE CARE NEEDS CONSULTATION , FILL OUT THE FORM BELOW
Amada Senior Care in Arvada, Colorado offers expert care and kind companionship to seniors. We know from personal experience that seniors and their families make better care decisions when they know all their care options. If you think you might be ready for home care in the Arvada area, let us help. We'll discuss all available care and financial options with you. Quality Arvada area in-home care can be yours so long as you choose a senior care agency you can trust. Choose Amada Senior Care in Arvada.
Mar 16, 2021
Competent and responsive
Doug Hoffacker And Debbie Krigger
Nov 2, 2019
Wonderful Work
Thank you all so much for your tender loving care at such a precious time of life for my dear cousin, Debbie. I will always remember your kindness, patience and compassionate care and the good service you all provide. The last night in her home before hospice, your caregiver was especially gentle and loving. Such wonderful work you do. Thanks, again. Blessings to you all!—Doug Hoffacker and Debbie Krigger
Amada Senior Care Reviews
Average rating:
0 reviews