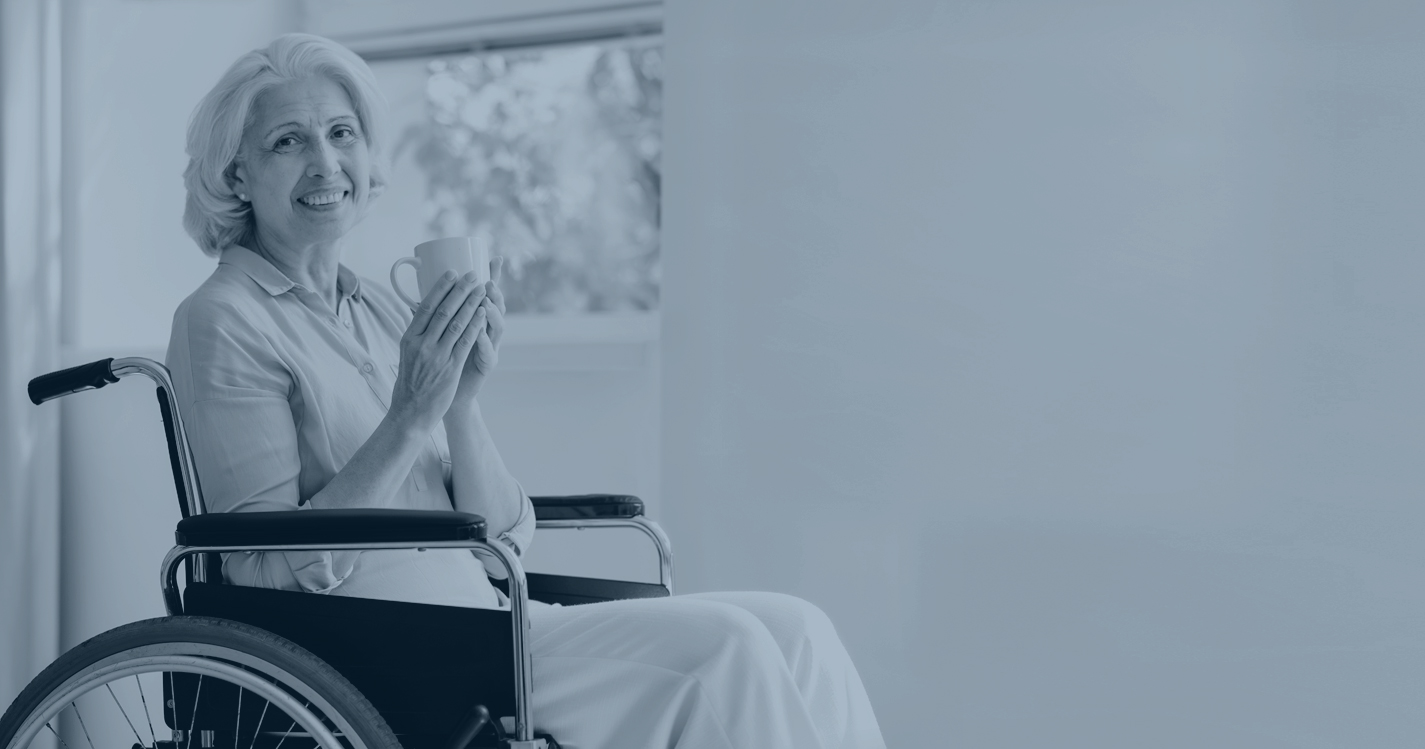 Slide 1
Would you or a loved one benefit from in-home senior care?
We specialize in providing comprehensive, non-medical, in-home care to seniors in the Bucks and Montgomery Counties area.
Lansdale, Pennsylvania: In-Home Senior Care
for Independent Living
If you or a loved one are lonely from lack of company or frustrated because previously simple daily living tasks are suddenly difficult or impossible, it may be time for Amada Senior Care in-home services. We specialize in providing comprehensive, non-medical, at-home care for seniors.
The skilled and compassionate care team at Amada Senior Care of Lansdale, PA may be the right resource to improve your or your aging seniors' quality of life. We specialize in enriching seniors' lives and helping them live safely and independently in the comfort of their own homes.
Amada Senior Care proudly offers:
Customized comprehensive, non-medical, in-home care plans specific to each client's needs and budget.
High-quality, in-home assistance with activities of daily living (ADLs) including bathing, dressing, light housekeeping, running errands, meal prep, and much more.
Companion care to keep seniors happy and thriving.
Expert housing and financial advisory services to help ease the stress of arranging and paying for senior care services. We can help with Long-Term Care insurance (LTCi) and VA benefits.
Contact us online for a free needs consultation, or speak to a representative by calling 215-422-3095. We care for seniors in Pennsylvania in Lansdale and throughout Montgomery County and the Philadelphia suburbs, including North Wales, Blue Bell, Abington, Warrington, Worcester, and more.
Caring Amada Aides are Trained to Provide Assistance with Activities of Daily Living (ADLs) such as:
Meal Preparation, Feeding
Most Non-Medical Assistance
Amada Senior In-Home Care Providers Make a Difference
Our home health care aides are skilled in the special needs of seniors. Whether we are caring for your loved one with Alzheimer's, Parkinson's, arthritis, or memory issues, our focus is to ensure that they stay safe, happy, and engaged. We assist with getting them up and moving (as appropriate), bathing, dressing, taking them to their medical appointments, keeping their home clean and organized, and much more. Our Amada care team gives you peace of mind by doing what it takes to get your loved one through their day effortlessly.
Besides providing ADL support to our clients, our home caregiving aides make a difference by bringing companionship as well. This special component of personal care focuses on the emotional wellbeing of your loved one and helps to enrich their lives. Our compassionate caregivers treat their clients with respect and give them the attention and care they deserve. Listening to their stories, going through their scrapbooks as they reminisce on their glory days of high school sports, and just being there with them as they nap and eat gives our seniors the comfort that someone is there for them.
It is this balance of physical and emotional care that makes the difference for our clients and their families and sets us apart from other in-home services.
Partnering with You for At-Home Senior Care Services
At Amada Senior Care in Lansdale, it is our goal to provide our senior clients with the top-quality care they need to stay safe and independent. However, we don't assume we know everything about what is right for your loved one. We value your input. We consider what we do to be a partnership with our senior clients, their families, and our care team. We include the families in creating their loved ones' care plans, and through constant communication and your feedback, we adapt our care to continually meet our clients' needs.
Contact us today for a Free Care Needs Consultation to learn more about how an Amada Lansdale in-home caregiver can provide you or your loved one with support in ADLs, and a more secure and active home life. We work with families throughout Lansdale, Dresher, Chalfont, Harleysville, Sellersville, Souderton, and the surrounding areas.
We never rely on a ready-made plan, and we need your feedback to help us create a comprehensive, non-medical, in-home care plan. We focus on independent living support that keeps your loved one at home and out of an assisted living facility for as long as possible. Part of that plan ensures that the Amada caregivers are the right ones for the job. That's why our senior care plan includes matching each home care client and family with the Amada caregivers who will best complement your loved one's personality, interests, and unique needs.
This care plan is just the starting point. We monitor, revise, and adjust our care to make sure we are meeting the changing ADL needs of our clients, and keeping them actively engaged through appropriate activities and companionship.
Our goal is to create a nurturing environment with the right care for all of our senior home care clients and to bring their family members peace of mind.
Financial & Housing Advisors for Affordable Senior Care
Don't let the worry of finding the right senior care with the best pricing and financing options overwhelm you. We can help. At Amada, we go beyond providing in-home care by offering you access to our housing and financial advisors. Our advisory services can help reduce financial burdens and keep senior care accessible. Our Amada Senior Care expert senior housing advisors can also help families transition to assisted living senior care.
If you are looking beyond in-home care services with Amada, or it is time to transition your loved one to a care facility, we can help. Amada's housing advisors know the ins and outs of local senior care, and we will walk you through potential solutions. We have strong relationships with coordinators of local live-in senior living communities, and a list of pre-screened facilities that measure up to our tough standards. Whether your loved one is best served by a nursing home, a senior living community with 24/7 health care, or a memory care facility, we can help find one that meets your individual care needs, budget, location, and personal preferences.
Housing and financing go together, and our financial advisors can help make senior care in Lansdale accessible. Our Long-Term Care insurance (LTCi) claims experts will:
Assess the terms of your long-term care policy and explain the coverage.
Help with the important steps needed to access and activate the policy.
Help our clients with the complexities of verifying benefits and submitting claims.
We can help our U.S. military veterans and their spouses determine their eligibility for senior care benefits. We can:
Identify and explain Veterans Administration (VA) benefits available to you.
Explain the differences with VA eligibility for home care services, respite care, or nursing care from other residential settings.
Analyze and explain factors that could affect your VA benefits.
If you do not have LTCi or VA benefits, and Medicare or Medicaid is not an option, senior care may still be affordable. Our financial counselors can identify appropriate senior care financing strategies and provide recommendations to help make senior care accessible.
Your Amada Senior Care team of Lansdale will support you and your family through every step of your senior care journey.
Amada Senior Care Offers Unwavering Commitment
to our Clients and their Families
Our primary commitment is to exceed the expectations of you and every family we work with. We are committed to:
Maintaining a skilled, professional, compassionate team of caregivers who can help fulfill our clients' needs.
Consistently providing the highest quality aging-in-place senior care while treating your loved one with respect and dignity.
Enriching our seniors' lives and increasing their overall quality of life.
Being steadfast in our support, guidance, and comfort to you and your family, because we truly believe that nobody should have to find a way to navigate in-home care alone.
If you're looking for home care in Lansdale, PA 19446, or other nearby locales, reach out to us by calling 215-422-3095 or accessing our online Free Care Needs Consultation.
TO SCHEDULE YOUR FREE CARE NEEDS CONSULTATION, FILL OUT THE FORM BELOW
Let us help educate you about senior care options in the Lansdale area. We specialize in elder care, and our expert Amada care advisors can help you understand your available care options and the available financial options so you can fund one of our professional, compassionate caregivers. Contact us today.
Nov 18, 2022
Really top-notch!
Amada is making the world of difference to my father - and to his daughters. He is getting really wonderful assistance, which is clearly provided with true warmth and care. Matt is terrific about keeping our far-flung family informed. We could not be happier that the Amada family is helping to care for our father!
Nov 4, 2022
Great Place to Work!
Amada is a great place to work! Flexible hours, pleasant working environment and helpful staff!
Nov 3, 2022
Amazing
Such a great experience! It's so hard to find people you feel you can trust to help care for people you love the most. So glad we went with Amada!
Page 1 of 5:
«
‹
1
2
3
4
5
›
»
Amada Senior Care Reviews
Average rating:
0 reviews